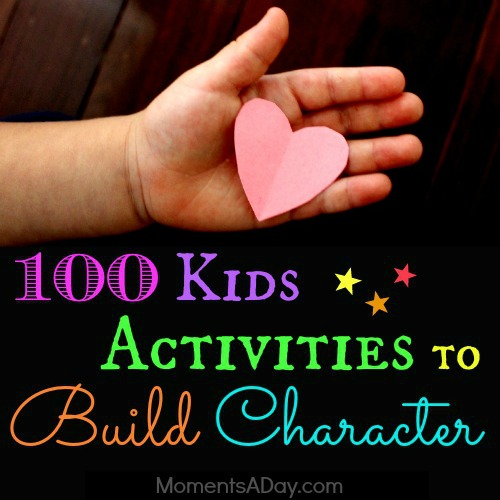 Looking for kids activities to build character? You have come to the right place!  My website is dedicated to activities, ideas and resources for families to build character.  In this post I have put together a big list of 100 ideas from my own site and from other awesome blogs around the web. Be sure to join me on Facebook and Pinterest if you want to find more ideas, also.
Ready for the activities?  Let's go…
100 Kids Activities to Build Character
1. We created a hand craft to make pledges and to learn about responsibility.  See our artwork here.
2. We took an extra long walk to practice being determined and to think about how explorers had to practice the skill of determination.  Find out more here.
3. We played a pictionary game to encourage each other to practice friendliness by sharing.  Find out how we played here.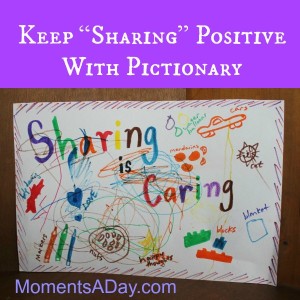 4. We talked about how being enthusiastic helps us do activities (whether we like them or not) joyfully.  Our activity was an animal action game you can read about here.
5. We used a puppet to review courteous etiquette when sick (ie covering mouths when sneezing, wiping nose with a tissue, etc).  See the full post here.
6. We used blocks and a trolley to discover how not practicing forgiveness slows us down in life.  You can read about our experience here.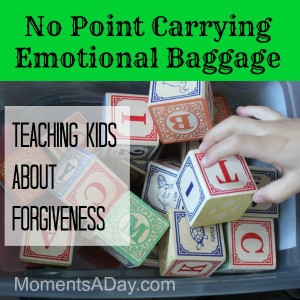 7. We learned the meaning of resilience through touching and observing the qualities of small plants and trees.  Find out about what sun, rain, and roots can represent here.
8. We discussed the beauty that can be found in diversity by making a mobile of many colors.  See our craft and read about our conversation about diversity appreciation here.
9. I put on a puppet show for the boys to help them see the importance of practicing self-confidence.  Check it out here.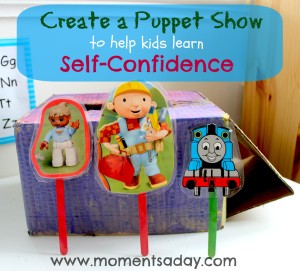 10. We went outside and listed the things in nature that are beautiful, and talked about how appreciating nature can help us calm down and feel in awe of creation even when we are upset.  It turned out to be a lesson in appreciation and presence for the mama as well… read about it here.
11.  We created homemade place-mats to discuss showing respectful behavior at the table which you can see (and download) here.
12. We made knots and discussed how difficulties in friendships, if we work through them, can bring us even closer together.  Read more here.
13. We played The Rain Game and practiced listening skills to contribute to respect and obedience.  Go here for details.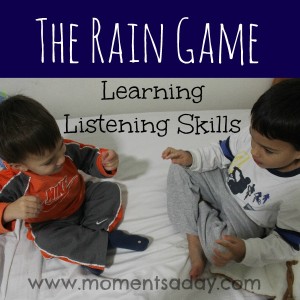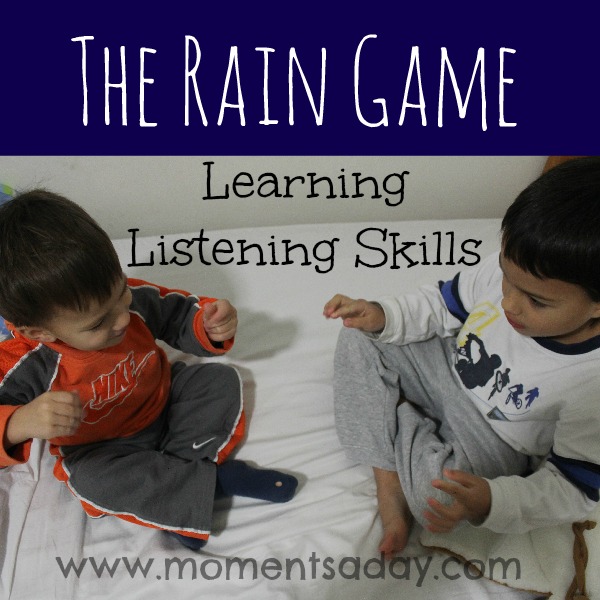 14. We organized a random act of kindness handing out smiley faced bendy dolls to strangers at the mall.  Visit this post to read more.
15. We set up a "Kindness Corner" to help us see all the ways we can practice kindness every day.  See it here.
16. We talked about how other people feel when we use kind (and unkind) language and drew pictures.  Get the details here.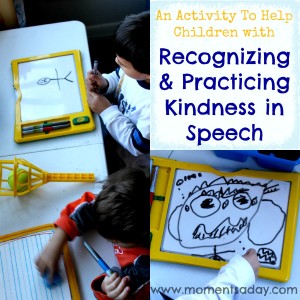 17. We made a "natural habitat" and talked about how we can protect animals and respect their environments.  See our habitat here.
18. We talked about resourcefulness by playing a game about finding 5 examples in the kitchen about things we can re-use.  Find out more here.
19. Learn how to make your own set of Empathy Cards and choose from over 10 ways to use them in this post.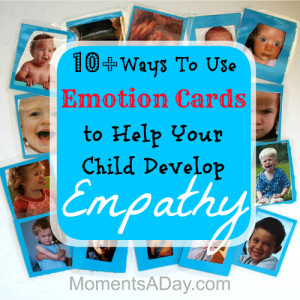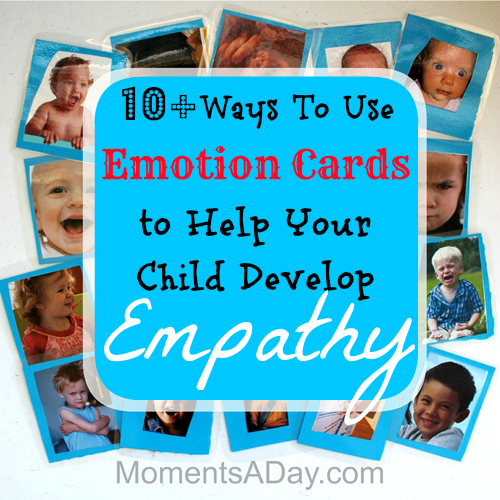 20-24. Find a list of 5 active games (with variations) to teach your kids perseverance here.
25. We wrapped "gifts" (objects found at home) and made-believe we were receiving presents, to learn about gratitude.  See more here.
26-35. Here is a list of 10 ways you can play ball and practice kindness.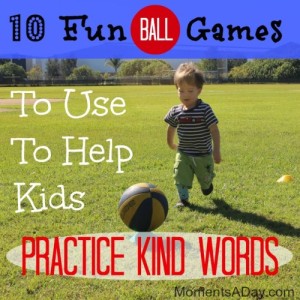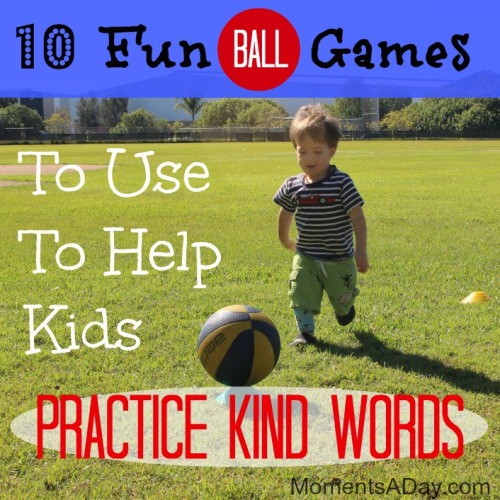 36. This post shares an active group game you can use to teach kids the meaning of focus and concentration.
37. We created a fun DIY banner to help celebrate the people and cultures around us – learning diversity appreciation.  See it here.
38. Using free online photo editing software, we created a collage and inspirational cards to help cheer up Grandma while in hospital.  Find out how this helped us practice kindness and thoughtfulness in this post.
39-42. This post includes 4 fun character building activities that require magazine pictures.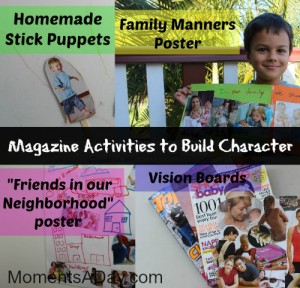 43. If you are trying to teach your children tact and empathy regarding people who look different than themselves, check out this post.
44-48. This post has links to five free printables from other blogs which can be used with a character building twist.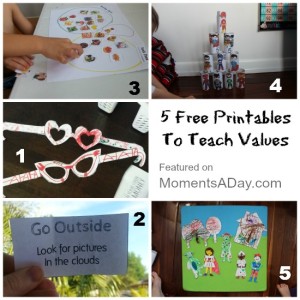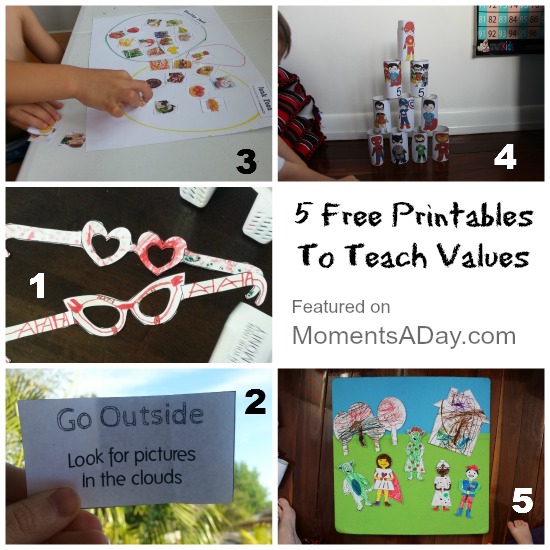 49. This post explores a simple game to help children learn how to deal with disappointment – which is a great skill for developing resilience.
50-54. Here are 5 ways to teach children about hunger, focusing on developing 5 different character traits.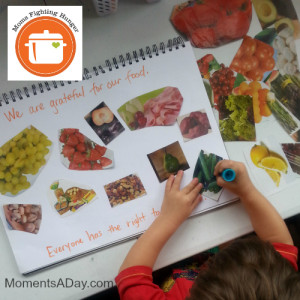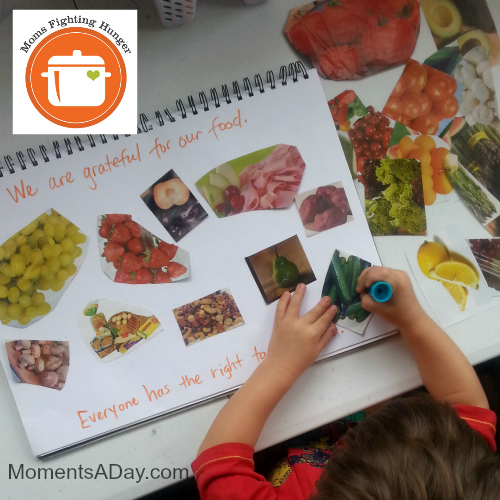 55-64. There are over 10 crafts and activities for teaching children how to care for animals here.
65-74. Here are 10 simple ways to build character with toddlers, to learn 10 different traits.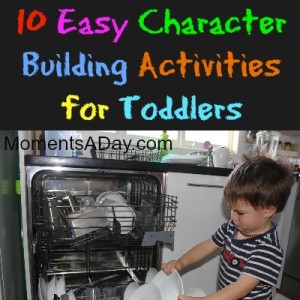 75. These chore dice are a fun way to promote responsibility. (Delia Creates)
76. Teach children empathy by learning how it feels to stand in someone else's shoes.  Read more about the activity plus the story that inspired it in this post. (Pennies of Time)
77. Spread some love and teach children about joyfulness by creating some beautiful painted heart rocks.  See some here. (Color Me Katie)
78. Make your own Empathy Dolls with toilet paper rolls.  Get the free printable and read the tutorial here.  (The Craft Train)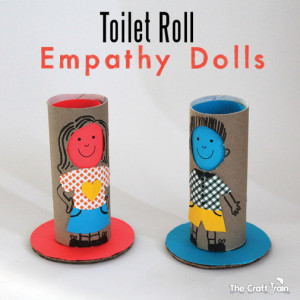 79. Fill a bucket to learn about kindness with a fun book suggestion and activity to go along on this post. (Inner Child Giving)
80. Create a Meditation Jar to promote mindfulness using this post for inspiration.  (The Good Long Road)
81. A Kindness Wreath is a fun and creative idea for encouraging kindness in the home!  See how to make on here. (Green Owl Art)
82. Make your own Kindness Cape and check out a great list of simple acts of kindness here. (The Pleasantest Thing)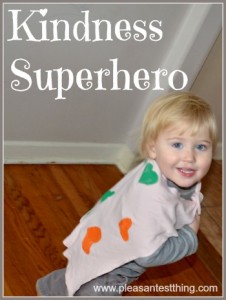 83.  This post shares tips and games for teaching attentiveness to toddlers and preschoolers. (Teachers of Good Things)
84. If you have ever wondered how to create fun hands-on thank you cards with toddlers, this post may give you some ideas about teaching gratitude even to small children.  (Here Come The Girls)
85. Consider how you can personalize thank you cards for people in your community based on current events, and practice gratitude, while reading this post.  (The Pleasantest Thing)
86. Read this post to find out how you can teach your child to have perspective with the example of an acorn.  (Tender Sapling)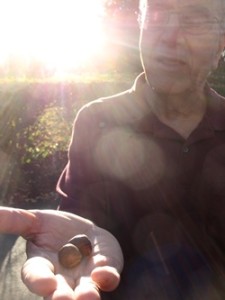 87. Leave fun chalk messages as an act of kindness – find out how here.  (Coffee Cups and Crayons)
88. Build your child's emotional intelligence and empathy through this fun face activity. (Adventures at Home with Mum)
89. Find some fun ideas to add gratitude to your evening meal with a fun jar of blessings in this post.  (Creative Family Fun)
90. Have fun with role play and help your child understand what other people are going through (developing empathy), with this fun post.  (House of Hendrix)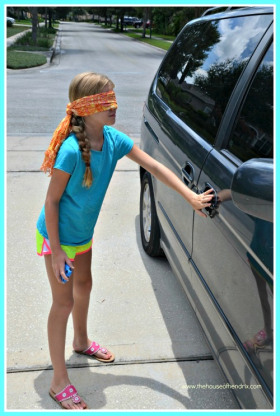 91. Make a fun craft of sunshine to give away as an act of kindness.  Find out how here.  (The Pleasantest Thing)
92. Take a journey through this fun online arts exhibition and explore empathy with your children through works of art. (Artchoo)
93-100. Read about how serving with your children can help them develop empathy, and find 8 easy kid-friendly service projects in this post. (Pennies of Time)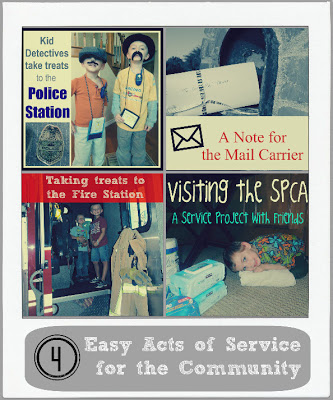 That is a lot of activities to keep busy!  I hope you and your children will enjoy working through the list.  If you have any more ideas, feel free to share in the comments below!
Would you like even more kids activities to build character?
Go here to find out more about my ebook Playing with Purpose which has over 100 MORE fun and easy kids activities to build character in an easy-to-use checklist format.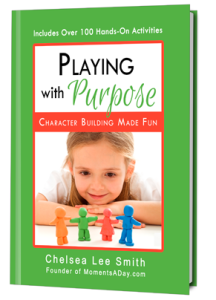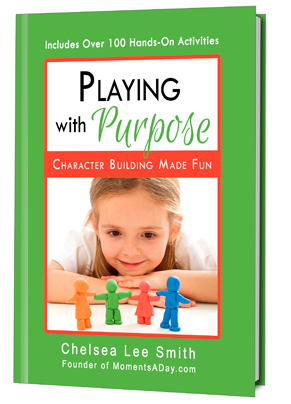 When you sign up for my monthly newsletter you will receive my ebook 30 Cooperative Games for Preschoolers.
Download my Mealtime Moments printable card set with 30 activities to build character over a family meal.