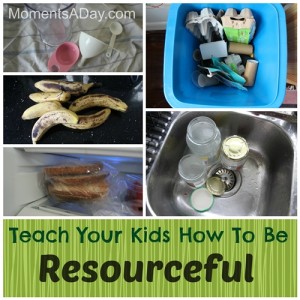 Sometimes I am surprised by what my kids say.  One day I was sorting toys and reorganizing our storage area when my son said, "Mom, I don't like this toy anymore, should we throw it away?"
Uh, no!  We could revamp it a bit, save it for your sibling, or give it away… throwing it away is a last resort!  Of course I didn't say that.  I asked him why he wanted to throw it away and he simply said, "Because I don't want it anymore."
This, of course, led to a discussion about all the possibilities of what we can do with things before we throw them away and why we cannot just throw away things we don't want anymore.
We have talked a lot about recycling and reusing in the past but I know this is an area that needs constant reflection on… for everyone in the family.  After all, in today's society it is incredibly easy to have so much *stuff* (and there is so much of it around in the shops!) that kids may just not realize how we should really respect all this *stuff* and not take it for granted.  And I know from personal experience that it is easy for adults to forget this, too.
Now we could go into a whole discussion about helping children understand where *stuff* comes from and teaching them about how some people don't have so much *stuff*… but that is for another day.
Today I just want to share a simple game we played to think about being resourceful.
I told the boys I was going to show them five objects that we could just throw away because they have been used or they are not in perfect condition any more… but I wanted them to list a few ways they could reuse them.  Luckily they were up to the challenge.
Here were the five things I showed them:
Overripe bananas
Stale bread and toast
Used jars
Extra kitchen containers
Toilet paper rolls and egg cartons
They were very good at coming up with things to do with the objects, including suggestions for crafts to make and turning them into toys (we often use "kitchen" supplies as "tools" at bath time).
For the bread they suggested (as I suspected) we feed it to the ducks.  I always keep leftover crusts and uneaten (plain) toast scraps in the fridge for this purpose. ***UPDATE: I have since learned that it isn't good to feed bread to wildlife, so making bread crumbs for recipes is a way to use up stale bread, instead!
And lastly for the bananas they suggested we make banana muffins and smoothies.
It was a very simple activity aiming to bring to their attention that we do not just throw away the *stuff* we do not like or need.  We can find ways to reuse things, or give them away to people who will use them again.
Sometime soon I plan to take them to a dump (as the Americans say) or tip (as people over here in the Pacific region say) to check out all the trash that is coming from our community.  From this trip I hope we can reflect even more on this subject and, hopefully, apply more principles of being resourceful.
I believe that being resourceful is a very important responsibility in this day and age when *stuff* is so easily obtained, used, abused, and tossed away, while we forget about the high price that other people, plus the earth, are paying for our lack of the virtue.
What have you done to help your kids learn about being resourceful?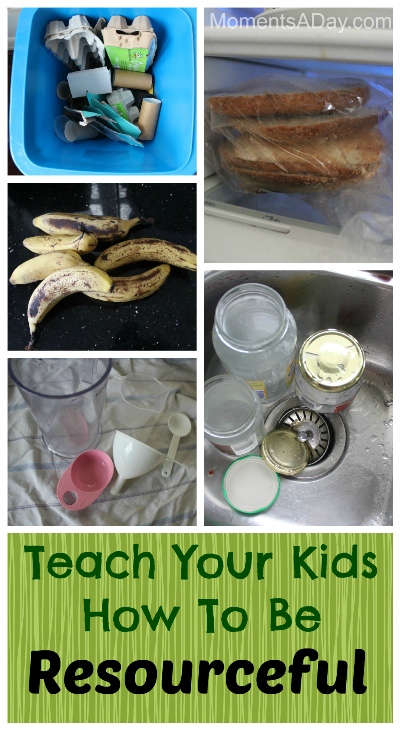 Feel free to share your experiences with this activity and/or any variations you came up with. Links to related activities or to your post that links here, are most welcome also.
Thanks for your feedback – I appreciate all your comments!