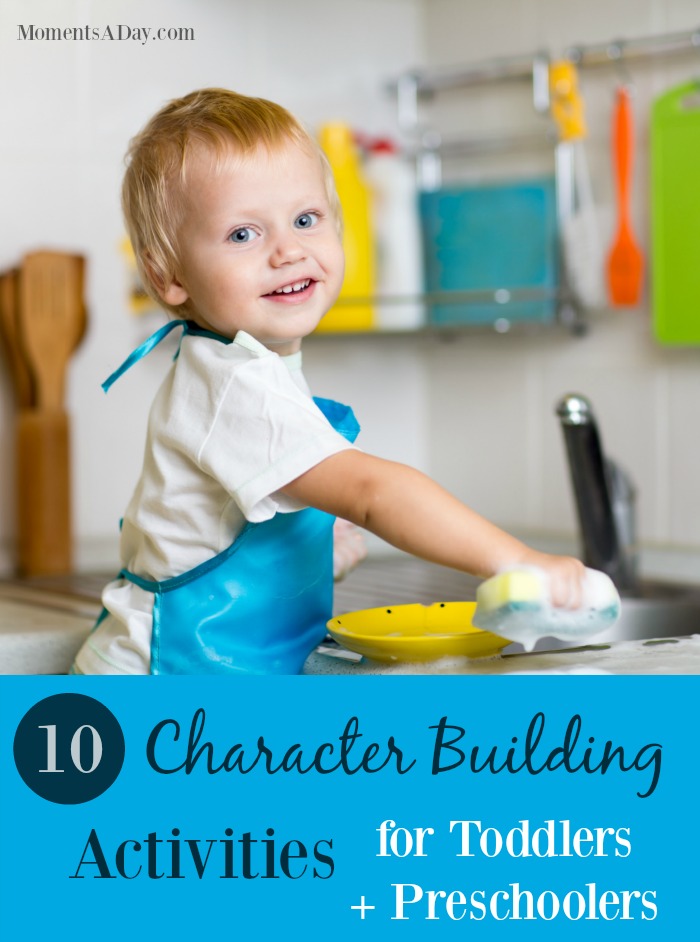 Every parent knows how quickly toddlers pick things up.  They will copy most anything they see, the good and the not-so-good.
Healthy habits can often be passed down by mere imitation.  However teaching toddlers the language of values and creating games around character building themes can help establish these character traits into every day work and play even more.
As children associate the names of virtues (for example, "kindness" or "responsibility") with behavior they are encouraged to exhibit, the more they will understand how to incorporate these positive traits into their actions in the future.
I have often been asked what age group my activities are appropriate for.  I tend to say between 2-5 years old but remind parents to keep in mind that a two year old cannot do many organized activities without great deal of explanation and help, and that simple activities can be extended or tailored for an older child to engage their skills and interests.
Based on requests from several first time parents of toddlers, I have decided to make a list of some activities especially age-appropriate for the 2 and early 3 year old.  These activities can be very naturally incorporated into play, without much preparation.  Even if they only take a few minutes per activity (do not stress if your child is not interested!), these intentional moments add up as the days and weeks pass.
Depending on their age, your child will probably begin to grasp what the virtues mean after a few months of focusing on these topics.  I am always surprised by how much my 2.5 year old knows already.  He can easily participate when we talk about things we are grateful for, and knows what it means to be "generous" or "forgiving."
Yes toddlers may be copying instead of having a *deep* understanding of the character trait, but copying is the basis for many habits.  I feel it is more empowering for children to have good feelings about their actions related to these values, instead of just being told what to do for no reason.  Repetition and giving plenty opportunities to discuss and practice the character traits in everyday situations is all it takes.
Here are 10 easy character building activities for toddlers:
With each of these activities, be sure to use the virtue (bolded) in your conversation so your toddler can learn the word.
Practice the virtue of service by helping your toddler prepare a meal for other family members.
Learn gratitude by playing the "Thank You Game."  Simply take turns giving things to each other (such as toys or pieces of food) while saying "thank you" each time.
Help your toddler understand responsibility by giving them some responsibilities of their own whenever appropriate, such as putting dishes away or transferring laundry from the basket to the machine.  They may need help for quite a while, but will eventually be able to do some jobs on their own which increases self-confidence as well.
Discuss respect by watching insects and showing how you can be careful not to disturb them.
Role play kindness by taking care of stuffed toys or animal figurines: setting up a home for them, feeding the, bathing them, caring for them if they get hurt.
Put on some soft music and do stretches while taking deep breaths, having your toddler copy you.  Explain how calming our minds and bodies is practicing peacefulness.
Teach courtesy by feeding your toddler a special treat one piece at a time, and requesting they say "please" as they ask for new bites.  Add "thank you" and "you're welcome" as they master each word.  Have your child divvy out pieces to you, too, to let them have a chance on the "giving" side!
Help your toddler show gentleness by giving them several delicate items to look at and hold, such as pictures in frames or precious jewelry.  As they hold the items, explain how some objects and people (such as babies) require extra gentleness so they are not hurt.
Give your toddler the opportunity to practice generosity by baking a dozen muffins and taking half over to a neighbor.  Let your child hand over the treats, if they wish, but do not worry if they get shy and prefer not to.  As they participate more in the act of giving, they will become more confident with time.
Encourage your toddler to show courage with a new experience you have prepared for them, such as climbing a ladder or playing with the pet of a friend/neighbor.  It is great to give children the opportunity to try new things, but there is no reason to push them if they are not ready.  If they want you to help them you can simply say, "Yes, let's practice courage together and you can decide if you want to try by yourself next time" as you help them along.  Based on personality, courage may be something that comes naturally to your child, or not.  However all children will need to practice courage at one time or another – whether it is playing with new children at age 3 or standing up to name-calling at age 5 – so it is great to learn the word early on.
Liked these ideas?  Be sure to sign up for my monthly newsletter so you will receive my free ebook 30 Cooperative Games for Preschoolers; or head on over to this page to find out more about Playing with Purpose, my ebook with over 100 hands-on character building activities for kids under five years old.
How do you help your toddler build character?  Please share your ideas in the comments!