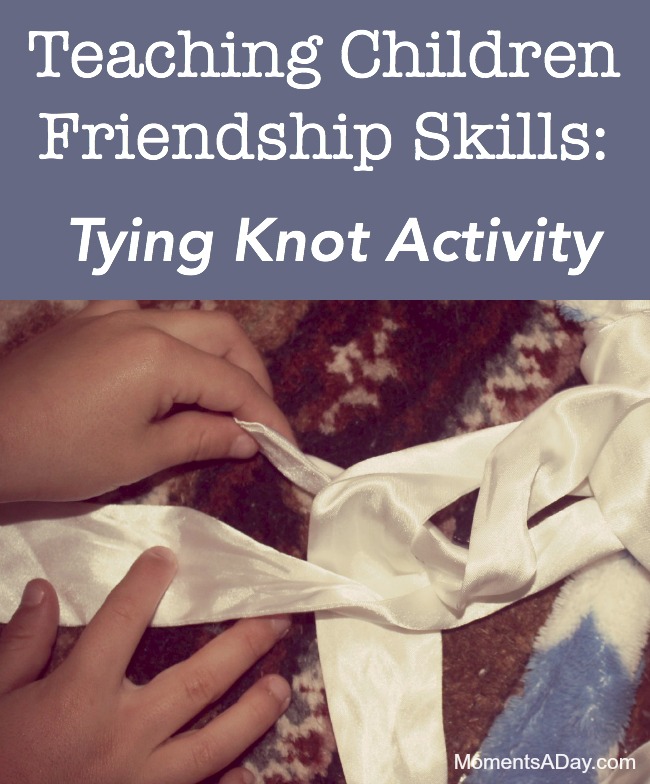 In the past few months I have noticed that my four-year-old's relationships with peers are getting more complex.  Therefore we have been discussing qualities such as forgiveness, being patient, accepting differences, and being a steady friend more often.
It can be difficult to share long-term vision with small children, as they really do live in the moment, however I have found that they can relate deeply to real-life examples that help to explain complex concepts (such as this one teaching about resilience) and that these metaphors can help them deal with issues they are facing.
After my son had a disagreement with another child the other day I tried to think of an example that illustrated the reality of challenges in friendships: that difficulties do not "make or break" a relationship but instead can serve to help people grow and become even better friends if we take time and patience to invest in the relationship.
We collected two belts that go through our family's robes and tied them to the table leg (these were easier to tie and untie than thin strings).  When we only tied once, we noticed how weak the belts were and how easy they were to untie.  This shows how a relationship, when starting out, is quite easy to pull apart.  If we let little things bother us, we will never create a strong relationship.
However when we tied twice, three times, and more, the knot got stronger.  We talked about how these knots were like experiences we have with friends: projects we do together, jokes we share, games we play, and problems we work out.

When we tie a knot purposefully, we can make a very strong friendship where both sides are being used fairly.  However sometimes a knot can be tied in the *wrong* place (like using up all of one belt and not much of the other), and this is like disagreements we have, hard feelings we hold against each other, jealousy, or competition.  These knots can actually harm our friendship and not make either person feel very good.
In this case, we need to be patient to take the knot out.  It may take time and it may be hard, but we can undo the knot.  Then we can tie it better, in another place!  This will help make friendship stronger again.
This was a simple experience we shared, but I hope it will be a point of reference for us to use in the future as we deal with various social situations where difficulties (and choices about how to address them) arise.
How have you shared relationship building skills with your children?  Do you have a metaphor to help them understand what friendship is all about?

Feel free to share your experiences with this activity and/or any variations you came up with. Links to related activities or to your post that links here, are most welcome also.
Thanks for your feedback – I appreciate all your comments!