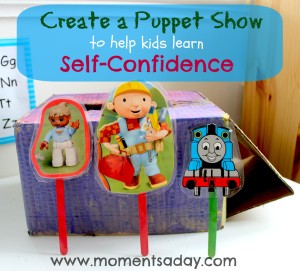 Increasing self-confidence helps us learn how to see the world through our own eyes and live using on the wisdom we gather through experience.  It reminds us not to base our self-worth or decisions on what we hear or see from others, but to honor our true selves within.  In a world increasingly concerned with "status" (in social media situations mostly dependent on the number of friends or "likes" one receives!) I believe self-confidence is extremely crucial for our children.  By teaching them self-confidence we are helping our kids feel good about being themselves which will help them live fuller and more meaningful lives in the years to come.
Kids can go through stages of *appearing* self-confident or not.  Sometimes the level of self-confidence they show seems to depend on the situation – the people or the place – and sometimes it may just depend on the day.  We should not expect our children to be outgoing or "confident" 100% of the time (would we expect the same thing from ourselves?) but we can help them learn to overcome shyness or trepidation by practicing techniques of reaching out to others and standing up for what they believe in even when it feels new and scary.  This week our family worked on some aspects of self-confidence through role playing with puppets.
Home Activity
While sometimes I use puppets to interact with my children (like in this activity) this time I put on a puppet show for the kids first… and then let the kids interact with the puppets after watching a few scenarios.  I did this mainly because I wanted them to see several examples relating to our quality (self-confidence/courage) first, and then be able to help the puppets through the challenges they faced.
You can do this activity with any puppets – finger puppets, hand puppets, stick puppets – or dolls and action figures.  Even fingers, for that matter!  We already had a few homemade stick puppets so I just worked around the characters on hand (Thomas the Tank Engine, Bob the Builder, and a lego duplo lady who I will refer to as Lego Lady) to make up my story.
The two situations I acted out first were:
Lego Lady was feeling shy at the playground but wanted to play with others
Thomas the Tank Engine arrived at the playground and noticed no one was like him (they were all people and he was a train) so felt afraid to talk to others
I basically just had the two characters talk to themselves on opposite sides of our little "puppet stage" (this was a painted box we had lying around so we cut a hole in the top and made one side lift up for an arm to be inserted while it sat on the table… I ended up putting the box on top of my knees though which was much easier!)
Then I asked the kids if they could help Lego Lady and Thomas, and they offered suggestions.  I added a few points like, "We don't need to be afraid of being different" etc when they fit.
After Lego Lady and Thomas became friends I had Bob the Builder appear, and Lego Lady wanted to see what Bob was doing since she had never seen a builder before.  So she had to work up the courage to talk to him and ask him questions about what he was building.  Eventually Bob even gave them some jobs they could help out with.
The three main situations I wanted to address, all revolving around self-confidence and having courage to be yourself, were:
Being able to make new friends.
Not being afraid of being different.
Trying something new.
You could, of course, create scenarios with any type of character revolving around these lessons.
Have you talked to your kids about self-confidence?  How do you help them overcome shyness?
Feel free to share your experiences with this activity and/or any variations you came up with. Links to related activities or to your post that links here, are most welcome also.
Thanks for your feedback – I appreciate all your comments!