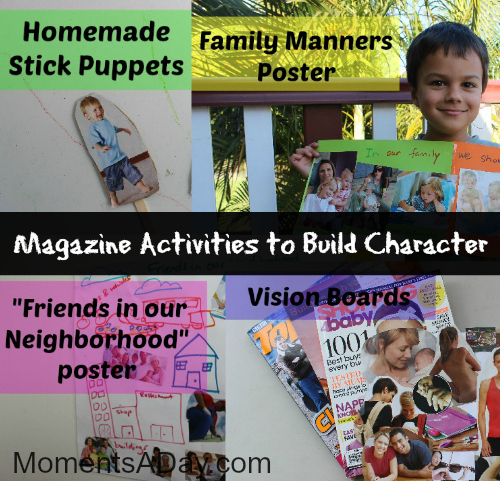 If you are looking for a few simple activities that you can use to discuss positive character traits, here are four magazine activities that are easy and can be a lot of fun.
Although I do not purchase magazines myself, I have collected quite a stack from free ones sent in the mail or given along with purchases (like at a baby store outlet) over the past few years.  It is amazing how great these have been for craft activities!
I keep the magazines in a box and pull them out when we are doing an activity that might benefit from some "real life" pictures.  Here are 4 magazine activities we have enjoyed lately that have character building themes:
Teach Friendliness
We made a "Friends in our Neighborhood" poster. I asked the boys to tell me places in our neighborhood, which I drew very simply as we were talking about them, then we found pictures of people in magazines to add on.  Afterwards we talked about different ways we can be friendly to all these people we see around our community such as smiling, talking, saying "thank you," becoming friends and inviting them over, and doing service projects.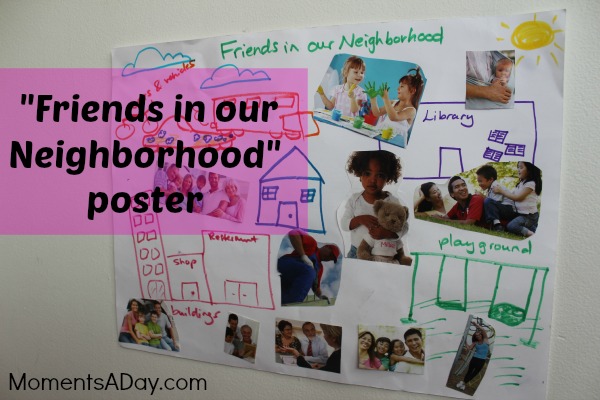 Teach Forgiveness
We made stick puppet characters for each person (mommy and two kids, in our case – no I don't have a daughter but my youngest son wanted the girl in pink) by cutting out a magazine picture, gluing it to a piece of cardboard, and then taping a popsicle stick to the back.  Then we role played situations that require forgiveness, such as when someone grabs a toy or bumps into someone, giving each person the chance to say "I'm sorry" and "I forgive you."
There are so many fun ways to use puppets for character building.  Visit this post for another idea which focuses on exploring self-confidence.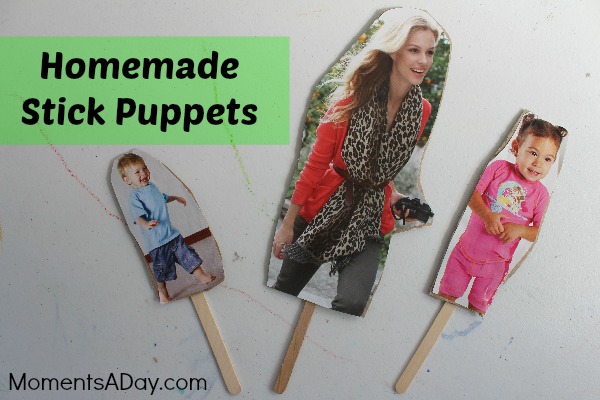 Teach Idealism/Goal-Setting
We made Vision Boards by finding pictures of things we want in our life, things we want to do, or things we want to learn about, then gluing them together on a page.  We discussed how having ideals means we focus on what is important to us and we find ways to make a difference.  Idealism means working to fulfill your dreams.  I found this activity very meaningful for myself, as well!  Here was my vision board: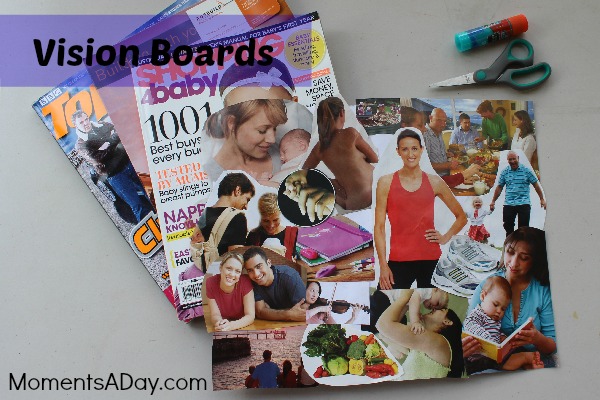 If you noticed a naked lady, that was to represent the back pain I had during pregnancy and how it reminds me to care for myself.  My husband said, "What is that about????" and I explained how I want to take caring for my body more seriously after having several health issues.  Just proves that no one can really interpret a vision board except for the creator 😉
Teach Respect
We talked about how we should act towards family members, and cut out pictures to represent these ideas. For example, "We are gentle," "We follow rules," and "We try to make each other feel better" were some ideas. I explained how thinking of other people and acting in ways that makes them feel loved and comfortable is called respect.  We titled the poster: "In our family we show respect."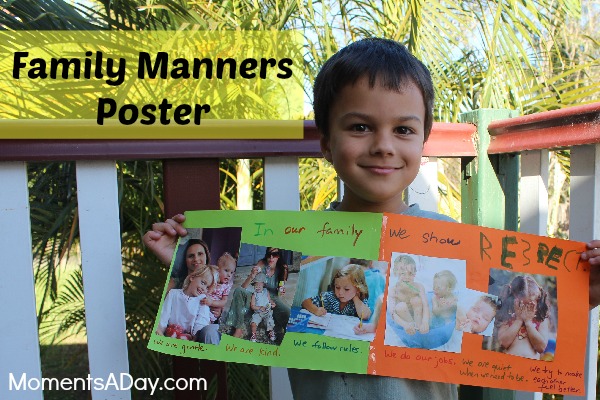 Here are two other activities we have enjoyed using magazine photos:
Emotion Cards to Learn Empathy
Multicultural Banner to Appreciate Diversity
If you liked these activities, you may like to browse all my activity posts by clicking here.  You are also welcome to sign up for my newsletter which shares monthly inspiration for building character at home.