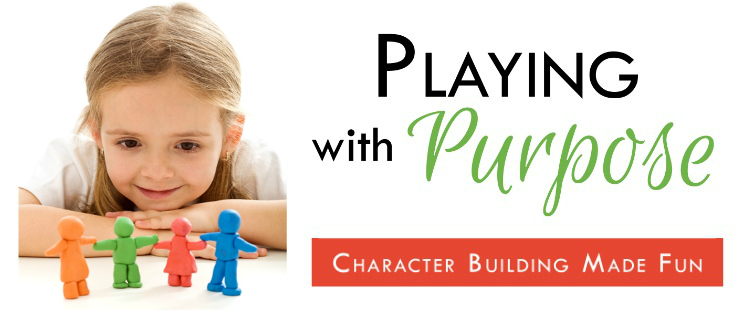 If you are a parent or teacher who wants to help your children grasp the meaning and real life application of character traits such as friendliness, courage, patience, and more – without giving continuous lectures – you can use Playing with Purpose: Character Building Made Fun to explore the concepts together in an engaging, age-appropriate way. This ebook:
Contains over 100 fun and simple activities to help your children learn about a range of positive character traits
Has a user-friendly checklist format with space for notes; plus the activities are numbered for easy reference and plan-making
Is gender neutral – the activities are great for boys and girls
Includes a range of activities – crafts, at home, and in the neighboorhood – that can be done in a short period of time and which require very few materials
Was created especially for kids under age 5, but can also be adapted for older children with a bit of creativity
What others are saying:

When I found out that Chelsea had created an e-book on character building through play, I knew I needed to purchase it. Her advice for parents is insightful, invaluable, but most importantly, do-able! My son needs practice with respectful and considerate behavior, and this is a wonderful guide for me to help him.
-Amy, Wildflower Ramblings

I'm looking forward to using Playing with Purpose with my three kids. The printable format with room for notes makes it easy to add my ideas. We have it in a 3-ring binder and will be using it in our morning homeschool routine.
-Alissa, Creative with Kids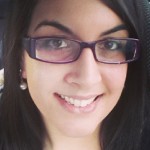 Playing with Purpose is user-friendly, unique and valuable. My favourite thing about the book is that it makes you think about these qualities – which the average mama doesn't consciously do. Every mama should know these clever ways to help their children build character.
– Rachel, Racheous – Lovable Learning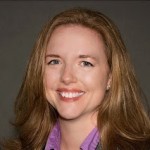 As a parent of two young boys, I need all the ideas I can to keep teaching them and providing positive experiences for them as they become men. These ideas are kid and parent appropriate… no rarely used items to purchase or materials that will get wasted. We will be using Playing with Purpose for great ideas to use for our weekly Family Night.
– Sheila, Pennies of Time
Sneak peak of the inside: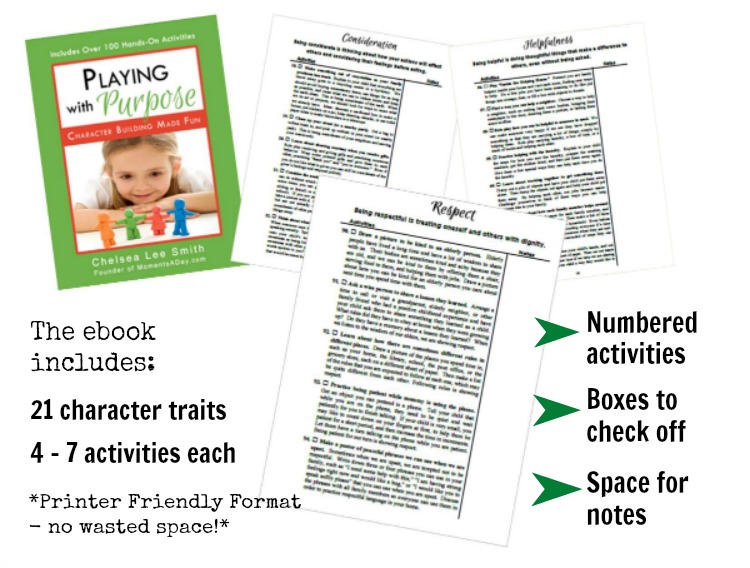 About the Author: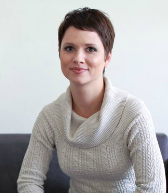 Chelsea Lee Smith is the founder of MomentsADay.com, a website dedicated to sharing activities, ideas, and resources for families to connect, build character, and make a difference. She believes in using small moments throughout the day to help children learn how to use their head, heart, and hands to make the world a better place. Playing with Purpose came about as part of Chelsea's challenge to herself to spend a few moments every day helping her children build character.  In the process, she has been amazed how positively the activities have affected herself and the entire family unit.