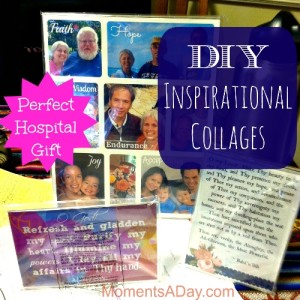 Last month my mom was in the hospital for a couple weeks for a surgery.  Because I live across the world (we are in Australia; whereas the rest of my family is in the USA) I unfortunately could not be there.
I wanted, however, to do something that would cheer my mom up and let her know I would be thinking of her throughout her hospital stay.  I also remembered she had mentioned she wanted a few family pictures to keep her company in the hospital…
So I decided to make a collage with family photos and some cards with inspirational verses for her.  I used my favorite online picture editing software (which is free!) PicMonkey and simply emailed the files to my sister who very kindly got them printed on my behalf.  If my sister was unable to help, of course, I could have also had them printed and mailed to my mom using an online photo processing company.  It was an easy (and affordable) solution for a long-distance act of kindness!
As I was working the kids were looking over my shoulders… and I explained what I was making and how we wanted to make Grandma smile when she was in the hospital.  They loved seeing the photos and enjoyed pointing out all the family members.  (A very important activity to do when extended family lives so far away.)
To include your kids in this project you can:
Ask them to help select the photos
Let them help choose a background color
Take them along to the photo shop to print the collage
Let them give the gift (or mail it) when you are done
It was a small act of kindness but one that showed the kids how we can be creative in bringing joy to others, even if we cannot physically be with someone.
How To Make Your Own Inspirational Collages:
This is a pretty individual project so I will just briefly describe how PicMonkey works in case you have never used it.  But there are two important points not to forget when you are getting started.  Here they are:
(1) First, if you want to print these collages/cards on photograph paper be sure you select the right sizing for your project.  You don't want to make a beautiful collage and then find out the size will not print correctly.  So look at the sizing options available at your local store (6×4 is the standard photo size) and be sure to match it up when you are creating your project in PicMonkey.
(2) Second, all stores print photos slightly different – some crop a bit on the left, others on the right.  It's best not to put faces or words too close to any edges of your project as you will run the risk getting something cut off.  If you do get something printed and it looks "off," be sure to ask at the counter for some help.  Usually they will print it a couple extra times for free until it's "right" as long as your photo has been cropped to the right size.  However this would not be an option if you were having something mailed – so it is probably just best to be safe and steer clear of the edges.
Collage
For my collage I used the "Create a Collage" setting on PicMonkey.  You simply upload the pictures you want to use, select a template, and then drag them in to the empty spaces.  You can adjust the size as necessary, delete or add more boxes, and even edit each picture a bit individually if necessary (zooming in, etc).  You can also adjust the corners of the pictures, the spacing in between, and the background color.
After my pictures in the collage setting were ready, I selected the "Edit" option to take my collage over to the editing area (note you cannot adjust your pictures in the collage after you do this, so be sure it is exactly how you want it!).  I added words for inspirational qualities to each picture which I thought my mom might appreciate after her surgery, such as "faith" and "hope."  Then save, and it's done!
Cards
For the cards with inspirational verses I uploaded a picture using the "Edit a Photo" option (I made sure it was the right size first!) then inserted a big white shape so I was starting with a blank canvas.  Then I added circles of many colors, making some of them a bit transparent, and some stars.  There are tons of beautiful "overlays" in PicMonkey – just go to the buttons on the very left of the page, find the one that has a few shapes, and scroll through to see what all is available.  You will be amazed at all the options.
After I made my background I added my words, and used a few different fonts to make it even prettier.
Here is one of the "cards" I made for mom: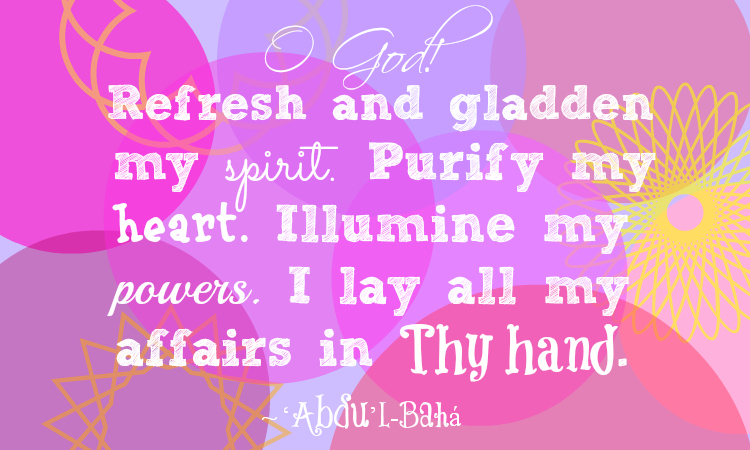 It was a very simple project but mom loved having the pictures there with her in the hospital, and I was glad to offer something a bit more meaningful and long-lasting than flowers.  Afterward she could take the photo cards home and use them as bookmarks.
Of course Picmonkey can also be used to make inspirational greeting cards, birthday invitations, and more.  (Please note this is not a sponsored post, I just love PicMonkey, can you tell?  And yes, it's free!  There are some extra options you can pay for, but they really are not necessary for basic projects.)
What simple acts of kindness have you done for family members living far away?  Please share your ideas!