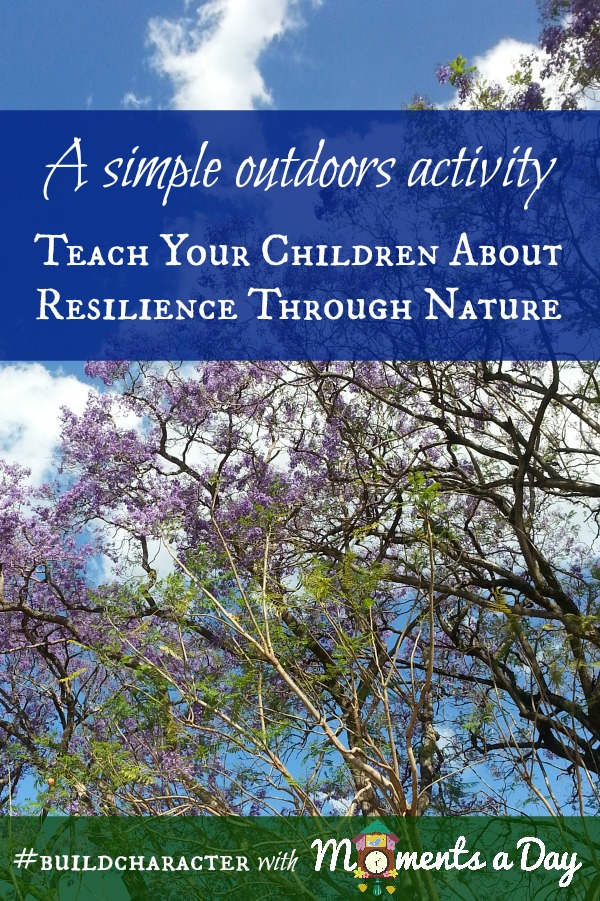 A few days ago I asked for suggestions on my Facebook page about specific qualities I might post about, and "resilience" was mentioned quite a few times.
Resilience covers so many character traits… because it means that we keep a positive attitude, develop coping skills, and arise to meet challenges with strength and determination to do our best no matter what.  Basically being resilient means we take responsibility for our actions, have a healthy outlook on life, and accept ourselves and move forward even after failure, disappointment, or other difficulties.  It's quite a big concept!
So how does one explain "resilience" to children?  Find out how I did here:
Outdoors Activity to Learn about Resilience
While taking a walk outside I asked my son to find a small plant.  He did, and I asked him what would happen if he grabbed it.  He said it would probably get pulled up.  Then I asked what about if there was a big storm.  He said it might die.
Then I asked him to find a tree and asked the same questions.  Of course we discovered the tree could withstand his body weight and would not get damaged by a storm.
So then I asked him if he could choose which to be (a plant or a tree) in a storm, which would he choose to be.  He said the tree because it was stronger.
I explained that people are like plants and trees, and we can actually choose how strong we grow.  We all will have sun and rain in our lives but, unlike plants which are specific seedlings that grow into pre-determined species, humans can choose what they turn into.  We can choose to soak up the sun and let the rain help us grow.  We can choose to grow our roots deep in the earth to make us sturdy and strong.  We can choose to be a small plant or a sturdy tree.
The sun is the love we receive in this world (God's love, our parent's love, whatever you choose!), the rain is the challenges we face, and the roots are our experiences.  If we only have love without challenges, we will shrivel up from the heat.  If we only have rain and hide from the sun, we will get washed out.  But if we have a good balance of sun and rain, then we can learn from our experiences and grow our roots deep into the earth to make us strong and steadfast.
My son, during this conversation, actually tripped (since we were on a walk) and when he got up he said, "I actually meant to do that because the tripping makes me stronger!"  I had a little chuckle but it was neat to see how the discussion affected his outlook on his fall.  Which led to a conversation about challenges we can sometimes choose… (such as joining a sports team, making new friends, or learning something new)
We also talked about challenges we have (such as little brothers getting into our stuff, having to do chores, and not being allowed to eat junk food) and compared these to sun and rain.  The rules I make out of love (such as not shouting) are like sun and the things we cannot control (like other peoples' behavior) are like rain.  Both are just part of life and will help us grow stronger in the end.
After all of this I explained that the tree is "resilient" because of all its qualities to withstand challenges and grow despite the weather around it.  And that when we choose to act like the tree, we can be resilient too.
Are you resilient?  Do you model a positive outlook on life and a determination to learn from challenges to your children?
Feel free to share your experiences with this activity and/or any variations you came up with. Links to related activities or to your post that links here, are most welcome also.
Thanks for your feedback – I appreciate all your comments!