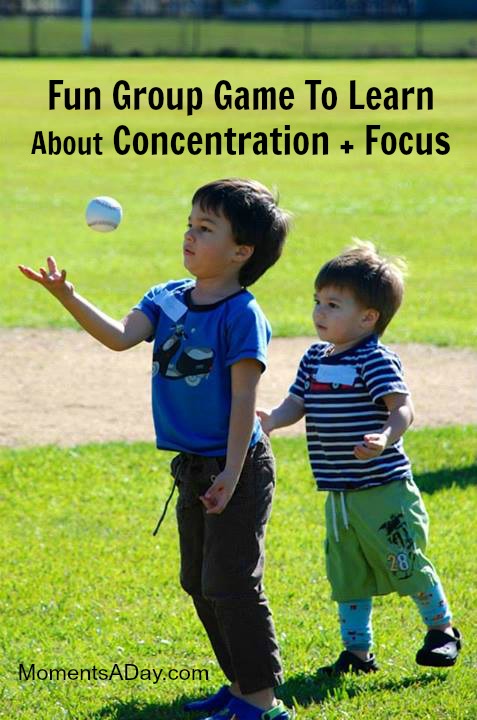 This is an easy group game to help kids learn about what it means to "concentrate" and "focus."  All you need is a large ball and at least 2 kids (who each have their own smaller balls).  It would be appropriate for both a playgroup and a larger class exercise, though more kids would probably make it more fun.
Have the kids line up with their smaller balls in hand (baseballs or tennis balls would work well for this).  Then stand with your larger ball (a soccer ball or an exercise ball, if you have one) so that you can roll the ball straight in front of their line.  Explain that when you roll your ball in front of the line, they should throw their balls to try and hit it.  Also make sure they know to stay behind the line until you say it is time to collect their balls for the next turn (or else they might get hit by someone else throwing a ball).
Count down to rolling time, and roll your ball.  Did the children hit your ball at all?  Did they each have a turn?  Were they paying attention when you counted down and watching where the ball was so they could aim?
Give them only one chance to try and hit the ball.  Then explain that this game shows us the importance of paying attention.  If they did not focus on instructions or were not concentrating to hear the countdown and to see the ball rolling, then they probably missed out on their opportunity to make a throw.
After explaining about the terms "focus" and "concentration," give them some more chances to practice these qualities by rolling your ball a few more times so they can try and hit the ball again.  You can experiment with slower and faster speeds, and also the distance your ball is from the line of children.
When we concentrate and focus:
We know the rules
We feel confident and ready
We play better as a team
We get jobs done
We do not miss opportunities
We can succeed
It is a very simple game but can be lots of fun, especially for a big group.  And, as an added benefit, next time you ask the children to focus on their art activity or concentrate on finishing up their lunch, hopefully they will know exactly what you mean.  Whether they do it or not is another matter… but learning the terms and applying them to life is a good starting place.
I learned this game at a bloggers' family event put on by Baseball Queensland and Blog Power Events.  This is not a sponsored post.  I had a great time finding out about the benefits of joining a baseball team and suggest checking out your local team if you are looking for a team sport that can teach your child many valuable skills.

for boys and girls, from age 4 to adult, with a strict anti-bullying policy.