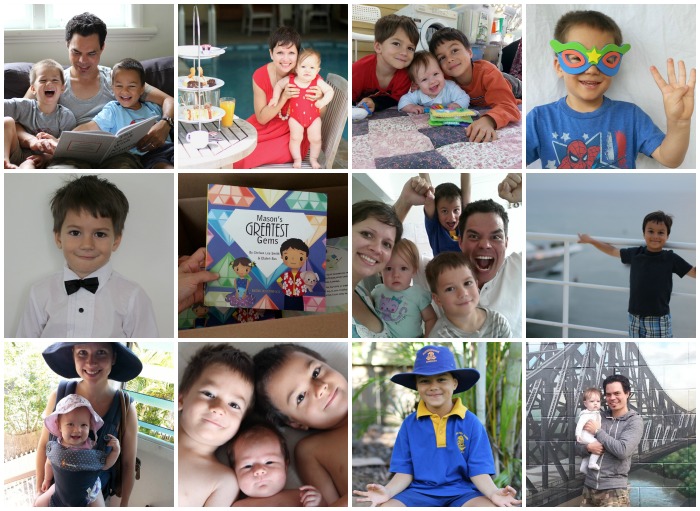 What a year!  When I look back at photos from the beginning of 2015, it is hard to believe I was still pregnant and waiting to meet my sweet baby girl!  My boys have grown by leaps and bounds, and my husband has worked hard and achieved a long sought after goal.  I have learned and changed a lot this year, too, and am so grateful for all the experiences and opportunities that I have been blessed with.
As for this blog: it has been my outlet, my creative space, and my place to connect with like-minded parents.  I see Moments A Day as a platform to share what I am most passionate about and I am so thankful that you have decided to follow along.  I just took a peak at my Google Analytics and saw that over the past 12 months my blog has seen nearly 1.1 million pageviews with 700,000+ unique visitors.  I'm so honoured to have any and all guests in my little corner of the blogosphere, and really hope everyone who stopped by was able to take something positive away!
A few bloggy highlights from 2015 include…
Being a panelist at the 

ProBlogger

 Training Event in Brisbane (see my review post here)
Being selected as a Kidspot Voices 2015 finalist (and taking part in the #FordThinking challenge – see my three posts here, here and here)
Spending a weekend in Sydney with my fellow Bloggerati and wonderful talent agency Nuffnang (see a few photos in this post)
Publishing my first co-authored storybook Mason's Greatest Gems (read the backstory here) and it becoming Amazon's #1 New Release in Children's Values Books during the first week of its release
Being interviewed for the fabulous online video summit Be the Best Parent You Can Be and the awesome podcast Braveprenuer Parents Academy
Having my grateful list recreated by others in many different formats and go viral numerous times on Facebook, though it was sadly not often credited to me.  I worked on learning the lesson of detachment to any rewards for my work, and also developing a great deal of gratitude to reach so many people with a positive message.
Publishing 120 blog posts here at MomentsADay.com, writing articles for several other publications, and sending out at least one newsletter a month
Interviewing nine mothers about how their families serve others, and being humbled and inspired by the story of Finlay
Reviewing 20+ amazing resources that can help families build character together
Writing 50+ parenting posts ranging in topics from mindful colouring and teaching positive character traits to being selective with language we use with girls and baby massage.
Investing in my skills by taking a short course in photography from the fabulous Jess at Essence Images and completing the Magazine and Newspaper Writing Course from the Australian Writers Centre
Growing my subscriber list to 7.5K+ and my social media community to 23K+ followers on Facebook, almost 6K followers on Pinterest, and 1K+ followers on Instagram as well as Twitter
Spending countless hours chatting with, collaborating, and working alongside my favourite bloggy buddies… these ladies are my treasured friends and I learn so much from them both personally and professionally!
According to pageviews, my most popular posts this year included:
A few of my personal favourites from 2015 were:
Thank you to all my readers for reading, commenting, and sharing my posts with your friends and communities.  I wouldn't be able to spend so much time here on the blog without your continued support – so this is "thank you" from the bottom of my heart!!
Preview of 2016
Since our family has a bit of a crazy year lined up (including traveling around the country and homeschooling our three kids!) many people have been asking if and how I'm going to blog.  After reflecting on why I blog, reviewing my previous plans for 2015 (as well as my achievements) and really thinking about how I can best invest my time into this online space, here is what I decided:
I definitely want to continue blogging because it keeps me accountable.  It encourages me to reflect on how I parent, and grow as an individual.  I value the feedback I get from readers and really enjoy the creative process (and hard work!) involved in being a blogger.  However I also need to be realistic about how much I can accomplish while being a full-time mother and educator of my kids.  So this year I

will

be taking a step back and doing a bit less in the online space.  I will likely be blogging two or three times a fortnight (instead of two or three times a week), but will still be sharing regularly on social media so be sure to follow me on Facebook, Instagram or Pinterest if you would like more updates.
I enjoy finding and sharing new activities and resources to help our family members build character, because this is one of my top priorities as a mother.  This was also the original purpose for my website when I started my blog nearly 2.5 years ago.  This year I will putting a lot of my focus into the activity section of my website which you can browse here: Character for Kids.
I get inspired reading about families serving their communities, and love being encouraged to do acts of kindness with my kids.  I also believe in the power of the internet to do great things, and I want to utilise this wonderful community for some creative service projects!  More details on how I plan to keep the Paying it Forward section of my blog alive below.
After identifying these three key points, I mapped out some more specific goals for the blog during the coming year.  Here's what you can expect to see on Moments A Day in 2016:
Character for Kids
As we travel around Australia, I will be visiting schools to read and offer a presentation on my recently published co-authored storybook Mason's Greatest Gems.  I will be posting updates and related character building activities as we go along.  Thanks to Child.com.au for sponsoring these school visits!  I look forward to sharing some of their awesome educational resources that can be used for character building throughout the year.
I am also very excited to have a guest contributor to the blog this year.  The co-author and illustrator of Mason's Greatest Gems, Elaheh Bos from Plant Love Grow, will be sharing her wisdom and printable activities once a month.  If you like creative activities that inspire meaningful conversations with your kids, you will love her posts.
Personal Growth
My ecourse Lemonade Life Lessons will be launching in February 2016 and I look forward to following a journey towards self-growth and positive thinking with the participants there.
I'm also going to continue my ONE THING WEDNESDAY series, which is a weekly prompt that inspires you to work on your parenting skills (by choosing just one action per week!).  I am changing the format a bit, and I will update this post with details in January.
Paying it Forward
I have several collaborations in the works for service projects in 2016 which will invite readers to participate in giving to others while utilising the amazing power of the internet.  Keep an eye on my newsletter for details.
I am also open to continuing my Acts of Kindness by Real Families series featuring stories about families serving together if contributors contact me with their stories.  So if you have a past experience you would like featured, please get in touch!
Parenting
I'm fairly certain I will chime in every now and then on some subjects that are relevant to our family as the year progresses but, in general, I will be blogging less about parenting over the coming months.  Occasionally I will share lessons learned during our travel and highlights from our trip (there will be a record of what we have been up to on this page).
Resources
I love to share the awesome resources I find that help families connect, build character and make a difference.  Reviewing specific items will be a bit trickier this year simply due to logistics as we are traveling, but I'm sure I'll run across at least a few favourite products to share… if not on the blog, then at least on Instagram.  Don't forget to check out the reviews already published on this page if you are looking for resources as there are a lot of recommendations there already.  I may also have one or two personal projects in the works to contribute to this category too (wink, wink).
Maybe something else, too…
I also have a few new series of posts drafted up, but will have to see how I go for time as to whether these actually make it into published form any time soon.  This year I'm setting very simple and achievable blog goals as my number one priority will be spending time with my family and guiding my kids with their own learning goals on our trip.  Plus I'll have a toddler, so I might just be sleeping every spare moment I can!
Sign up for the newsletter!
I hope you will enjoy what I have planned for the year.  Definitely sign up for my newsletter if you want to stay updated.  I will be sending two newsletters each month this year: one focused on kids activities and the other on parenting tips.  I'm excited about making my newsletters even greater sources of inspiration!
Let me know what you think!
Please contact me if you have any feedback, questions, or anything else you would like to share.  I really value your comments and messages, so thank you for taking the time to connect because it really does make a difference.  When I hear from readers, it totally makes my day!
To celebrate the end of a wonderful 2015 I am excited to announce:
A Bucket Filler Giveaway!
My friends at BucketFillers101.com are offering an awesome giveaway pack of some of their very best books worth US$49.95 (plus worldwide shipping included).  I am a huge fan of the Bucket Filler resources – you can see some of my past reviews and activities by clicking here.  The books are great for the home as well as the classroom, and this particular pack of books suits a wide range of ages so there's something for everyone.  You can find links to individual book descriptions on this page.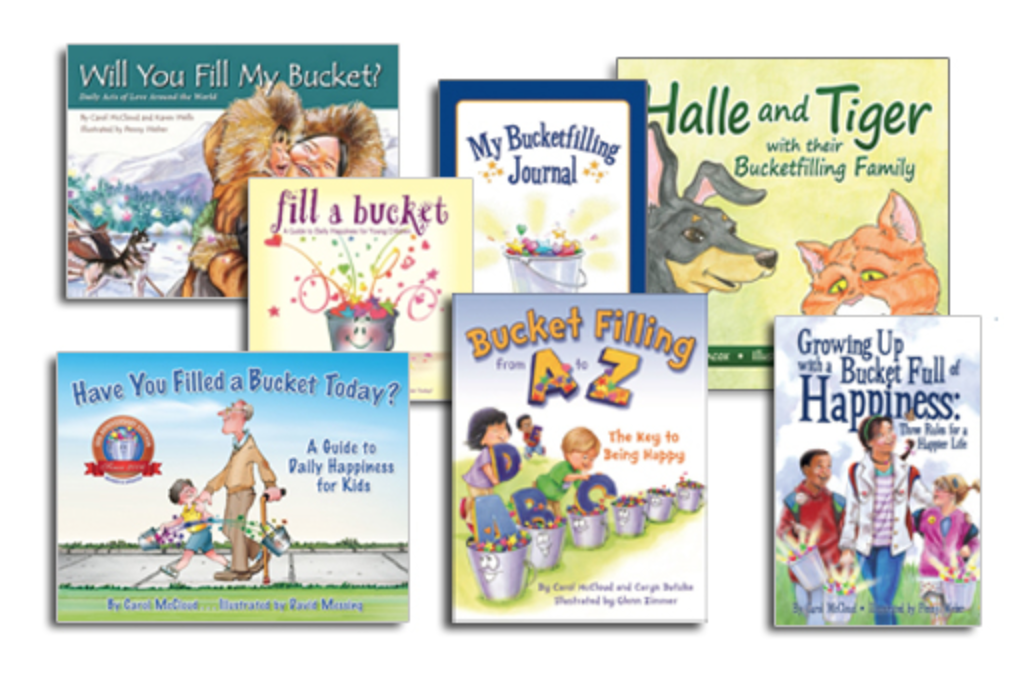 To enter the giveaway just answer this question in the comments below:
What is one of the best parenting tips you have ever read, heard, or learned yourself?
Simple or profound, all tips are welcome!
Competition closes midnight 31 December 2015.  Entries are open worldwide.  Winner will be chosen and contacted on 1 January 2016, and the prize will be mailed shortly after.  The most interesting, creative or moving entry will win.  See full terms and conditions below.
Happy New Year!
I am wishing you and your family a fabulous end of 2015 and a wonderful start to 2016!  Thanks again for being here and supporting me at MomentsADay.com, it means the world to me and I look forward to "seeing" you again in the new year.
Your friend,
Chelsea
Competition Terms and Conditions
You must be 18 + years of age to enter.
You must provide a valid email address.  Entries are limited to one per household.
Winners will be contacted by email and announced on this post.
The winner must make contact within 5 days of being notified or the prize will be given to the runner-up.
The winner agrees to have their contact details passed on to the giveaway organiser in order to be mailed their prize.