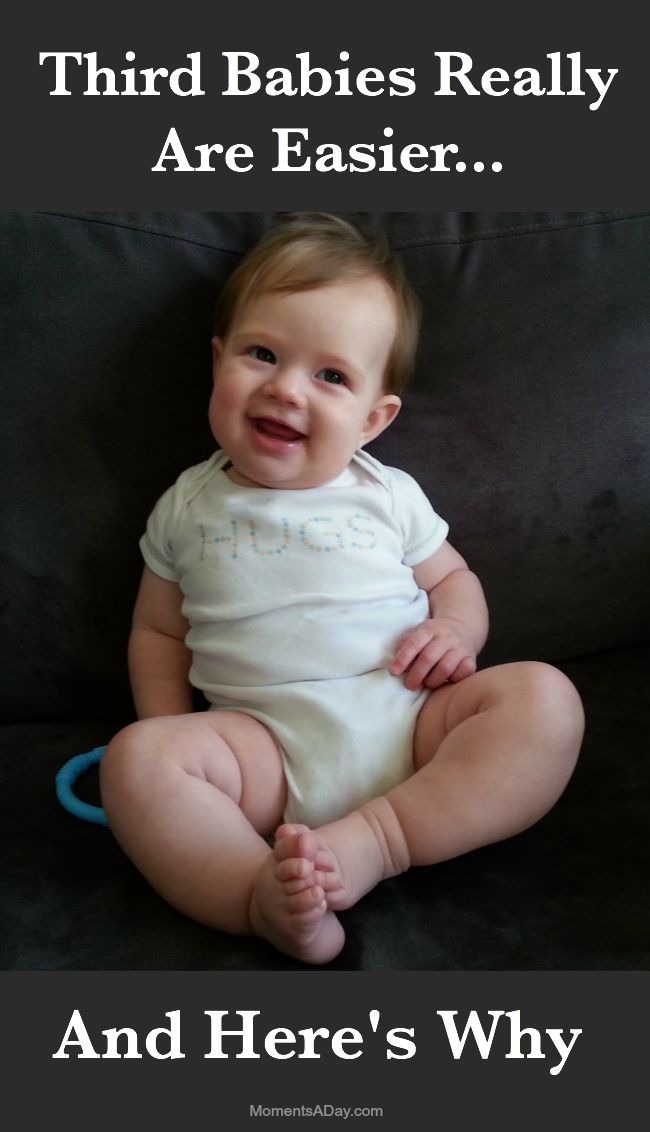 A lot of my friends keep asking me how I'm surviving the transition from two kids to three (especially if they are one of families with two kids who are considering a third… I know that decision is hard, I've been there).
Let me be the first to tell you that some days are not easy.  When they all need you at the same time, there can be a really tough few minutes.
But most of the day on most days (besides those few weeks when we were all sick) it's been fairly smooth.
Why?  Because third babies really are easier.  And here's why.
My expectations have changed.
Let me explain.
With my first son, I was absolutely stressed all the time about what I should be doing (I had never cared for a newborn before!), how much he should be sleeping, researching the next stage of development, and I was tired… always tired.
With my second son, I did a lot of the comparison game (even though I tried not to)… in some ways he was easier, and in some ways he was harder.  Figuring it all out with a toddler in tow was the most difficult part, though.  But I still felt like if I could just figure it out things would go smoothly.  Somehow I could make everyone happy all the time… thinking about it kept me up at night.
With my daughter – my third baby who is now 5 months old – I just know it's all going to be okay.  I know I'm going to make mistakes.  I know all of the kids will have their unhappy moments.  I know now it's not my job to make everyone happy.  But I also know that love will conquer all and in the end (I hope) they will remember a happy childhood.
Let me give a few examples of how my perspective has changed by sharing some recent experiences, comparing my attitude now to my attitude pre-baby #3.  A couple weekends ago I took baby on a three day trip to Sydney for a weekend of parties, restaurant outings, and conferencing with my blog agency Nuffnang and fellow Bloggerati.
Some people thought I was a bit crazy to be attempting a weekend away with a baby.  But I just said, "We'll see how it goes."
(Note: My older two kids stayed at home for the weekend, so it was only me and bub traveling.  In this post I'm just comparing how it was to travel with a baby alone, and my attitude towards the experiences now versus then.)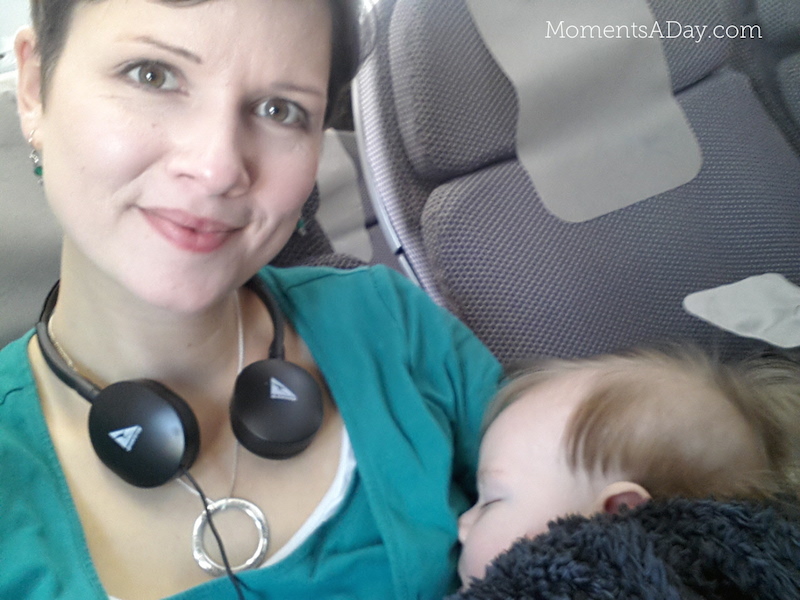 Example 1: Flying.  A 1-hour flight from Brisbane to Sydney (thanks Qantas!)
First 2 babies: Worry for weeks in advance about the baby getting "off schedule."  Pack everything he possibly might need in a huge carry-on bag just in case.  Plan the whole flight around nap times and become terribly anxious when he doesn't sleep "like normal" (what is normal anyway?).  Stress out when baby cries because we may upset other passengers.
Baby #3:  Pack a change of clothes, four nappies, a couple toys, and the baby carrier in my regular bag so it's easy to carry.  Count on naps being missed and just make sure to try to let baby sleep when at all possible.  Chat to the people sitting around me about the baby and let her interact with them before she gets upset… so they feel sympathetic instead of annoyed.  Trust that it will all be okay.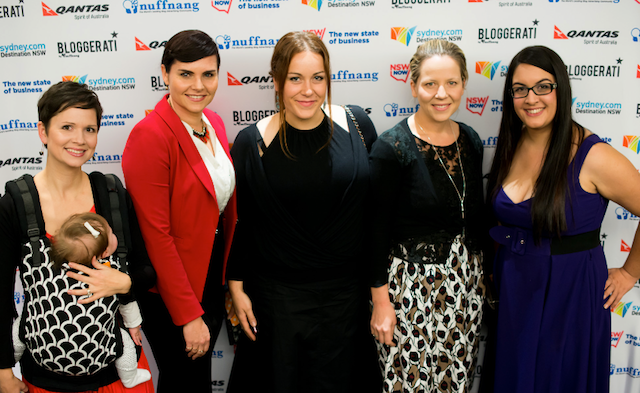 Example 2: An evening out for the Nuffnang Sydney office launch party at the ECQ bar, thanks to Destination NSW
First 2 babies: Get flustered because I have nothing to wear.  Wonder why nursing clothes are so expensive and how can I use my old baby carrier and still look dressed up?!  I can't do it!  I can't be seen at a party wearing this!
Baby #3: Figure out how to dress up my one nursing dress by going online and finding a babywearing group so I can borrow a "fancy" carrier from someone.  Hey, people know I'm holding a baby… I'm not going to be held to the same standards of fancy dress.  Passionate babywearers are so generous with their numerous wraps and carriers, I had about 15 to choose from!  On the night, just relax and remember that if bub needs to go home, I can just taxi it back to the hotel.
Pictured with: Kelly of Be A Fun Mum, Deborah of Learn with Play at Home, Ngaire of Brisbane Kids, and Rachel of Racheous. Photo credit: Alexander Kesselaar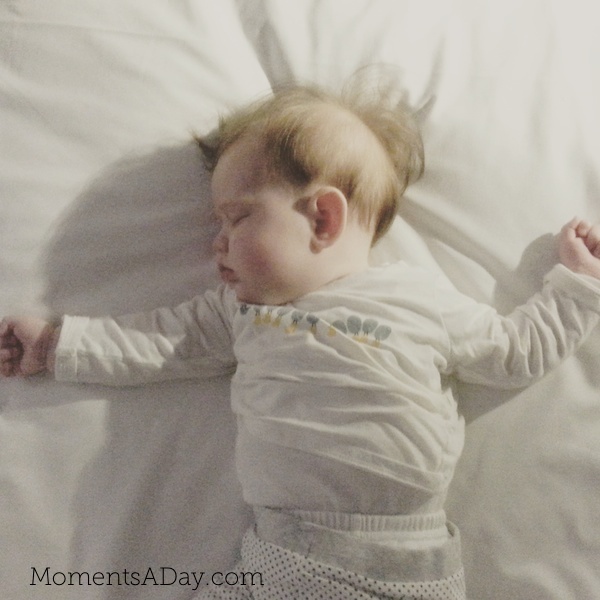 Example 3: Staying in a new place!  The beautiful hotel – Rydges Sydney Central
First 2 babies: Worry if the baby will notice he's in a different room – the sounds, smells, light will be different… surely he won't sleep!!!  Why won't my baby SLEEP?! What am I doing wrong?!?! (Go google "baby sleep schedules" for an hour.)
Baby #3:  Don't stress because it's not a big deal to wake up three or four times (or more) at night.  She's FIVE MONTHS OLD and the majority of babies are waking numerous times at night… so what if I don't have one of those miracle babies that sleeps through the night at week 1, most people don't.  Focus on enjoying the massive, comfy and beautiful hotel bed and just go with the flow.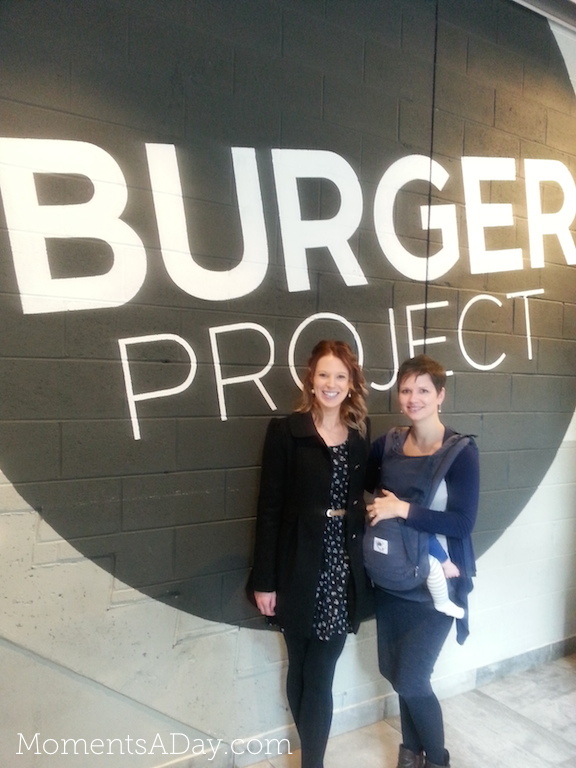 Example 4: Yummy lunch at the Burger Project, thanks to Qantas
First 2 babies:  I can't take the baby to a restaurant!  He might cry!  And what if he knocks someone's drink over?!
Baby #3:  Yay I love not having to prepare a meal for myself!  I'll take the baby carrier and just walk around if bub needs to go to sleep at some point.  No biggie.
Pictured with Lucy of Bake Play Smile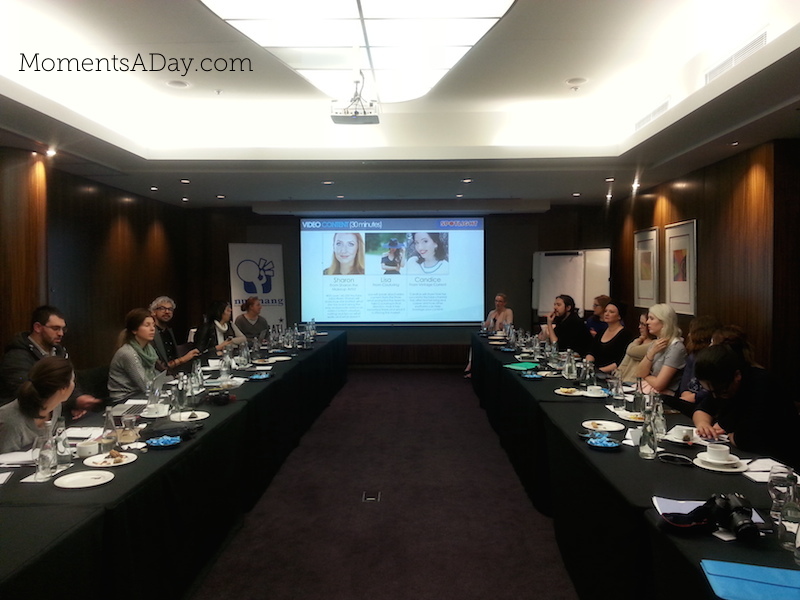 Example 5: Six hour Conference at the Pullman Quay Sydney Harbour in the Macquarie Room, thanks to Spotlight
First 2 babies: Absolutely no way I'll be able to hear anything, so may as well not even go.
Baby #3: She's five months old so it's now or never.  Next year I definitely cannot bring a toddler to a conference.  I'll just let her nap in the carrier and take her outside the room if she needs that.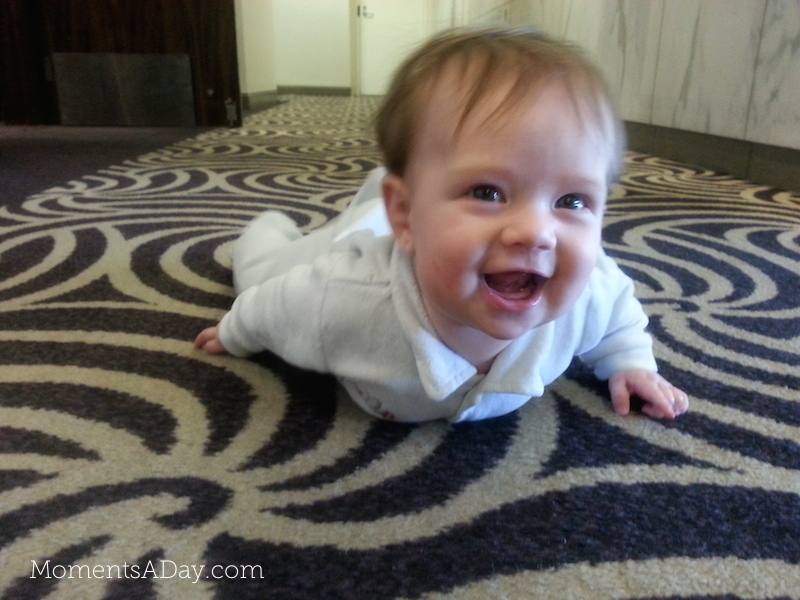 Yes, the baby ended up keeping me busy while sleeping, feeding, or playing during that meeting.  But whenever I had to go out of the room, I got to hear most of what happened from right outside the door.  It was definitely better than nothing!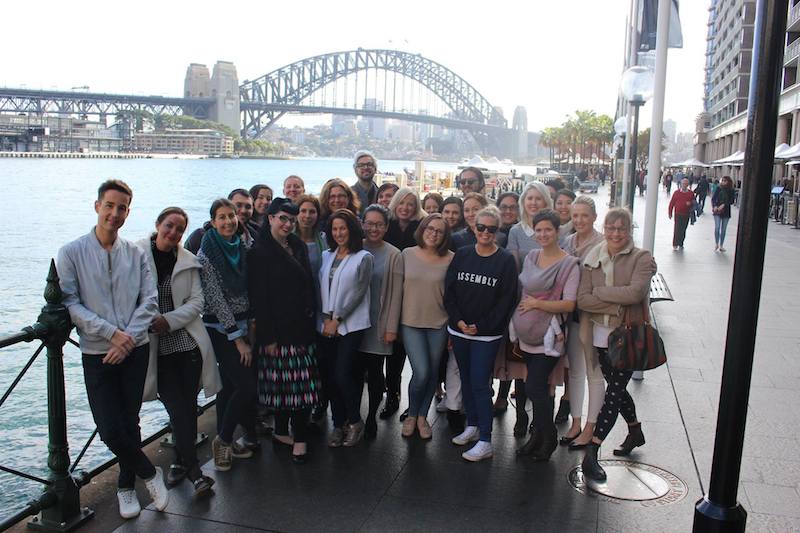 All in all it was a fabulous trip around the gorgeous city of Sydney, and I thoroughly enjoyed it even with the baby in tow.
I wouldn't say I would take a baby of any age to a weekend full of events… but at five months, it was possible.
Because third babies really are easier.  But it's not her, it's me.
Do you have a third child?  Are they easier?  Do you agree with my theory that it's mostly based on perception?
Thanks to Nuffnang, Destination NSW, Qantas and Rydges for giving us a fabulous weekend in Sydney.  We had an awesome time and I can't wait to bring the whole family one day.  See more beautiful Sydney sites and must-do attractions by checking #ILoveSydney.