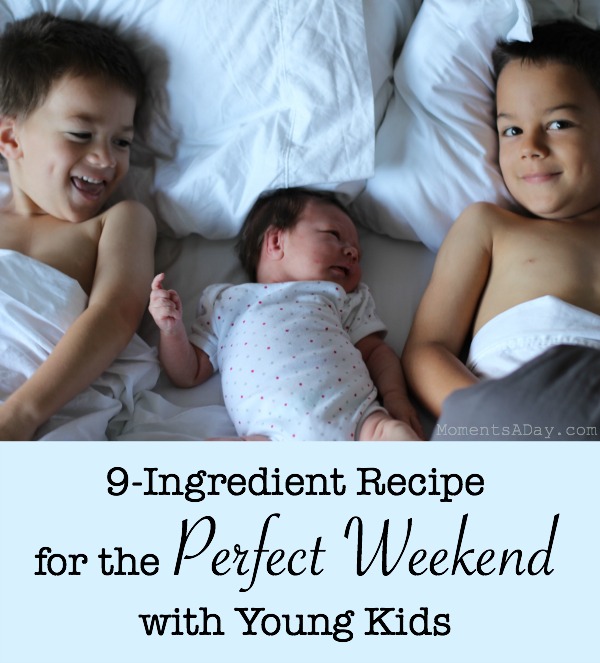 Sometimes when the weekend rolls around I briefly panic wondering we're going to do.
Shouldn't I be taking my kids to museums for educational experiences?  What about making memories in theme parks, doing fancy craft activities, or going on road trips?
Then I remind myself that, while I don't think it's wrong to do any of these things, it's not necessary to do that stuff all the time either.
Children just want to be loved.  They want to spend time with their parents, and they need to learn how to lead a balanced life.
A life of meaning, of connection.  Not of mere busy-ness, excitement, or entertainment.
I don't remember exactly what I did on the weekend with my parents when I was young, but I do remember how I felt.  And I just want my children to remember feeling loved.
I also want them to learn to take pleasure in the little things, the simple pleasures of life.
Since becoming a mama to three, I have felt a burning desire to get back to the basics.  For them, and for me.
Simple.  Relaxed.  A "less is more" approach.
I want this in our home and in our routines.
As far as our weekends go, it means filling our days with down-time together, finding easy ways to be of service to our loved ones and communities, taking care of our home and each other.
Here are the 9 ingredients for my perfect weekend:
1) Having "good morning" cuddles in bed.
2) Eating breakfast together at the table, and reviewing our virtue of the week.
3) Laughing together – maybe while playing a game, reading funny books, or drawing.
4) Spending a few minutes to take care of our living space.  Like doing any laundry that needs doing or giving the house a 10 minute tidy-up… with music!  (Weekends are a great time to teach the kids new housekeeping skills, too.  It's so easy to forget how capable my six-year-old can be when I don't spend time helping him develop his skill set.)
5) Answering a question, or two, or three.  There are many questions that come up during the week that we don't have time to talk about or explore.  Weekends offer a bit of extra time to look up answers in books or find documentaries that address the specific interests of my kids.
6) Finding a way to be kind… whether that means bringing joy to Grandma by giving her a call, or making a card to deliver to a sick friend.  Here are some more easy service ideas for families.
7) Being physically active for at least half an hour to de-stress and unwind – maybe throwing the ball in the yard or jumping on the trampoline.
8) Eating a healthy dinner together.
9) Getting into bed on time, after a non-rushed sleep routine – feeling loved, happy, and knowing we'll all be well rested for the day ahead.
It's simple stuff.  But the little moments add up so that we are relaxed, connected, contented… and hopefully contributing to our overall goal of living a life full of love and purpose.
What makes the perfect family weekend in your opinion?  Which ingredient is your favourite?