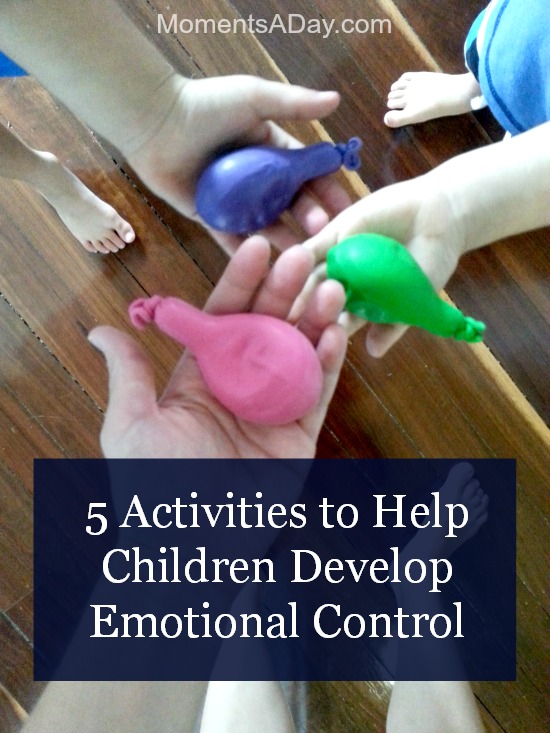 Recently in our house we have been working on becoming aware of our emotions and choosing to handle them in a positive manner.  It's a lifelong journey, to say the least… and I have to admit that I am getting as much out of exploring these subjects as my kids.  But little by little the conversations and activities are paying off, for all of us.
From my experience, here are five easy ways parents can begin to help their children develop emotional control:
Help your child gain an awareness of what they are feeling by learning to recognize faces.  Danya Banya shares an artistic way to practice this skill through creating DIY Emo Dolls.
Identifying emotions and learning what they feel like is the first step before knowing how to act.  Buggy and Buddy gives another creative approach to helping children explore emotions by setting up a Feelings Center.
Create a tool for your child to use when they are feeling anxious away from home as well, such as making a DIY Stress Ball (ours are pictured above) – idea and directions from A Mom With A Lesson Plan.
Make a list of stress-relieving activities that your child can do when they are feeling upset, sad, or angry.  Some items on on our list of "Activities for Calming Down" include reading books on the bed, listening to audio stories, or taking a bath.  Having this list makes it easier to actively take time to cool down, then we can address the issue once the mood has lightened.
How have you helped your children become aware of their feelings, and decide what to do with them?
If you liked this post, you may enjoy more ideas on my Facebook Page or checking out my first collection of 100 Kids Activities to Build Character.