I am thrilled to share some exciting news today.  But first, here is the story behind it all…
About 7 months ago, I sent a story I had written to an artist I admired.  It was a story about a boy who had found a treasure in his back yard, and his mother using this experience as an opportunity to talk to her son about mining his inner gems.  I was absolutely delighted when the artist responded saying she liked the story and would like to collaborate on making it into a book.  Squeeee!
After a few months of working together to finalise the storyline – ironing out the concepts and examples (the story offers a metaphor about what it means to develop virtues), balancing out the narration with dialogue, making sure the text appealed to kids etc – the illustration process began.  Developing the characters, creating visuals that would help children follow the ideas within the storyline, font, layout, impressions, details…
Many drafts later, there was proof reading, kid testing, grammar checking, approving the printed draft, final editing (plus quite a few steps in between)…
Which leads us to today – with the finished product of all that hard work now available on Amazon!
That, in a very small nutshell, is how this book came to be.  It was a beautiful collaboration and I am proud to have worked with such an awesome partner on this project which has definitely been one of the favourites of my career thus far.
The wonderful partner I was referring to is Elaheh Bos, the talent behind Plant Love Grow which is a resource site I have often recommended on the blog.  She truly brought this story to life and I am so grateful for the wisdom, experience, and creativity she contributed to this project!
Here we are holding our first copies of the book… proof that people can indeed work together even when they live on opposite sides of the world!  (She is in Canada, I am in Australia!)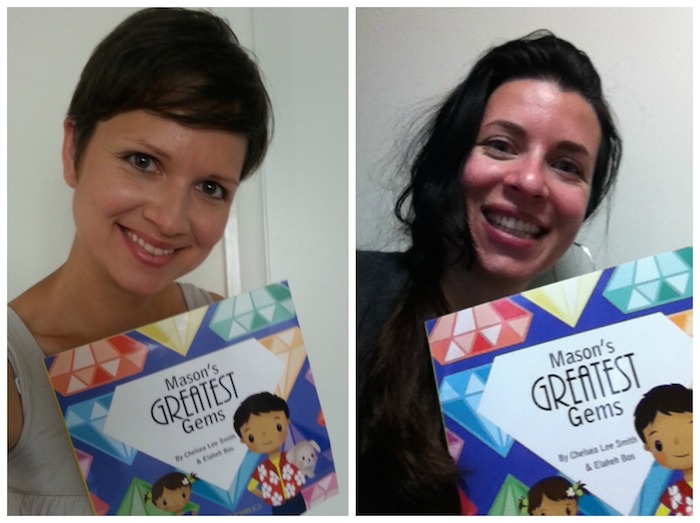 To read a description of the story and to see sample pages of Mason's Greatest Gems, head over to this page.
If you do end up getting your own copy of our book – which I hope you do (wink wink) – you will notice that it is dedicated to Anika.  Anika Michelle James was a beautiful youth I knew when I was in university, who was taken too soon from this world.  She was not only a very kind person but she loved teaching children about kindness too.  It is my hope that this book will carry on her legacy, and be a tribute to the joy and beauty she brought into the world during her life.  Please check out the wonderful foundation her family started in her honour, the Anika James Foundation.

I would also like to say thanks to my husband for his endless encouragement, and fabulous friends Jackie, Bekka and Jay for their helpful suggestions as well.
If you have any feedback or questions about our book, please be in touch – we would love to hear from you!
Don't forget to pop over to this page to find out more.  I think the book would make a lovely gift for a child or a teacher, if I do say so myself.  There are free printables to go along with the story as well – we hope you will enjoy them!
Thanks for your never-ending support which allows me to continue creating resources here at Moments A Day – I could not be more grateful.
Your friend,
Chelsea