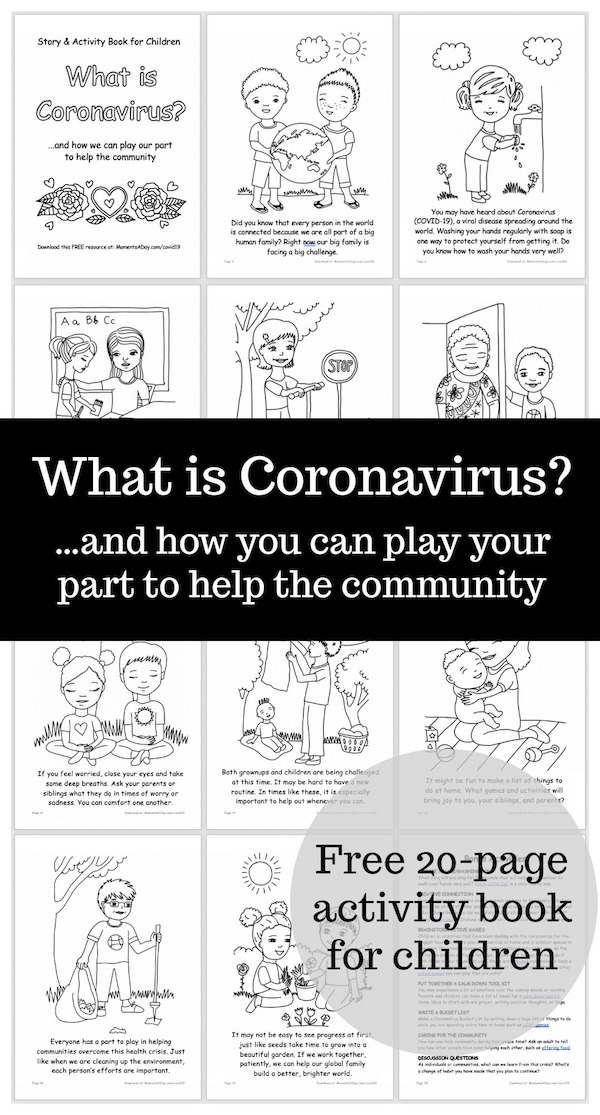 In this uncertain time, children might be hearing a lot of conflicting information about Coronavirus (COVID19) and be confused about the new realities they are being faced with. Some of the changes and feelings associated with these changes can be very hard to understand and explain.
Actually, that's for parents and children alike!  It's a really unstable world at the moment, and each of us has our own unique view on it depending on where we live, who is in our family or close-knit community (healthcare workers? potentially vulnerable patients? teachers? "non-essential" workers?), and numerous other factors.
A new resource comes to life…
Last week, I started creating an activity book with the aim of helping myself and other parents navigate the information and concepts that are important to share with children around the health crisis facing the world right now.  Using the illustrations of a friend, Kertu Kelem, the result was a 20-page colouring book with some reflection questions that would hopefully offer a calm and rational approach to the situation.  I hoped it would be useful to parents/teachers and was about to publish it, when I realised that the book – as it was – only contained my own personal understanding of the situation, from where I live in Australia. Wouldn't it be better if it could be looked over by some other parents, who might have some further ideas about facts or concepts they wanted their children to grasp at this tricky time?
So I asked 20+ mothers for their feedback, and the collaboration was beautiful.  People shared their own experiences with Coronavirus from around the world (several live in countries that have already been addressing Coronavirus for 3+ months) and their own ideas about messages they wanted their children to focus on during this challenging time. There was collaborative editing, discussions about wording, consideration of cultural appropriateness, and so much more.  I am deeply grateful to these mothers from Australia, New Zealand, the UK, the USA, Canada, and China who took time out of their busy lives, especially at such a confronting time for many of us, to give feedback and contribute to making this resource better for all of us.
Heartfelt thanks to these contributors:
In alphabetical order, my sincere thanks for working on this project goes to: Adwoa, Ajoon, Cindy, Elham, Elizabeth, Ellen, Elyse, Emily, Fairy, Hyeeun, Julie, Kalyan, Kristin, Lee, Lua, Lydia, Mahsa, Mahtab, Megan, Mei Ling, Miranda, Prema, Rachael, Shina, Shireen, Susan, Tanya, Varya
Huge thanks to the illustrator, Kertu Kelem, in the UK.
And, as always, a big thank you goes to my husband Zafar for his encouragement and practical help (ie childcare and master editing skills).
The result of this collaboration is an activity book that focuses on the idea that we all have a part to play in making a difference. Seeing our actions (or lack of actions, due to staying at home!) in a positive light can help improve attitudes about the situation we might be facing.
More about the book:
The first part of the book shares some "do" and "don't" type information regarding hygiene and distancing; the second part addresses feelings and getting sick; and the third part talks about what we can do to contribute to make the situation a bit easier.
Here are just a few sample pages: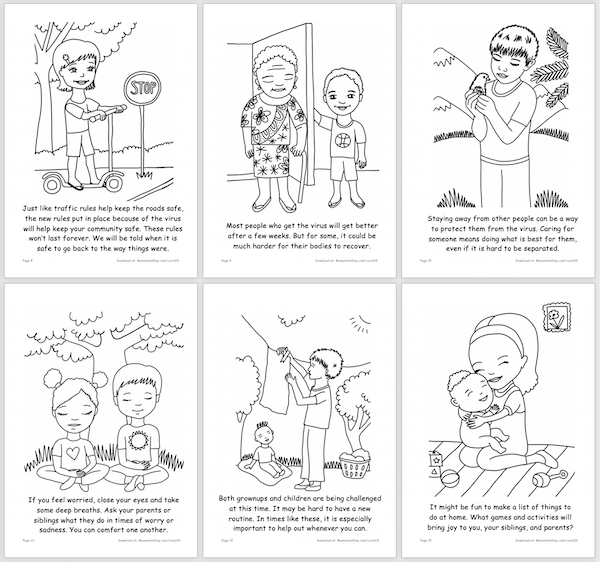 Please note there are two versions of the book – one is A4 size and one is Letter size. There is also an alternative page 9 for those who would like to address death more directly with their children. Some families felt it was important to discuss the reality of people dying in the community, while others preferred to keep this part out of it due to their child's age or sensitivity levels around the topic. So it was decided to have two options available for parents and teachers to choose which was more suitable for their individual needs.
You can see the two versions below to make your decision: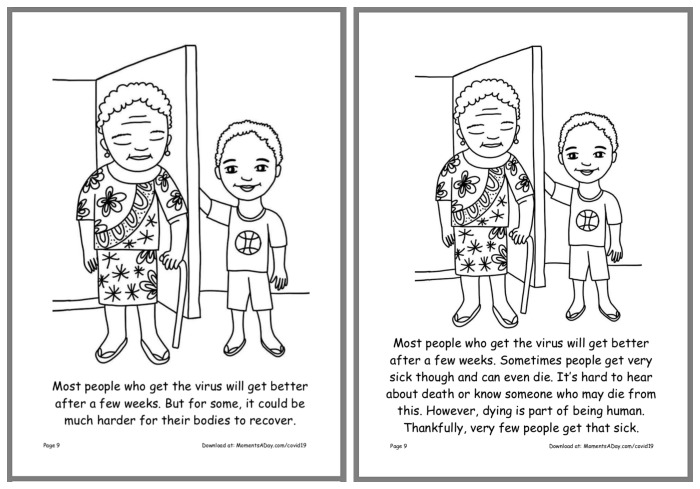 If you prefer the page on the left, just download the main file.  If you prefer the page on the right, download the main file and replace page 9 with the optional file.
It is impossible for one resource to suit every family or community's situation, but hopefully this resource will address some of the main concerns children and families are having at the moment.  Of course, feel free to remove any pages that you feel are inappropriate or irrelevant for your child.
A few ways to use the file:
The 20-page file can be used in a number of ways.  You can print it full page, or you can print it half page (like the picture above) to make into a smaller booklet.  This means a bit less for little ones to colour, so is my personal preference.
You could also take out just a few pages at a time, to discuss fewer concepts with your children.  Then you could put them up on the wall or put the pages together in a booklet later.
Classrooms could distribute the pages to a a group of children, and then use them on a bulletin board.
I am also open to doing virtual author visits. Please use my event page for details.
Download the Coronavirus Activity Book files:
Thanks to all the volunteers who have translated the booklet so it can be made available in more languages!
Arabic (translated by: Maha Iskandar and Ghada Shawki)
Danish (translated by:
Borge Hansen

)
Filipino (translated by Aubrey Rodriguez & Marie Faye Alvarez)
French (translated by Natascha Pilgrim, Adwoa Ulzen Setrakian, and Pegah Ayoubzadeh)
Flemish (translated by: Sandy Goosens)
German (translated by: Katrin Modabber)
Indonesian (translated by: Shanthi Levanita and Jamil Roy)
Manipuri (Meiteilon) – note this is a video – (translated by: 
Koijam

Machasana)
Navaho (Dineh) (translated by: Sandra Slimko)
Nepali (translated by: Indira Adhikari Aquino)
Portuguese (translated by:

Gabriela Marques)
Russian (translated by: 

Takhmina Kakenova)
Samoan (translated by: Tauilili Ata Malifa)
Serbian (translated by: Zeljka Palikuca)
Spanish (translated by: Roxanna Hadden and Leila Eady)
Swahili (translated by: Alphonce Nicholaus)
Te Reo (translated by: Robbie Daniels, Ziggy Matia, Jessica-Maraea Mako-Andersen, and Leesha-Rei Skelton)
Tok Pisin (translated by: 

Jacinta Kulu)
Turkish (translated by: Rovsen Giffard)
And in video format, thanks to Jordan Rivers Creative (and Taylor for the colouring!):
Again, thanks to those who contributed to this project. Please share the link with friends and family who may find it useful.
I'm sending all who read this my best wishes. Take care, Chelsea
Would you like to donate?
I've been asked if readers could contribute to cover the cost of this project (and potentially future ones – check out my shop for more resources). There is no expectation or pressure at all to donate, but if you'd like to, you can send a donation via PayPal at the email address: chelsea@momentsaday.com   Any amount helps.  Alternatively, you might like to check out my other digital resources to contribute to learning at home (scroll to the bottom of the "shop" page).  There are ebooks, workshops, and of course tons of free activities as well to browse through if you're looking for more resources to build character at home. Eternal thanks for your support.
Need more help discussing Coronavirus?
If you'd like to read some more resources that share advice for talking about Coronavirus with kids, check out these articles or alternative booklets:
As you go through these resources with your child, you may want to encourage them to share what they have already heard about Coronavirus so that you can discuss it together. Make sure that any facts and figures they know are based on truth, and that they feel comfortable talking with you and asking questions.
P.S. I've been asked about the image on the cover. This was inspired by one of my favourite quotations that inspires me in times of hardship – to do everything with love: "In the garden of thy heart plant naught but the rose of love." – Bahá'u'lláh