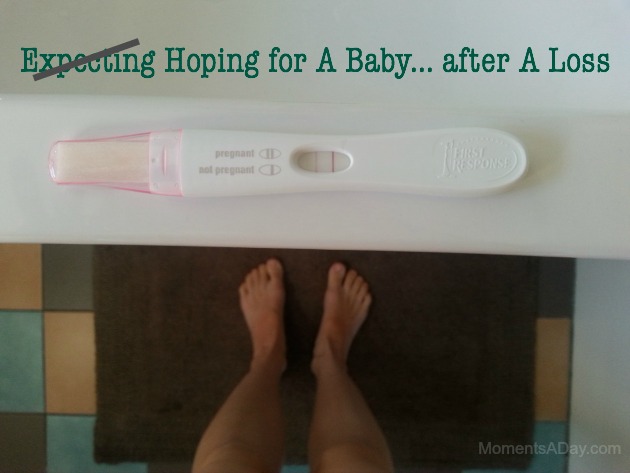 Every pregnancy is different.  I really understand that now.
When I first looked at the "positive" pregnancy test last month, I was overcome with emotions I never had with my first three pregnancies.  My first two pregnancies were full of excitement and automatic attachment to the little beings growing inside me.  These ended with healthy baby boys.  Such blessings.
My third pregnancy started out the same but sadly ended in miscarriage.  It was a shock and gave me deeper insight into the complicated process that "expecting a baby" can be for many women.
My miscarriage taught me so much about life – and love – and I am a believer that we can grow from all experiences we are faced with.  But obviously I don't want to experience miscarriage again.  I didn't want it to happen so much that at one point I even wondered if I would ever want to try for a baby again… I wasn't sure if I could bear loss another time.  However now that I'm cautiously hoping for a baby to hold in my arms one day, knowing the potential is finally here and actually possible, I still need to accept that for the most part I have absolutely no control over the situation at all.
While I know I have much to be grateful for and my struggles pale in comparison to many others, I am simply dealing with my own situation right now and trying to accept that I am having a hard time.  (If you haven't already read my experience with miscarriage, you can do so in this post.)
So this time around, my fourth pregnancy, I have decided to skip the "12 week rule" about waiting to share… because I would like to be honest about what I am going through and for people to know it's normal – in case they are facing this challenge as well.  Basically I have been a bit overwhelmed with various emotions… and the morning sickness – while reassuring in some ways – unfortunately doesn't make things any better.
Every day I am working on detachment from the outcome of this pregnancy because I know I cannot control what happens through willpower or worry; trying to feel hopeful things will work out for the best even as I feel so much anxiety due to my past experience; embracing the normal pregnancy hormones and physical challenges with patience; and also remembering to be present with my two other children who are going about life as normal 5 and 3 year olds who could never be expected to understand what mama is going through.
For the most part I am trying to take each moment, and each day as it comes.
I am also doing what people usually do when life throws them a new situation to work through.  I am prioritising all the areas of my life and figuring out how I can move forward in the best way possible.
This process has led me to decide to step back from blogging for a while – until at least the first trimester or half of the pregnancy has finished because it is the most nerve wracking time.  My heart and mind just need time to rest and concentrate on taking care of myself and my family.
I have so many drafts of articles and some awesome product reviews in the works… which I have had to delay sharing due to this decision.  (Thanks to my wonderful sponsors for understanding and being willing to wait until I feel better.)  However I think it will be best for me in the long run to take a break right now, and I hope all of you – my wonderful readers – will return once I start posting regularly again.
If you are new here, or haven't yet scrolled through my archives – you may enjoy reading some of these popular posts:
And don't forget about my ebooks, which give a great overview and introduction to what this blog is all about — making character the heart of the home.
I will miss sharing here and interacting with you all on social media.  Please take care and if you would like to get in touch for some reason, you can find my contact details here.
Thanks for your support and I look forward to seeing you again.  Hopefully sooner rather than later.
All my love,
Chelsea
UPDATE 6 AUGUST 2014:
Wow everyone I am so thankful for your support and love. From comments on this post, private emails and messages on my Facebook announcement – I am very touched by the sweetness shown to me after I opened up about this very personal experience.  I am happy to share that I am now out of the first trimester and had an ultrasound that showed our baby is growing well.  I am still not over the morning sickness or anxiety in full, but am feeling a LOT better.  I am hoping to be sharing a bit more on the blog soon. xx