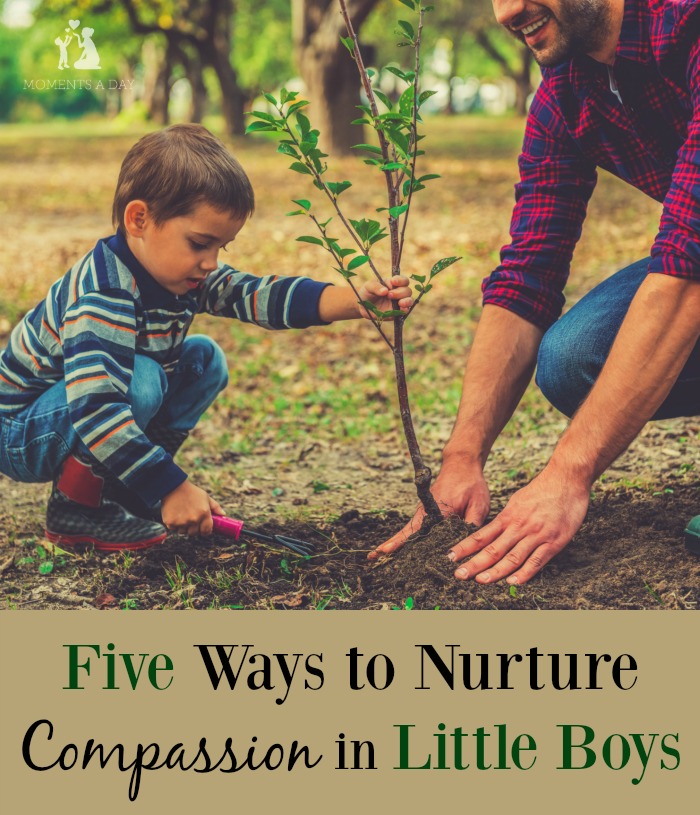 I want my boys to be compassionate towards those around them – those in their family, those in their class or in their work place, and also those in the community that they do not know personally.  This list may be relevant to girls, as well, but as a mother of boys I find the dynamics of teaching skills like empathy and homemaking are simply different than I imagine they would be if I had daughters.
Here are some simple ways I am working to develop compassion in my young sons on an everyday basis.
Normalize compassion – and expect it.
Children are naturally compassionate.  They will give a hug when someone gets hurt, become anxious or even cry when another child cries.  I like to encourage my boys when they respond compassionately but not make it such a huge deal that they think something abnormal is going on.  For example I might respond with, "That was very kind of you to give your friend a cuddle after he fell down" instead of "Wow great job!  I am SO proud of you!"  (I am guilty of having the latter response and witnessed the surprise on my son's face like, "Wasn't that what I was supposed to do?  Why is she overreacting?")  Basically responding as if this behavior is just what we do… not something out of the ordinary.  Equal praise and encouragement to any other positive behavior they have displayed, such as being brave on the slide or sharing a toy.  Consistent reinforcement that this is the behavior we expect and value in our family.
Incorporate compassionate behavior into play.
Role play caring for others.  This is fun and easy to do with a dress up box.  Doctors can care for patients, superheroes can rescue people in burning buildings, builders can make homes for families who don't have a home, and veterinarians can take care of sick pets.  Don't forget to put some parenting type play items in your son's dress up box, as well.  Dolls, baby food, a blanket, and baby carriers are wonderful items for boys to play with.
Give them jobs that include caring for others.
Setting the table, sorting the laundry, and washing a sibling's hair are everyday jobs that can help boys realize that caring for others is a part of everyday life… it is not something they should have to be asked to do, but something they should immediately be drawn to doing because they are a member of the family who wants to help out.  Compassionate behavior is something they should learn to expect of themselves.  I think in order to make these types of roles natural and comfortable for our boys, we have to actively involve them in the process of learning these habits… not give them as "chores" (with a reward) but as regular jobs.  It is not always easy for me to include my boys in the cooking and cleaning (it's much quicker to do myself…) but it's a long-term investment that will pay off.  I have to remind myself of this every day.  When my boys walk into someone's house whether that is a friend or a stranger, I want them to be on the lookout for ways to help and feel confident offering help where it's needed.

Have fun serving others together.
Make a meal for someone who is having a hard time, or send a card to someone who is not well.  Involving boys in the process, just making it a regular part of life, will help them develop a compassionate response to those around them.  Sometimes these opportunities occur naturally, and sometimes they have to be organized and planned.  Honor their suggestions when they have an idea to help someone else.  Give them opportunities to problem solve and find ways to make someone else happy.  If you are looking for simple ways your family can serve others, you may like to check out my list of 52 acts of kindness for young families.
Give them plenty of time to observe compassionate male role models.
This may be a father, grandfather, teacher, or neighbor.  Make sure they see men in compassionate roles, whether that is mowing a friend's lawn, doing grocery shopping for a sick relative, or giving a friend moral support on the phone… things the men decided to do of their own accord, not because they "had" to.  I think our boys will be empowered by seeing men in caring, respectful relationships with others, so they can envision themselves in the future and aspire to doing the same thing.
In essence, I want to give my sons the opportunity to practice compassion by gently creating the circumstances and leaving plenty of space for this virtue to flourish.
This is just my personal list of objectives that I am working towards as my sons grow up.  Writing it out helps me organize my thoughts and have practical goals to work towards… I am not perfect by any means but am striving every day, just like any other parent.  You can read more of my parenting articles by clicking here.
Do you have other ideas about how to nurture compassion in boys? 
Please share in the comments, I would love to hear from you!
Here are some other articles I have written from the perspective of being a mom to boys:
This post was featured on The Good Men Project and The Shriver Report.