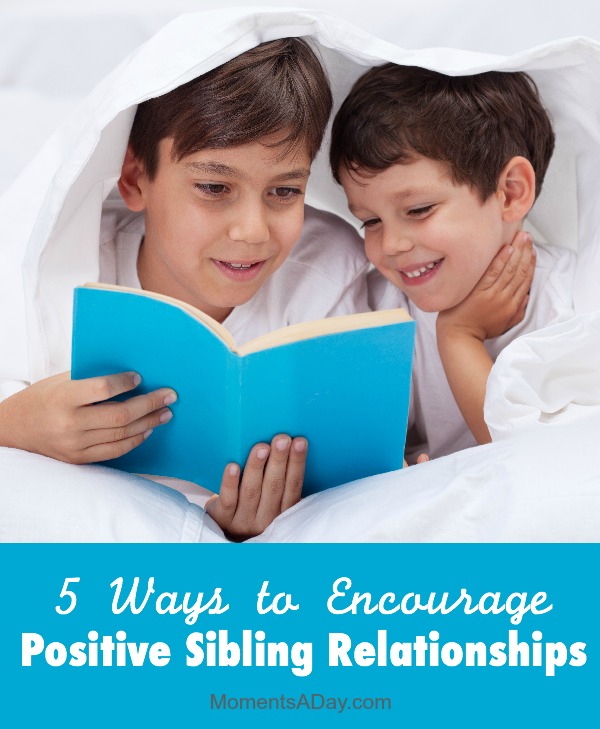 Mediating conflict between my kids is, I admit, one of the most difficult parts of parenting for me at this stage in my journey as a mother.  Since my boys are only 5 and (almost) 3 years old, I still need to be there much of the time to guide them through challenges but I also want to give them the chance to work things out on their own whenever possible.
They are at different stages developmentally but both also pretty much understand the "rules" – which are to say kind words, use gentle hands, and respect our environment.  (You can read more about setting positive family rules in my ebook How to Build Character at Home.)
But that does not mean it is always easy to follow those rules and keep your emotions under control, especially when your brother just isn't quite done with his turn on the scooter…
I want to let them experience and test out their own style of conflict resolution, but I also want to prevent huge arguments/fights (and I know these little skirmishes are tiny in comparison to what is to come!).  I see the escalation of emotions, I decide whether or not to step in at this point in time, I might try to gently offer ideas and phrases they can use, and it may or may not go as I hope and/or predict.  It can be tricky.
One area I have been trying to focus on lately is fostering love between the boys, so that they really start to appreciate the special relationship they have.  Having a sibling is, after all, such a wonderful gift… though it is easy to take for granted when you only concentrate on the things that might annoy you about your brother or sister.
I hope that as I encourage positive sibling relationships, the kids will have a greater sense of unity between them so that working through challenges becomes a better experience for all of us.  Little by little, I know a loving relationship will assist in this area.
Here are five easy ways I have been encouraging positive interactions between my boys:
Remind them that they love each other.
When we talk about people who love them, during night time routines, we make sure we include each sibling.  "Mom loves you, dad loves you, your brother loves you, Grandma loves you…"  We also give them a chance to say "I love you" to each other – if they want to.  It's a small thing, but hearing those words is always nice, isn't it?
Look at pictures from the past, and imagine the future.

The boys love browsing photo albums, hearing stories, and even watching some video clips from years ago.  It's so fun to see them enjoy (earlier) childhood  memories and it is interesting to see what they remember and say during these episodes.  It also gives them a little glimpse into the long-term relationship they have started when we share stories about our own sibling relationships… ie "I remember when your Auntie and I use to…"
Give them appropriate games to play together.
It is a a bit tricky to find games that both boys enjoy and find developmentally appropriate, but it is so worth the experimentation to find them.  Kicking the ball to each other, Guess Who, and Snap are three games my boys are currently enjoying together, with minimal help.  Sometimes when free play just isn't working out, suggesting a game can re-set the mood.
Refer to each other as friends.
By calling each other friends, I hope they will understand that they should give and expect same behavior of each other as they would of friends outside our home.  I often hear that siblings can often be rough on each other even when they are gentle with everyone else.  Reminding my kids that they are friends (not "just" brothers) can help them think of each other in this way as well.
Enlist help from each other.
Sometimes when one of the boys asks me for something, I request that they ask their brother.  This may mean getting a fork that dropped, cleaning up a spill, or even washing hair.  Giving them plenty of opportunities to create a supportive relationship is very important to me as a mother.  Just gently assisting them to work together is a great way to foster love and comradeship.
How do you encourage positive sibling relationships between your kids?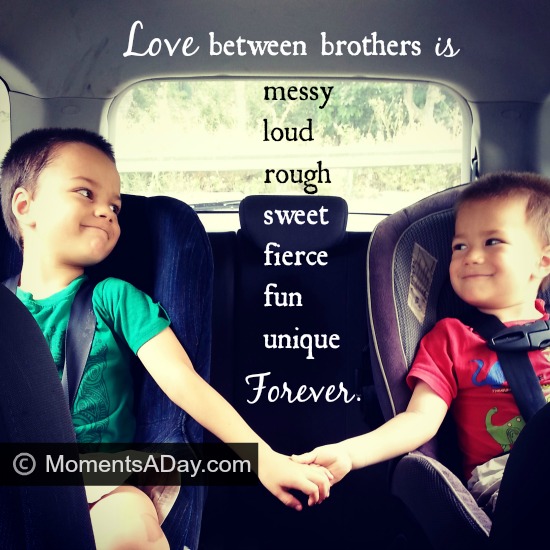 To read more articles in my Parenting Series, click here.  You may also enjoy browsing my Pinterest boards for more positive parenting ideas.