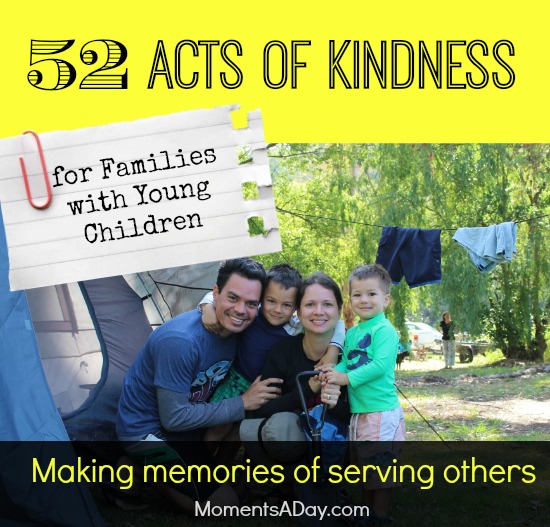 Every person can use their head, heart, and hands to make the world a better place.  I truly believe that we all have the power to make a change, even if it is small… you really never know what that change may mean to someone else.
But life is busy, and a bit crazy with young children.  And sometimes small acts of kindness – even though they are simple – take a bit of preparation or at least thought ahead of time.  So they may get left until "later"…
That is why I have created this list of 52 acts of kindness for families, which I plan to incorporate into my family's *real* plans throughout the coming months.  Some will be repeated numerous times, others may be adapted to a certain circumstance, but the list just gives us a ready set of ways we can practice kindness to others.  The idea is not to take the fun out of spontaneous acts of kindness (we can still do those as much as we wish!), but just to make sure we keep kindness on our radar.  I think this will also help us recognize the opportunities to be kind even more.
I'm planning to use my ebook 52 Acts of Kindness: A Family Scrapbook of Kindness in Every Season to record some of our favorite memories.  If you would like to check it out, visit this page.
There are soooo many lovely ideas for how we can show kindness to others, but this list has been especially compiled with the "young family" in mind.  Most of the ideas are very simple and can be completed in a short period of time, or they will easily capture the interest of toddlers and preschoolers with some food or hands-on activity involved.
Here is my list of 52 acts of kindness for families with young children:
1. Bring hot cocoa to a neighbor
2. Give away old toys to younger children
3. Leave a treat for the mail carrier in your mailbox
4. Give some flowers to someone feeling unwell
5. Make happy notes on the sidewalk with chalk
6. Take paints and paper to share at the local playground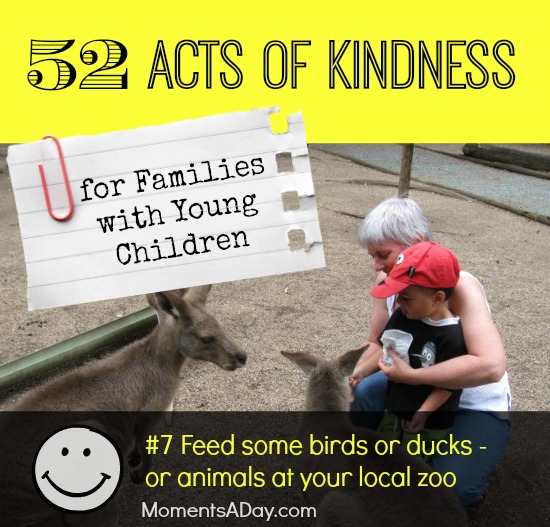 7. Feed some birds or ducks – or animals at your local zoo
8. Organize an afternoon of games for your neighborhood
9. Give popsicles to outdoor workers (those in construction or gardening, perhaps)
10. Take icewater and cups to the playground to share with others
11. Hold a Lemonade Stand to donate to a cause you support
12. Hold a "dog wash" to raise money for an animal shelter or zoo
13. Wash cars to raise money for a cause you support
14. Rake leaves (or do gardening) for a neighbor
15. Take baked goods to a teacher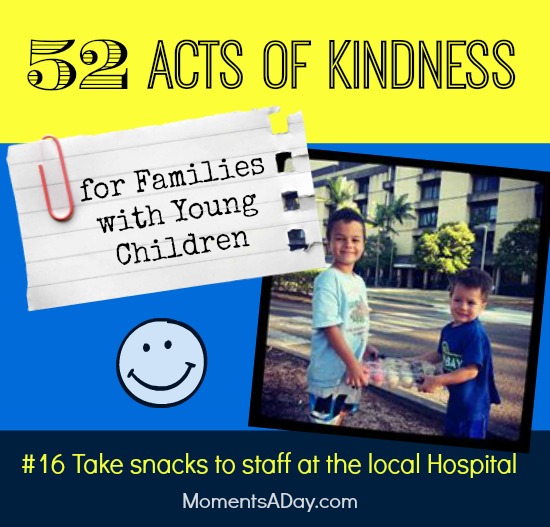 16. Take snacks to staff at the local Hospital
17. Babysit so that a couple can have a date
18. Donate DVDs to the local Hospital
19. Donate toys to the fire brigade for children in emergencies
20. Have a family round of shoulder massages
21. Pass out stickers to children waiting at the doctor's office
22. Read inspiring stories to a group of children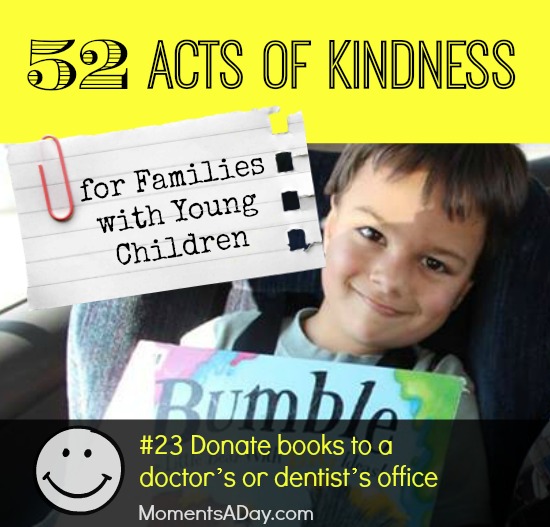 23. Donate books to a doctor's or dentist's office
24. Meet someone new at the shops or in a park
25. Take a treat to a bus driver
26. Educate yourself and your neighbors about recycling
27. Invite another family over for dinner
28. Cut coupons and put them in a neighbor's mailbox
29. Take a Thank You card to the local librarians
30. Drop off "good morning" notes for early risers in a hotel
31. Draw a picture of your community for the Police Station
32. Open the door for people entering a shop or restaurant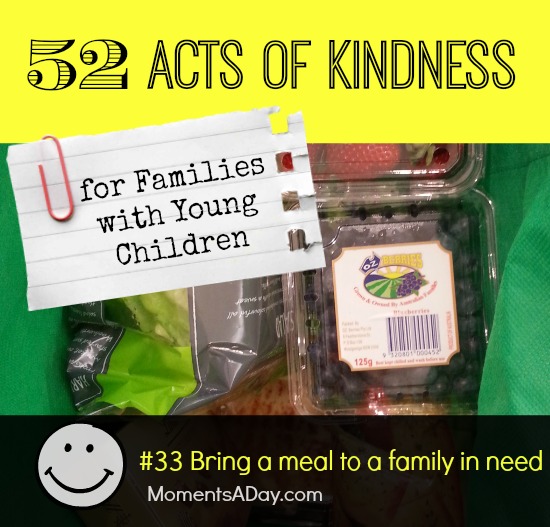 33. Bring a meal to a family in need (recent birth, sickness, or loss)
34. Write a poem for someone you love
35. Make "Be Happy" notes and put them in mailboxes
36. Vacuum the house of a family who just had a baby
37. Learn a joke to tell to a check-out person
38. Tape change to a parking meter or vending machine
39. Make a list of things you love about someone and send it to them
40. Leave a happy note in a library book
41. Create a movie theater afternoon for your neighborhood
42. Send a postcard to a distant cousin or friend who moved away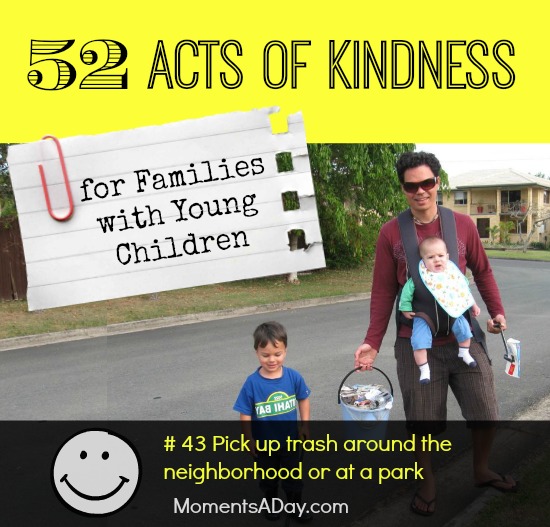 43. Pick up trash around the neighborhood or at a park
44. Sing for the elderly
45. Make a phone call to a friend or family member far away
46. Go on an errand and smile at everyone you see
47. Blow bubbles (and take extra) to the playground
48. Volunteer in a local animal shelter
49. Take cans of food to the local Food Bank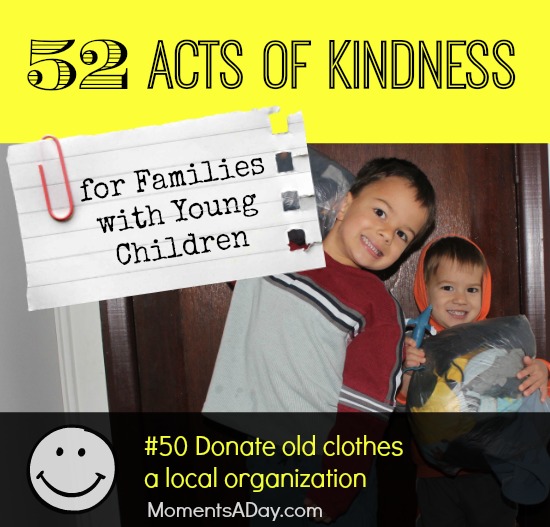 50. Donate old clothes a local organization
51. Introduce someone who just moved to your town to new friends
52. Let someone go ahead of you in line at the shops
Do you have ideas to add?  What acts of kindness has your family enjoyed?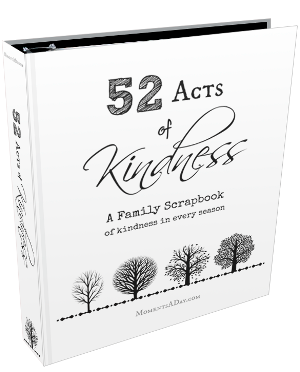 To find out more about my ebook which is a template for planning acts of kindness throughout the year, as well as a place to record some of your favorite memories, visit this page.
I am looking forward to using the book to plan out our acts of kindness a bit more (to make sure we do not get stuck on the same ones over and over!) and using the book to reflect on what we have enjoyed as well as what we have learned.
I think it will be so fun for the boys to look back as older children and be inspired by what they did.  Truly all hands – even small ones – can make a difference.  Read this post if you have any doubt.