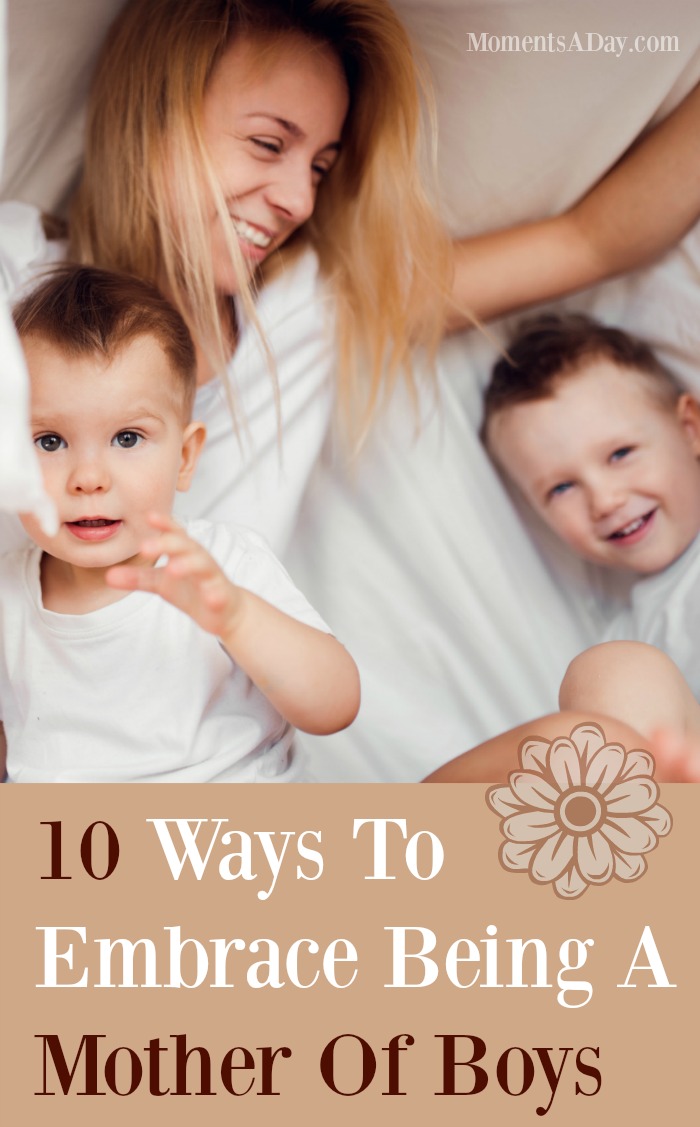 Gender disappointment is something very real. I know first hand.
It's not that I do not love my boys with all my heart, or wish they were any different.  I just always assumed I'd have a daughter.  After all, I was one of two girls and I never really knew (and therefore expected) anything different for my own family.
As a mother of boys I have had to rewrite my dreams and life journey to include sons versus daughters.  And over the past few years I have tried to come to terms with my feelings by reflecting on why exactly I feel it is so different to mother boys.
It's not just the toys, the games, the clothes… though these things are an outer reflection of deeper things beneath the surface. It's also the interests you have in common, the relationship you expect in the years to come, and the general understanding of life experience as a man versus a woman.
In uncovering and realizing my expectations and my assumptions, I have tried to think of practical ways I can embrace being a mother of boys.  I realize this may seem silly to those who have a daughter, or were never expecting to have a daughter and therefore do not have strong emotions about it.  But I feel this is an important topic to post about as I have had conversations with  many other "boy moms" and know I am not alone in this challenge.
Here are 10 ways I am doing my best to embrace being a mother of boys.
Disclaimer: this post has TONS of stereotypes… but in dealing with this issue, it is pretty much impossible not to include them. I realize the same issues can come up with mothering daughters… but anyway that's not the purpose of this post. Bear with me, please.
There are Amazon Affiliate links in this post for your convenience.
1) Have regular chats with other moms of boys (moms of boys only).
Even though I know moms with boys and girls can understand boys, I think having only boys is a whole different matter altogether. Having chats with these women, discussing the tests and the issues can be so helpful. I know "she understands" what I'm going through and, for me, it just softens my heart to have these "boy mom" friends close by.
2) Choose some "boy" hobbies I can enjoy.
I'm still searching for this one.  But I'd like to have some hobbies the boys and I can enjoy together in the years to come.  Not skateboarding, which they love to do with their dad but I have never felt comfortable doing.  Probably not anything with vehicles or sports or superheros…. so far I have not become passionate about those things (though I enjoy them in moderation). Maybe scuba diving? Rock climbing? Mini golf?? I know it will be important to find a pastime we can both enjoy together, so we can also share those important conversations and moments of connection as the boys grow up into teenagers and men. (Yes I know my boys may enjoy "girly" hobbies but I don't want to count on it. Something active, I think, will be key.)
3) Find books we can both get into.
I have to admit I get really really tired of all the digger books, the firetruck books, the good verses evil, etc etc.  I would love to just sit down on some days and read anything about fairies or cute little bugs or princesses, but I don't think that day is coming any time soon.  So I have found it's been very important for me to find books we can both enjoy, to scatter throughout our reading sessions.  Books that include adventure and rescue, but also have a softer side.  A few we have enjoyed have been:
 
4) Learn to enjoy boy toys, or at least appreciate their benefits.
Oh the cars. The tools. The sheer desire to build something and then knock it down or jump off it.  I've been fighting going into the "boy section" up till last year (when my son turned 4)… I always thought I would choose gender neutral toys.  However it's not possible to ignore how my son is just pulled to the boy toys and I don't want to stifle his interests.
Quite a few months ago my son was introduced to Transformers figurines at a friend's house.  As I watched the boy show my son how they worked, I saw that at least this toy was teaching him there was a process to transforming something, you had to be careful with the delicate parts, and that it at least had two purposes (was not merely a robot or a car toy).
After many requests I finally decided I would get my son a Transformer as a concrete example for him to learn about "transformation" – he can choose to transform his character (ie calm down after being angry) at any time.  And it worked!  He really took to the example and has really loved, loved, LOVED playing with the toy.  And since then we have found many ways to weave Transformers into stories and play scenarios revolving around character-building, serving others, and working as a team.
From this experience I have learned that we can still have "boy toys" and find constructive ways to use and play with them.
5) Don't get bogged down by stereotypes.
Okay so this is kind of against everything above (I know there are no "boy toys" or "girl toys"… you know what I mean, right?)… however by saying "don't get bogged down my stereotypes" I'm reminding myself that there are actually no limits for my boys.  They may enjoy sewing!  They may love going to the Opera!  They may be totally into fashion!  So I just want to remember not to stereotype them… to be mindful of trends, yes, but not to force them into the "mold."  To expose them to all things regardless of if it is a "girl thing" or a "boy thing" and to offer it with an open heart and an open mind, not with preconceived notions of how they will take it.
And I will keep on reminding myself, boy stuff is not "bad."  Being active is not bad!  Being loud and aggressive it not, necessarily, bad!  The stereotypical masculine qualities are wonderful, if used in a positive way, just as the stereotypical feminine qualities can be wonderful (or detrimental) too.  Choosing how to use these qualities, being responsible and service-oriented with our natural inclinations, this is what I need to concentrate on… not being "manly" or "womanly."
6) Read about parenting boys.
Reading books about parenting boys has been WONDERFUL for me – I know I'm not alone and am assured that it is sometimes hard to relate to the gender opposite than you. To see things in a different way merely because you occupy a different position in the world. There are many types of books for parenting boys out there but one of my favorites has been I'm Outnumbered – which is a lovely, easy-to-read book written by a mom with 4 sons, with practical tips and "I've been there" advice I really related to.

7) Find another way to "mother" a girl or some girls.
One of my "issues" about not having a daughter is because I will not be able to share all that womanly wisdom and love with another woman in my home.  As a Women's Studies major whose life goal is to help promote the rights of women, this just feels very important to me.  But if it's not possible within my immediate family, I need to look for a way to make it possible in a different way.  A friend suggested I could choose to "mentor" someone which I thought was a neat idea (for the future).  I'm also thinking about choosing a charity for girls, or sponsoring a girl through school.  Still undecided on this but I know it will be important for me to have a concrete way to feel like I am contributing to women's growth in the world.
(I do not want to count on being close friends with my future daughters-in-law to fill my need for girls to mentor, although I hope that will be the case…)
8) Take time out for some girly stuff.
Even if no one else wants a pedicure, I may just get one.  Even if no one else cares about having a special table setting out for the holiday, I may just spend time setting one up.  Even if no one wants to go shopping, for that matter, I may just have to go alone!  I want to make sure I do not give up on my "feminine" side just because no one else in my household is doing it.  I can see myself "belittling" my own desires to fit into everyone else's schedule… and I don't think this will be healthy in the long run.  Compromise yes, but total self sacrifice no.  I want to still do some girly stuff sometimes and so I'm going to indulge myself every once in a while!
9) Get physical, and show love in a physical way.
This one is probably the most important tip for me to follow on a daily basis.  My boys love to run, love to jump, love to wrestle.  I love to sit, to write quietly, and seriously dislike being poked, elbowed, grabbed, or pushed in any way.  So I need to remind myself to sometimes "get down on their level" and engage in some active play with them.  Play with them in a way that they feel loved and in a way they really enjoy.  This includes active games like chase and ball games, water balloons, swimming together, etc.
Also recently I have tried to "tickle" (ie caress) my son's face at night, and scratch his back.  He loves this.  I also try to remember to do things like give him high fives, pick him up and swing him, let him jump to me, and do little "mini wrestles" so I don't have to do the "whole thing" but just do a little bit that I feel comfortable with.  It really gets me out of my comfort zone but I know the boys really, really enjoy it and their faces just light up when I make the effort to meet them on a physical, versus intellectual, level.
10) Don't feel bad about being different.
Sometimes when the three guys (meaning my husband and two boys) are having such a great time running around outside or drawing helicopters and fighter jets, I feel like something is wrong with me.  I know part of this is just "letting go" and "enjoying the moment" but another part is being true to myself.  What they are doing may not be "my thing" but I can still appreciate it.  However this doesn't mean I have to change myself entirely, either. I am still me, I am a woman, and it's okay if I don't necessarily love all the things they do.  I can respect their choices and their preferences, but I don't have to change mine.
If I want to make a floral collage when we are cutting up the magazines for craft time, or decorate some cookies with rainbows versus robots, I am not being selfish.  It's okay to be different and I need to feel confident and okay with being different than the other three males in my household.
Okay that's 10 points so I will stop there. I hope this list is not offensive (please, please know I am very grateful for my two boys).  And I hope that those of you who have boys and have struggled a bit may find it helpful.  I feel it will definitely be helpful for me to read later on especially when/if we get pregnant again we find out we're having… another boy.
Check out these other great resources for "boy moms": Frugal Fun For Boys and Boy Mama Teacher Mama
Find more websites by moms of boys on my Pinterest Board: For Moms of Boys.  Let me know if you have an article or website to add by commenting below!   If you are interested in finding activities and crafts for boys, be sure to follow this awesome Pinterest board from Hands On As We Grow (visit the website here).
This post is part of the Growing from Motherhood series.  To read more, click here.