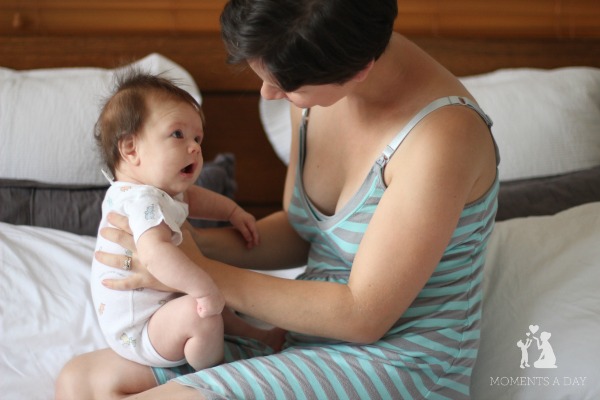 Sponsored by Mamá y Bebé
A few months ago, I gave birth to my third child.  I cannot help but compare each of my postpartum experiences and I am surprised to share that this has – by far – been my most pleasant one.
Why?
(And no, unfortunately it's not because I have gotten tons of sleep.  I haven't!  Zzzzzz…)
Overwhelmingly I attribute my positive experience to my attitude.
I have taken a more balanced approach to motherhood this time around.  Let me share the "rules" I have given myself.
Don't compare myself to anyone else.
Some mothers look like they have it all together after giving birth: they have make-up on in all their photos (even while in the hospital?!) and their kids have been photographed in adorable, coordinating outfits a week after the new baby is born.  I know now that these are not "my things" – so I simply don't worry about them.  However, starting projects and taking the opportunity to share with others are things I do enjoy, so I put my energy (the extra energy I have after caring for my family, of course) there.  Why should I compare myself to anyone else?  I can't do everything, so there's no point trying.  I have different circumstances and different priorities.  I may feel bad because I'm not like another mother, while she's simultaneously feeling bad because she's not like me.  Comparison just breeds unhappiness so there's no reason to go down that path!  We can all be awesome doing what we want to do and living the way we choose for ourselves.
Don't compare my baby to any other baby.
If the doctor says my bub's weight is fine, I'm not going in to the doctor's office every second day to have her weighed again just to make sure.  She's eating, she's sleeping, and she doesn't seem unwell, so I'm not analysing the charts or worrying about how to feed her more (or better) so she's just as big as the baby next door.  I'm not reading up on every single milestone for this baby like I did for my first child (or my second child) either.  I signed up for a weekly email describing what my baby may be learning (I only read the first paragraph and don't get sucked into the mountains of info that is available these days), and I'm reading one "milestone" type book (The Wonder Weeks) which only has 10 chapters covering 20 months of life anyway.  I feel there's a balance to making sure babies are on the right track and not being super stressed about it.  I know by now that all kids simply develop differently and on their own timeline, and being worried or competitive certainly never helps anyone.
Don't neglect myself.
The self-sacrificial part of me denied myself any time to worry about how I looked or felt when I first became a mother.  After giving birth to my first two babies, I always made sure my baby was in clean clothes, was bathed, and had everything he needed – but often I was exhausted, skipping showers, and wearing the same clothes over and over and over and over.  This time around, I bought some gorgeous breast-feeding nightgowns that are comfortable and stylish (that's me in the photo at the top wearing the comfy but cute Malibu Maternity Nightie with my sweet 10 week old).  No more pulling up old T-shirts throughout the night and wearing decade old PJ pants.  I'm up a lot when everyone else is sleeping, so it's really nice to look and feel good during those long night time hours.  (See below for a coupon code if you need some new breastfeeding or maternity gear, yourself!)  I'm also trying to take more care while getting dressed for the daytime.  And I take a shower EVERY MORNING – it's non-negotiable.  (A two minute shower with baby in the bouncer right outside the shower curtain is completely possible!)
Don't forget to do things I enjoy.
You may have guessed from the point above that I took a bit of a martyr approach to motherhood for the first three or four years.  I was one of those mothers who was crying at the end of the day saying things like, "I didn't even have time to eat anything."  This time I'm actually stepping away from my baby while she's content on her play mat to make myself a meal – instead of hovering over her not wanting to miss a single opportunity to connect with or stimulate her.  I also keep up with my blog, do a few crafts, and make an effort to go on an enjoyable outing every now and then.  I know I am a better mother if I look after myself and remember to do things that keep me inspired.  Forgetting myself and neglecting my interests – I know from experience – only leads to loneliness, feelings of worthlessness, and negativity.
Don't feel guilty.
This is the point I probably have to catch myself on the most.  I didn't realise what a guilt-producing job motherhood was before I noticed the strong guilt cycle within myself!  Now when I find myself feeling guilty, I tell myself that there is no point to it.  If the kids watch a DVD or I serve oatmeal for dinner, feeling bad about it won't change things.  More importantly, we are still surviving.  And most importantly, I love my kids and I'm doing the best I can.  There's no reason to feel guilty about that.  Every day offers the chance to start again using the lessons we learned yesterday.
So my tips to new mothers?  In a few words I might sum it all up with: love your baby, love yourself, and love your life.  You have everything to gain and nothing to lose by doing those things.
For more ideas about preparing and/or surviving after having a new baby, you may enjoy my series of 10 articles with Tips for Families Expecting a New Baby.
Special Offer
Mamá y Bebé has offered Moments A Day readers 15% off their next purchase – just enter the promo code Chelsea at check-out.*  I seriously love their range of maternity nighties (and they also have tons of other products for new mums and bubs) and recommend them to everyone!!
*Promotional offer not available in conjunction with any other offers.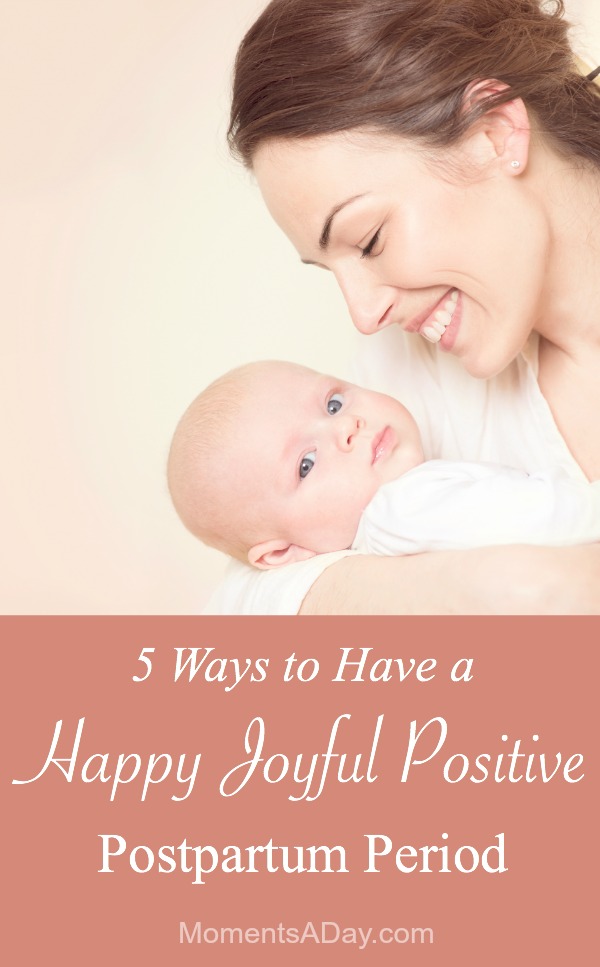 This post was sponsored by Mamá y Bebé.  All opinions are my own.  To read more about reviews on my website, visit this page.