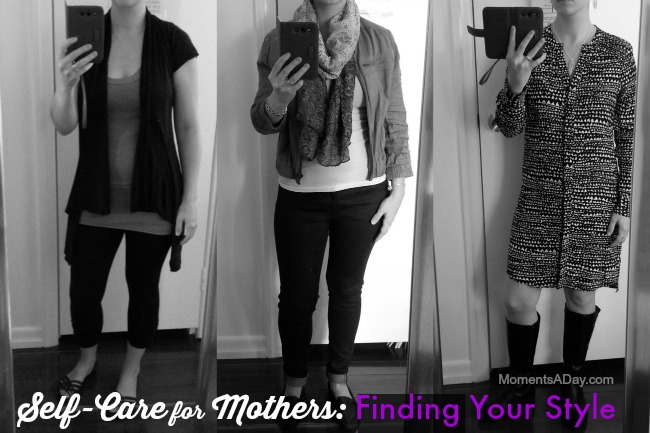 Oh how style changes once you become a mother.  Pre-baby days, I used to love my high heeled boots and dangly earrings.  (Not to mention, late night trips to the coffee shop – ha ha!)
Nowadays it's a different story.
In fact, after having my first son I went into a sort of slump where I absolutely did not think about what I looked like.  Amidst all the sleeplessness and changing clothes due to baby spit up, I just did not have time to worry about it.  And eventually I got too busy with my beloved toddler to even care!
Once I finally started to care again, I was pregnant with #2.  And of course that meant another round of maternity clothing, then breastfeeding clothing, and – let's face it – I was basically living with a baby carrier strapped on for several hours a day anyway!
Next I had a longer gap between my second and third child.  I will admit that my self-confidence was low many times and I sort of felt like I didn't really have a personal identity any more.  I was "just" a mother, not really "myself" like I used to be.  I had been pregnant and/or breastfeeding for over five years and I felt like I had forgotten what it felt like to "look good" at all.
I guess I thought it was too selfish to worry about "style" when I had so many other important things to do.  I would buy new clothes that I thought looked nice and then revert back to wearing the same old things because I just didn't know how to style them.
During the random days I did indulge myself with a few minutes to think about what I looked like, I wondered if my style should be down-to-earth and on the hippie side – like I dressed when I was traveling abroad in university?  Or more business-like and classic like when I used to work in an office?
Every day was different – I still had tons of clothes from the past decade – and there were so many different "styles."  I don't even want to remember how much clothing I had… much of it was YEARS old and had only been worn a handful of times.  It was too overwhelming to go through it all, so I just kept on putting it off and wearing the same things over and over, regardless of if I thought they really looked good.
Meanwhile, my closet and drawers were bulging with clothes that were rarely worn.
Eventually I did give away a good chunk of my clothing when we were decluttering, but I didn't make time to figure out anything about styling myself properly because I pregnant again (which, of course, I was ecstatic about).  That meant it was back to maternity clothes… and next, breastfeeding clothes for another year or two.
But enough excuses.  I have decided it's time to just figure this whole style thing out.  Because you know what?  I've finally realised that it is okay to care about what I look like, within moderation of course.  Dressing ourselves is something we have to do every day, and clothing expresses our personality and also gives others an impression about who we are.  I think I've basically felt like it was not a worthwhile use of my time to consider my appearance before this phase in my life… but I realise now that FINDING A STYLE will really help me.
Why?
Because knowing my style will allow me to:
Narrow down what I like and don't like on my own body (not just what I like to look at in a store) – so my wardrobe will be smaller and easier to manage
Keep my wardrobe streamlined, with colours that work for me, so that things are easy to mix and match
Feel satisfied with the style I establish as my own, versus have too many different types of outfits that I never wear!
Cut down on shopping, because I'll know I have plenty of clothes I enjoy wearing (no more "I don't have anything to wear!")
Finally feel like "myself" again!  Content with my appearance instead of always putting myself last.
Why am I telling you all this?
Well, first of all, I want to share that I don't have it all together.  Yes, I have a blog that shows some of the best parts of my life.  I even have a profile picture which was taken by a professional, after I had my hair and make-up done (that's not how I look everyday).  Even though I may mention the craziness in my life once in a while, you really don't see the tears or the worries much here – but let me assure you that I have all that in my life, just like everyone else!  I started the Self-Care for Mothers series so I can share some of my personal struggles and how I'm working to care for myself better.
Second, I wonder if some of the mamas reading my blog may relate to the feelings I have had about not feeling good about my appearance, but not allowing myself to dedicate time to "fix" it either.  I assume if you read my blog – which is mainly about character development and building a connected family – you are mostly invested in the social and emotional side of your family like me, and maybe less so on the latest fashions (for kids or yourself!).  Again, only an assumption.  You may have just jumped here from a micro fashion blog, for all I know 😉
Back to my plan for FINDING MY STYLE…
I decided I needed some help because every time I attempted to go through my clothes on my own, I just ended up confused and overwhelmed.
So I signed up for a 31 Day Challenge to "evolve my style"!!  It comes with daily emails, PDFs to download, links to helpful articles and videos, and a private Facebook group to get support.  I'm on Day 7 already and really enjoying it!!  I highly recommend the program to anyone who needs a little boost in the style arena (just go here: Evolve Your Style).  I'm really getting a lot out of it and plan to share more about what I've learned and how it's helped me after a few months.
Below are some of my first few challenge pictures (each day there is a new prompt sent, such as "wear a dress," plus resources to help you style yourself for the day).  Initially it was a bit embarrassing to take photos of my outfits and post them online, but I found that the community is amazingly supportive.  Best of all, the honest feedback is really helping me figure out what works for me and what doesn't.
It is taking me a lot of effort to challenge myself to get out of my style rut but hopefully after a few months I will feel a bit more confident about my outfits – and then I can finally declutter my wardrobe to make things much easier in the long run 🙂
Do you feel good about your appearance and "style" at the moment?  (Or do you have way too many clothes in the closet that never get worn… like me…)
Update: A Wardrobe That Can Fit Into a Suitcase
P.S. If you join the Evolve Your Style program, please let me know so I can connect with you over in the online group 🙂  Here are some other posts on the Inside Out Style blog that I have really enjoyed, as well:
Wardrobe Capsule for Busy Mothers
Printable Guide to Creating Wardrobe Capsules
---
This post is part of the series Self-Care for Mothers in which I discuss caring for myself amidst the busy reality that is motherhood.  I believe in order to "be our best" as parents we have to take care of ourselves as individuals.  This series is dedicated to sharing insights that I am learning during my own journey and inviting readers to share their tips as well.  Check out the rest of the series by clicking here.
---