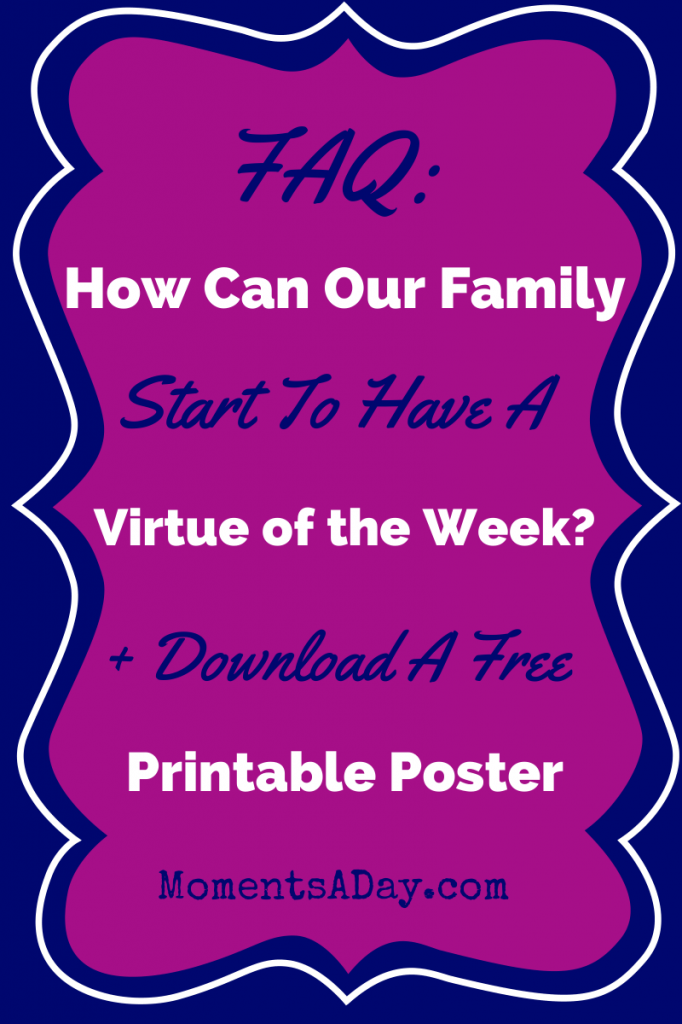 One routine we enjoy in our family is studying a specific virtue on a regular basis.  Whether you choose to have a virtue of the week, fortnight, or month, this can be an effective way to make sure character building is happening in your home.
Here are four basic steps for how to have a virtue of the week (or month, or whatever you choose):
Step 1: Choose a virtue
Whether you go down a list or pick a virtue based on what you feel your family needs to work on, choose one and let the whole family know.  You may like to put it on the Virtue Poster which you can download below.
Step 2: Talk about the virtue
Introduce it to your kids.  Ask what they think it means and read a definition together.
Step 3: Engage in activities to learn about the virtue
This may mean reading a book, drawing a picture, role playing a situation, or making a craft.  Check out these activities for ideas.
Step 4: Reflect on your learning
Reflection is a key element to any type of learning.  Talk about what you learned over the week/month and share the learning with others by making presentations, cards, or phone calls.  Grandparents love this!
Does that sound easy enough?
It is!  But while it's easy, I have been amazed by how much establishing this one little routine (which can be as simple or intricate as you wish) has positively affected our family dynamics.
I will share much more about character education in the home in my upcoming ebook How To Build Character at Home, which will be available in late February.  If you want to get a discount when it first comes out, be sure to sign up for my monthly newsletter.
***Update: The ebook is available now!  Visit this page for more details.***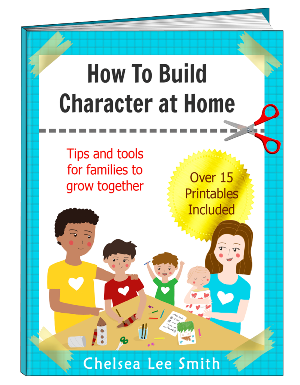 The beautiful family for the cover of How To Build Character at Home was drawn by Laura Caldentey – and I am so excited that Laura has also drawn some beautiful figures for a poster I designed, which you can print out for FREE!
Laura is a very talented artist who sells prints and other items featuring her gorgeous art work – but she also does custom pieces which are awesome for websites as well as gifts.  Check out her Etsy shop here.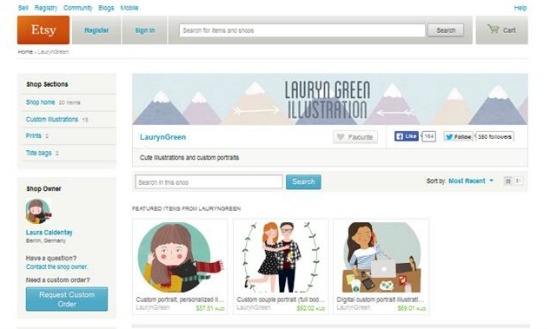 The virtue poster features a family plus the words "think," "listen," "act," and "speak" as practical reminders of many ways you can practice the virtue.  I simply printed out the poster and put it into a plastic frame I got for $2, and we write our new virtue with a white board marker so it is easy to change any time.
You can download your poster by clicking here.
If you would like even more resources and ideas for teaching about positive character traits in your home, I invite you to join me on Facebook, Pinterest, Twitter, Instagram & Google +, and sign up for my monthly newsletter where I share more ideas.
Does your family have a "virtue of the week/month"?  What is your favorite part?