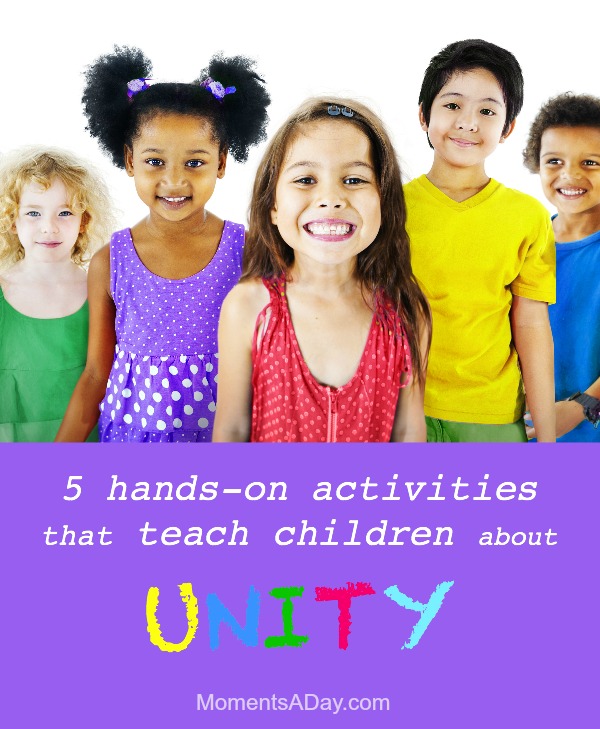 We are all different.  I believe teaching our children to appreciate difference – and recognize that everyone is the same on the inside – is very important.  When we learn to accept others as they are, and find beauty in diversity, we are going to get along well with others.  We will get to know more people, cooperate more, and live without judgement.
Here are five hands-on activities to teach children about unity in diversity.
Unity in the Family: Draw a picture of your united family.
Draw a picture of your family together and write on the page "Our family enjoys living, working, and playing together."  Talk with your child about what this statement could mean in your home throughout the week as you engage in various activities.  You all have a different role to play, but you are all important.
Unity Beyond the Family: Draw a picture about how someone outside your family helps you.

Help your child illustrate a picture of people outside of your family helping them (such as a teacher, grocery seller, doctor, neighbor, or grandparent).  Give them language they can use to ask for help and express their gratitude for this help ("Will you help please?" and "Thank you").  Discuss how humans are all part of one big family, and we should treat each other as such.
Unity in Nature: Find some examples of unity among plants and animals.
Go on a walk outside to find plants of various varieties, flowers of many colors, or different species of birds.  Different things can live together in unity, or at least every creature has a role to play in the cycle of life.  Even though we may be different than others, we can still be united.
Unity Among Different Cultures: Notice and draw many different faces.
If you look at the people in your community, you will see everyone looks different.  Eyes, noses, skin color, even clothes make people unique.  Everyone is beautiful in their own way and together we are like a garden of many different flowers.  Draw unity in diversity and find beauty in the variety of differences.  It may be a natural time to also discuss the various countries your friends come from as well – I will be sharing ideas for learning about different cultures in a later post.  Sign up for my newsletter to be notified of when it's published.
Unity Between Different Ages: Make a friendship collage with friends of all ages.
Make a collage using pictures of people from the newspaper, and talk to your child about being friendly to everyone, whether young or old.  Explain how all people have friends regardless of what age they are, and give examples of various friends using people your child knows.  Talk about courteous phrases your child can use with older friends, such as calling them Mr. or Mrs. and  offering their seat if there are limited chairs.  You may like to write at the top of the collage, "Unity in my Community."
How do you teach your child to get along with others and appreciate the differences among us?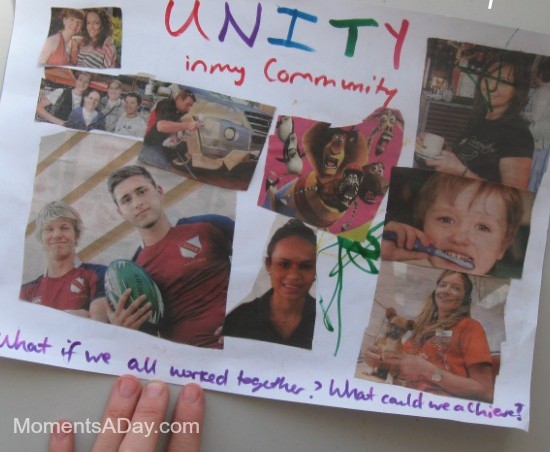 If you liked these activities, you may like to check out my ebook Playing with Purpose: Character Building Made Fun with over 100 activities to teach children about positive character traits in an easy-to-use, printable, checklist format.