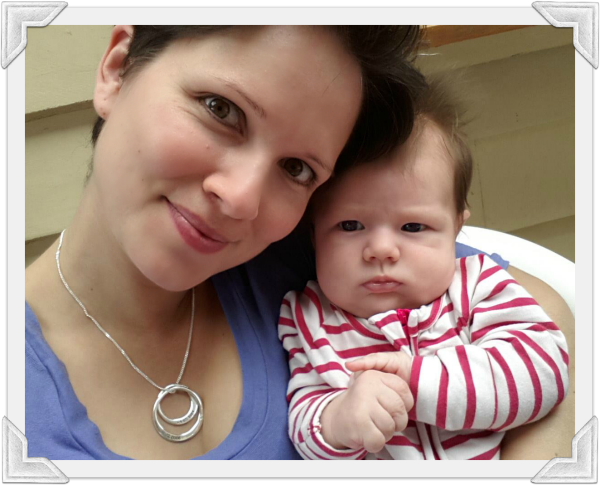 I snapped this selfie with my sweet baby girl last week.  I wanted to capture this time in our lives to show her in future years and, of course, to have pictures to relive these precious memories when I'm older too.
On this particular morning my husband had taken my two older boys out so it was just her and myself at home. I had such a lovely time concentrating on her 100%: cooing with her, holding her tiny hands, giving her tons of cuddles, and looking into her beautiful eyes, imagining what she may be thinking.  It was so nice to have a few hours to slow down and give her my full attention.  I really cherished it!
Every day is not as calm as this though.  Kids get sick.  Things get lost.  The full laundry basket gets forgotten.  A favourite toy gets broken.  Dinner goes wrong.  Arguments are had.  Tempers are lost.  Feelings are hurt.  The list goes on.
I find it very helpful to have positive messages around me to help me focus on the positive when I'm having a difficult time.  I have inspirational quotes up all around the house, pictures of family to remember (all our family lives abroad which can be really hard at times!), and a collection of CDs that I know soothe and revive my broken spirit if I'm feeling low or lonely.
I also have a few pieces of jewellery – such as a charm bracelet representing several family members and a ring I bought before I was married, as I was "finding myself" – that remind me of what is most important to me.  One of my favourite inspirational pieces is my gorgeous Uberkate necklace.  There are so many different words or messages you can add to your necklace to personalise it and make it speak to you.  (Not to mention the dozens of designs – check out the Uberkate website to see all the beautiful styles.)
I have "faith" on my inner circle as this is the biggest priority in my life and I know that I am ultimately responsible for my faith – no one else can "do" it for me.  My birthdate is on the back of that circle.
My outer circle says "love" and "kindness" with my wedding anniversary inscribed on the back.  These words sum up the goal of our marriage – to share love in our family and to spread kindness to others.
Here are some of the other words I considered using for my necklace:
When I feel the necklace hanging on my neck or get a glimpse of it in the mirror, I'm quickly reminded of these positive messages and it reminds me of what is most important.  Ultimately, I hope my children will remember me for having these traits.  Perhaps when they are adults and look back on photos of me wearing "faith love & kindness" they will realise that I was doing my best to live these qualities, even if I failed at times.
It's a small thing, but having positive messages – in the form of jewellery, art prints, photos or music – can really improve my attitude and remind me to see beauty in my life, no matter how messy or dreary it appears at first glance.
Do you like to keep inspirational messages around you?  What would you have inscribed on an inspirational necklace if you were to create one?  
**In the photo, I am wearing the Combination Ubercircles 1 Medium and 1 Large
This post was sponsored by Uberkate.  All opinions are my own.  To read more about reviews on my website, visit this page.