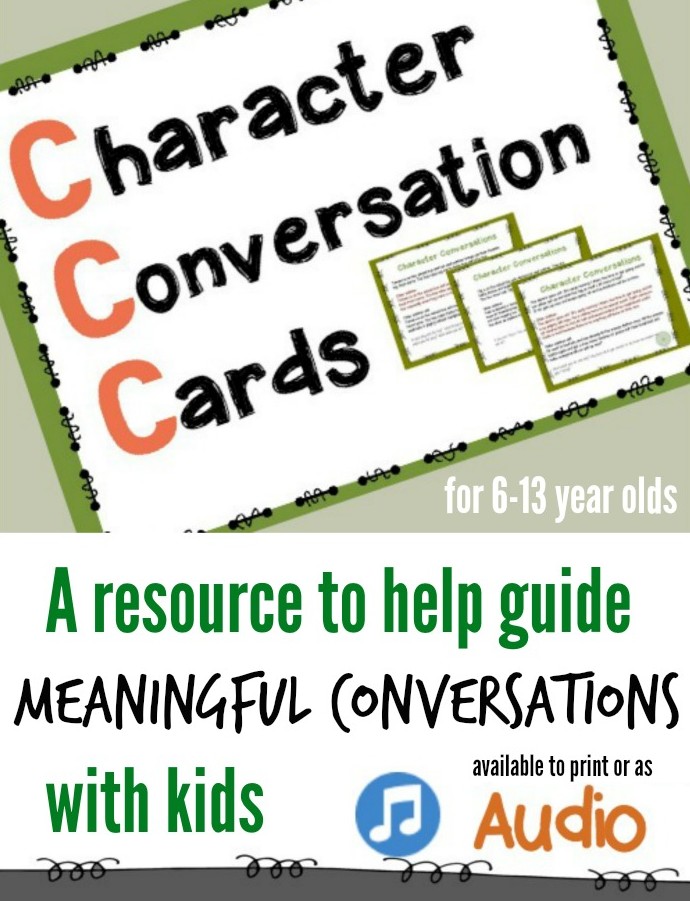 I don't like to think too much about it, but my boys are really growing up.  Long ago are the days when they toddled around and were content banging on pots and pans.  Sometimes I feel like they are getting close to being teenagers from some of the comments and attitudes I have witnessed!  Where did some of this stuff come from?!
When I think back to my own childhood, and what used to frustrate my own parents, I can see history repeating itself.  Not wanting to help around the house… fighting with a sibling… getting frustrated with a difficult task… I guess it's stuff many (or most?) kids go through.  We all learn through experience, right?
Instead of burying my head in the sand and ignoring the new issues coming up, I invited a new resource into our routine: Character Conversation Cards.  These handy cards won't magically change things or get your kids to grow up any faster, but they will give you an opportunity to discuss common issues kids 6+ years face and work through the situations together with your child(ren).
If you are looking for a fun way to have more meaningful conversations like during car rides or at the dinner table, you will love them.  These handy packs of cards can either be downloaded and printed so they can be picked at random, or there are even some sets available in audio format so you can listen and pause to discuss your answers.
Instead of asking "What did you do in school today?" you can use these cards to initiate some focused conversations about practicing empathy and seeing things from a new perspective.   The cards can also help you talk through scenarios with your kids so you can work out what to do before they are faced with a sticky situation.
I love that they are "neutral" as well – so the kids know I'm not fabricating a scenario to point out any specific behaviour.  It's fun to see how the kids respond to the questions too… they have surprised me many times!
Check out the ever-growing sets of cards available on this page.  Each bundle focuses on several themes (such as honesty, self-worth, respect, or adversity) so you can choose the topics which would suit your family's current situation the best.  Such a neat and valuable tool – enjoy!

You may also enjoy…
Review: Life Dice Conversation Cubes
Review: Talking with Trees – Character Education Resources
Review: Lunch Box Cards to Encourage Positive Thinking
I was sent some Character Conversation Cards to review for this post.  All opinions are my own.  To read more about sponsorship on my website, visit this page.