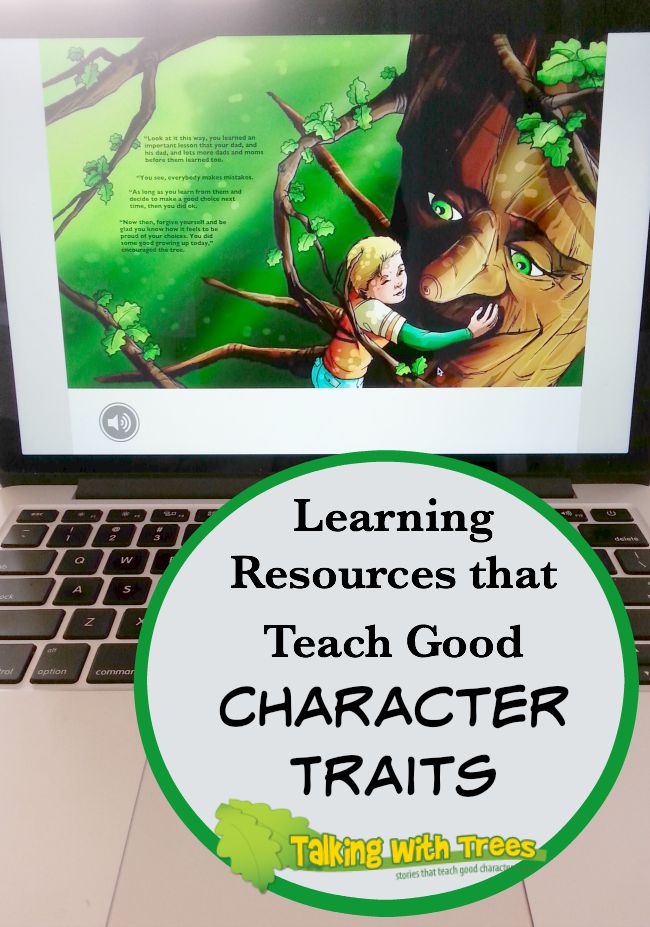 One of the best things about starting this blog just over two years ago has been connecting with other people around the world who also have a passion for helping kids build character.  So many parents and educators have developed awesome materials – stories, activities, games, music, and more – to teach kids about positive character traits and whenever I can I like to feature my favourites under resources + reviews.
Today I'm excited to share an interview with Colleen Doyle Bryant who is the founder and author behind Talking Tree Books.  Read on to learn more about her wonderful resources that encourage kids to make good choices.
Hi Colleen!  Please tell us a bit about yourself.
A few of years ago, while raising two step children and two biological children, all under age 10, I started to see patterns. Every child lies sometimes. Every child can be mean. Every child will do things that make you wonder, "What was he thinking?" I'm here to assure you, parents, you are not alone and your kids are not doomed to eat cold soup out of a can in a van down by the river. In fact, it's precisely these struggles that will help your kids grow up to be good people.
I created the Talking with Trees book series to help children learn the same life lessons my kids have been learning about being honest, respectful, and responsible. I drew on years of experience as a freelance writer and designer to create the books, but the stories come from real life. They are pieces of conversations I've had with each child, mixed with the wisdom my parents blessed me with (which at the time, I didn't appreciate nearly as much as I do now).
What is Talking with Trees?
The Talking with Trees series helps parents and teachers who are guiding children to make good choices for the right reasons, but need help explaining in words kids can relate to. The website features books and tons of free character education teaching resources, including worksheets, coloring pages, posters, and printable lesson plans that teach honesty, respect, responsibility, forgiveness, grit and more good traits.
I love your ebooks and my boys just loved hearing them through our iPad.  Can you give an overview of each one?
I'm so glad you enjoyed them. I teamed up with an illustrator from Italy, Manuela Soriani, who did an amazing job bringing the stories to life. The illustrations are so emotional, they really help children feel their way through making good choices—tapping into their conscience and internal guide.
Book 1 – Be Proud is a story about honesty and growing from mistakes.
In Be Proud, a boy sneaks away to play his game player, even though mom told him not to. Much to his surprise, a wise old oak tree strikes up a conversation that leads him to figure out, "Oh no! I have a conscience!" The story helps children learn that honesty feels good on the inside, and that learning from your mistakes is part of growing up.
Book 2 – Be Bigger is a story about treating friends with respect, even when feelings are hurt.
When a girl feels hurt by her friend, all she can think to do is hurt her friend right back. But the wise old tree at this playground has seen this cycle of nastiness before. The wise tree speaks up to help the girl find a more kind, respectful way to work out her friendship troubles. In the end, the girl builds some grit by doing the right thing, even when it's hard.
Book 3 – What if? is a story that teaches children to consider consequences before they act or speak.
In "What if?" a boy keeps finding himself in trouble until a wise tree teaches him to ask, "What if I do this? What could happen?"
"If you'll hurt yourself, hurt someone else, or make your momma mad… you should probably change your action." 
With a few chuckles and some heartfelt moments, "What if?" includes lessons in treating others with respect, taking
What resources would you recommend for first-time visitors?
For parents, the books are great to read along with your children. Kids really relate to the stories and are often prompted to talk about some of their own real life struggles with honesty, friends, and good choices.
For educators and parents looking to continue the lesson, try our free teaching resources. Print character education worksheets, posters, and even ready-to-use lesson plans. The "What is Respect? Worksheet", "What is Honesty? Worksheet", and "What if? Seed Craft are our most popular resources.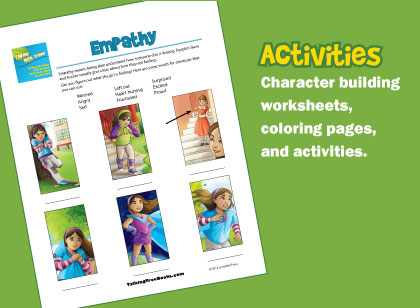 Thanks Colleen for sharing with us!
Visit the Talking with Trees website and follow on Facebook, Pinterest and Twitter.
To read more about reviews on my website, visit this page.  All opinions are my own.