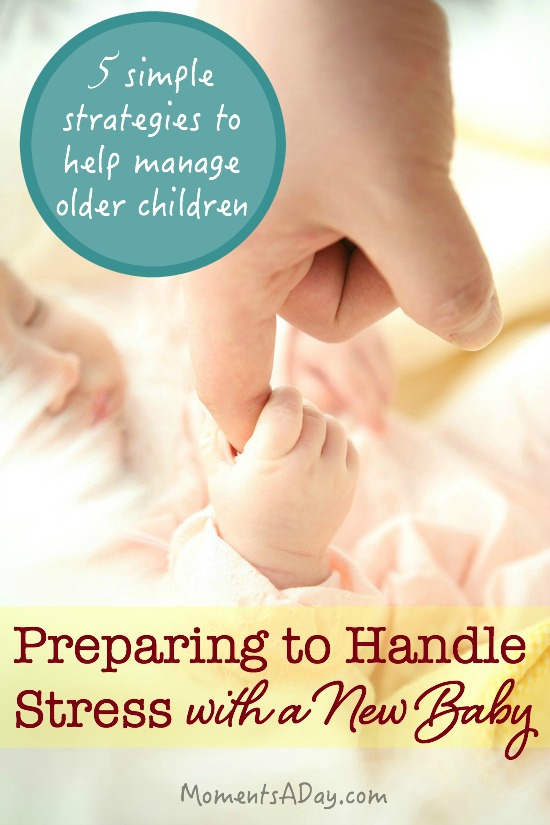 The transition period after giving birth to a new baby can be very emotional for all family members involved.  Routines change, attention is divided, sleep is interrupted, and everything just takes time to balance out to a new "normal."
Though older siblings may be very loving and caring of their new little brother or little sister, there will probably still be some trying times.  Here are five easy ways to pre-empt rough moments with the older children, and more gracefully handle stress with a new baby at home.
#1 Consider an outside perspective.
If older siblings are unusually disruptive or emotional, think about what else is going on (i.e. hunger, fatigue, needing to go to the toilet, etc).  Have you missed something?  It's easy to do when you have a new baby to think about.  Remember that toddler siblings, even though they are now big brothers and big sisters, are still very little.  Sometimes the most obvious adjustments – healthier meals, earlier bedtimes – can make a huge difference.
#2 Plan simple activities.
If you are used to going on lots of outings or preparing involved activities for the kids, it can seem like a big change for you and your children to take a step back in order to care for a newborn.  However taking time to plan some simple activities – and just mixing up how you present them – can be a sanity saver for the long hours at home.  Check out my list of 10 easy screen free activities for some ideas to start with.
#3 Find ways for the older kids to entertain themselves independently.
For the moments when you just have to give the baby a bath (unexpected nappy disasters are pretty much inevitable at some point in the first few months), make a phone call, or get dinner on the table, put together a Quiet Time Basket.  This collection of toys and books that are only available for a short time a couple times a week can offer the kids a much needed distraction, and give you a few minutes to take care of a must-do job without fuss or unnecessary juggling.
#4 Offer time for relaxation.
Newborn cries and emotional outbursts can be exhausting for everyone.  Schedule in some time for everyone to sit down and breathe!  Don't forget to utilise soothing music to change the mood in the house… and remember that screen time – although it makes for a relaxing time while it's going – does not always calm the kids down in the long run.  There are many audio stories available online these days – they are a great alternative to movies or video games.  If you would like to think a bit more about handling media consumption (and find out about our favourite audio resource), you may enjoy this post I wrote on the topic.
#5 Lower your expectations.
The floor may have more crumbs, clutter may build up, and you may feed the kids cereal for dinner a few times.  That's fine!  This is just a stage, and the kids will appreciate a happy mother more than a sparkling kitchen.  Lower the expectations you normally have for your home, and concentrate on connecting with the kids in the moments you have to offer them your undivided attention.  You can read some of my simple housekeeping tips to save time and energy in this post.
What other ways can you lower stress for yourself and your kids after giving birth?
This post is part of my series Tips for Families Expecting a New Baby.  For more ideas about getting yourself and your family ready for your new bundle of joy, check it out.