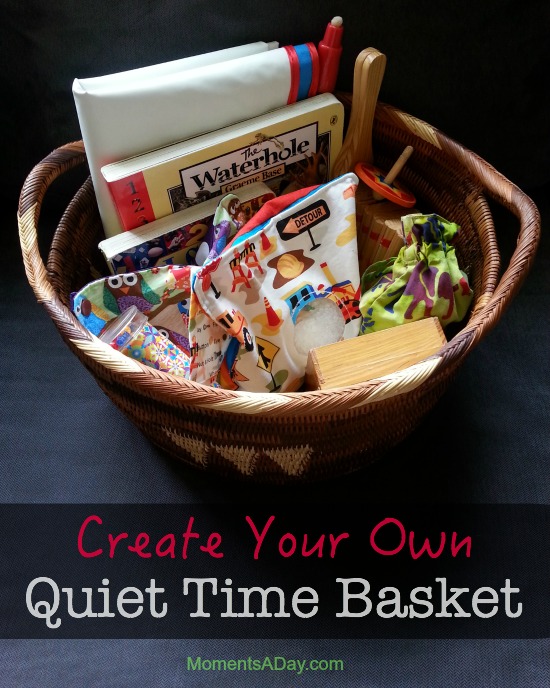 When I was expecting my second child, I read somewhere that it would be useful to have a basket of toys near your nursing chair – so that the older child had some special things to play with while you were busy feeding the new baby.
Since then, I have made various versions of a Quiet Time Basket and modified it to suit our current phase of life.  Right now it's great to keep on a high shelf and take down when I have to make or take important phone calls… or when I just need a little down time sitting on the couch.
I exchange the items in the basket every few months, to keep it fresh and to accommodate the boys' current interests.  I simply go through our toys in storage or pick up a couple small things from the secondhand shop.
Here's a description of what is inside our Quiet Time Basket at the moment (my boys are currently 3.5 and 6 years old):
*Small wooden puzzle – this is a nice quick puzzle the kids can do independently.
*Tops – fun for little fingers… and easy for me to interact with the kids while they play as well (suggesting different surfaces, noticing the pattern it makes while it spins, counting how long it spins, etc)
*Kaleidoscopes – when these catch my boys' interest, they can be engaged for quite a while!
*Jacob's Ladder – this can be very fun to watch and try to figure out how it works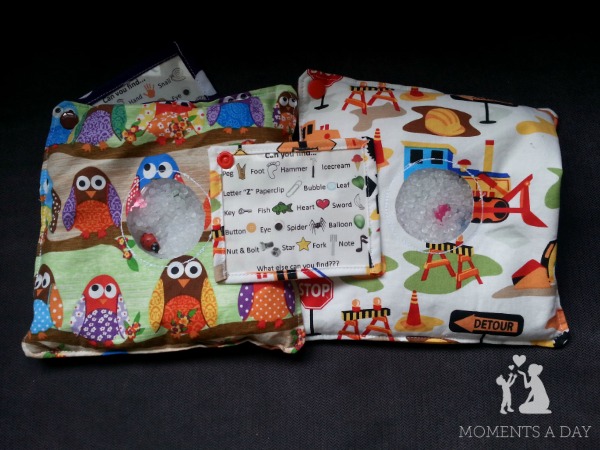 I was gifted these adorable Eye Spy Bags from Sweet Elephants, a gorgeous online shop with quality toys for children.  The bags offer a fun way to engage little hands as well as growing minds, and there are so many items to find inside that it takes quite a while to "spy" everything – we've never even finished the list in one sitting!  The bags would also be wonderful to take on long car trips or restaurant outings.  There are several different styles which you can see here.
(Note: The list of items to find snaps to the back of the bag, so it won't get lost!)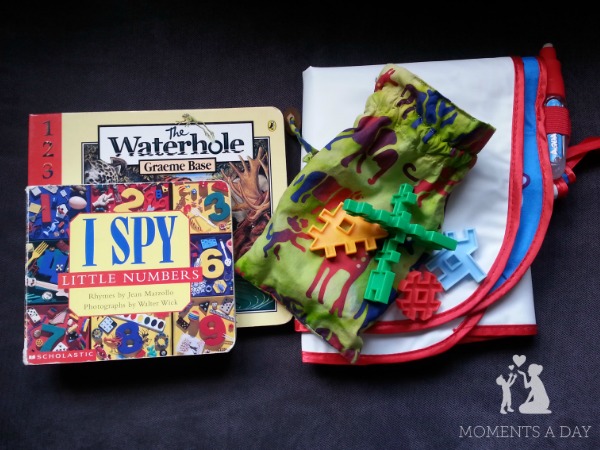 *Books – ones the boys can "read" themselves (books with hidden pictures are great!)
*Building kit – we have several sets of different types of interconnecting blocks, the boys LOVE these and it's amazing how engaged they can be with only a small number (there are about 15 in the bag)
*Drawing – We are currently using our Aquadoodle as it's mess free, but sometimes a colouring book or sticker book is great as well
That's it!  Having this little collection of "special" items can be really handy when I need a moment to do something or when a child needs to reset.
What would you add to your Quiet Time Basket?
Thanks to Sweet Elephants for sending me some toys to try out at home with my kids.  Visit their website to browse their lovely range.  All opinions in this post are my own.  To read more about advertisement on my website, visit this page.