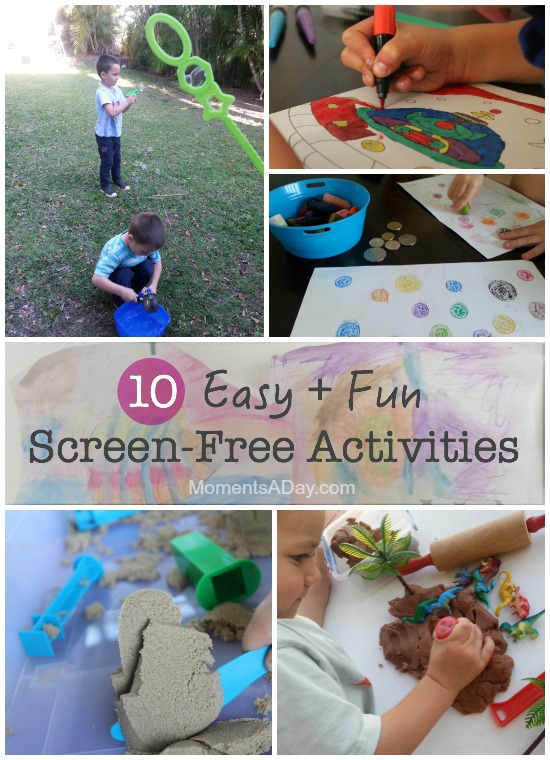 After several months of morning sickness, four weeks of international travel, and some pretty intense work load overwhelm, I was feeling very low on energy to prepare activities for my kids.  We were watching DVDs more often than ever before and yet I still felt exhausted.  Yes the kids naturally enjoyed lots of free play – as kids do – but when grumpiness set in or I had to make dinner my immediate reaction became, "Okay how about you watch something."
How did it happen?  Well, I think we all go through phases that are just harder than others.  I'm not going to feel too guilty about it.  I had to survive!  Having no family around (both my family and my husband's family live in other countries) I simply did not have any outside help… so – for a few weeks – the screen became a babysitter.  Truth is not easy to admit sometimes, but I'm sure many parents out there might relate.
Thankfully I am feeling a lot better these days.  The five minute walk to school is no longer nauseating and, although I still feel my brain is in a bit of a fog – most likely from all the pregnancy hormones and interrupted sleep due to discomfort, we are finally more balanced in our screen time.
I changed the pattern by resolving myself to plan ONE ACTIVITY for the kids every week day, which I generally suggest in the late afternoon because this is when everyone is the most tired and when I need to get our last meal of the day prepared.  And by "plan" I really mean "decide to do" because these activities take no planning.
It has worked very well for me because it's not too much to ask of myself and it just gives me a little back-up plan for when I would have otherwise turned on a show.  All of these activities are available to my kids at any time actually, but they just don't always think to do them on their own.  Some days I'm feeling up to preparing a bit more creative and educational play… but during this "survival phase" I am not putting pressure on myself to arrange elaborate projects except when I feel able.
In case you are wondering, we have been taking care of our daily character education through reading, pre-prepared activities, and music (here are some favourite books, character education kits, and a list of CDs coming soon).
These are my current "go to" activities for after-school play.  They are all stress-free and do not take a lot of mental concentration (again, afternoon time is generally tired, hungry, and grumpy time) so simple is key.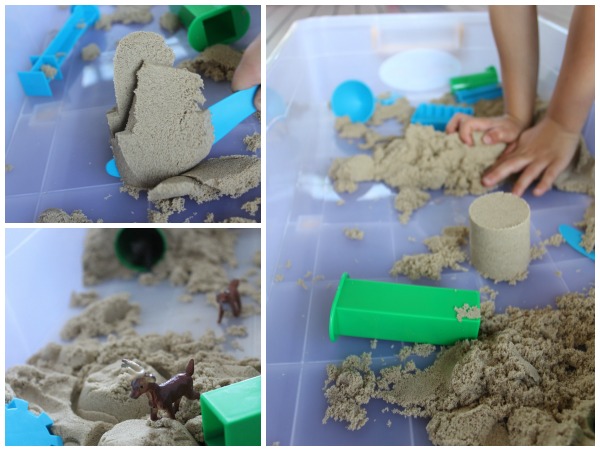 Kinetic Sand – I was gifted some Kinetic Sand from a lovely online toy store called Sweet Elephants, and we are LOVING it!  This sand is so different than regular sand because it acts like "wet" sand (you can mould it) but it's still dry.  You can cut it, create a ball, and make shapes that would fall apart if you were using regular sand.  Just running it through your fingers is amazing.  My boys have been enjoying the Kinetic Sand Tools Moulding Kit which work perfectly with the Kinetic Sand, and they also like to add in other little figures to their play.  We keep the sand and tools in an underbed storage container on our deck, and it's a winner every time we pull it out.
Bubbles – Can a person ever get too old to enjoy bubbles?  Popping them with hands, with bats, with water shooters, or just blowing as many as you can… it never gets old.
Water Play – Whether this means pulling out the splash pool, throwing water balloons, squirting with water toys, or having a "play bath" (taking extra toys into an early bath), my boys love water play and it's a great way to get out excess energy.
Building – We have several different kinds of "blocks" but Lego Duplo and Tinker Toys are two favourites.  If the kids are not quite into the idea of building when I present it to them, I like the give them a "challenge" to make it more exciting.  This may be, "Do you think we can create a space ship?" or "Shall we make a construction site today?"  They love it when I join in and make my own creation, as well.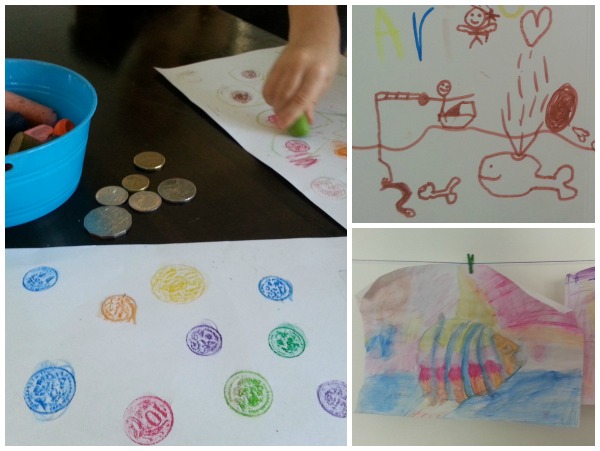 Drawing – Offering different types of drawing utensils immediately sparks creativity.  We recently tried out watercolour pencils which was a lot of fun!  Different sizes of markers, crayons, stamp pens, twistables, or oil pastels are all loved options.  Sometimes I suggest a specific drawing activity (such as coin rubbing, tracing, or drawing a favourite subject using a picture from the iPad) or I give the boys a free printable to mix things up.
Matchbox Cars – My boys love to create ramps and "cities" using cardboard boxes and other items lying around the house… so whenever we have large boxes or tubes at hand, this is the activity of the day.  Of course sometimes they get in the mood to sort the cars, examine the various features and choose "favourites," or have races to see which ones zoom down the hall the fastest.  There are a lot of places car play can go.
Sidewalk Chalk – Open ended drawing is fun, but we also like to trace our bodies and fill them in, draw a picture to surprise Daddy when he comes home from work, play Pictionary, or make up jumping games (i.e. write five or ten letters/numbers/shapes and give directions like "Jump on the Letter A/Number 4/Star").  The kids also make up their own games using chalk pictures.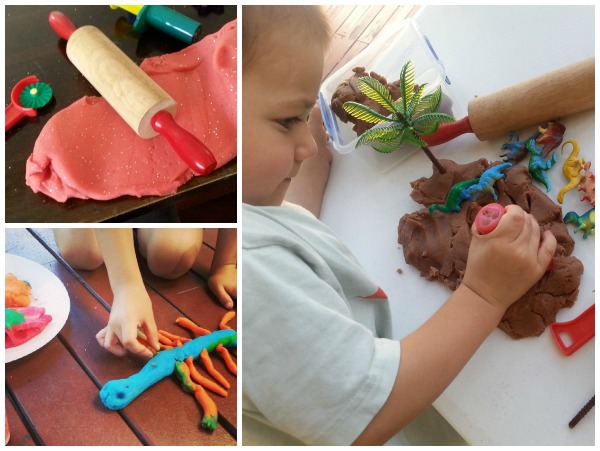 Playdough – I love to make our own play dough not only because it's cheaper, but because it lasts a LONG TIME if you use certain recipes (I think it also depends on the way you store it and the weather).  If you haven't tried it yourself, just google "homemade play dough" and you will find a ton of different recipes (this is my personal favourite).  We usually make a two batches at once and I let each boy choose a colour for their half.  Sometimes we get creative by adding glitter, trying a new recipe (chocolate play dough was super fun!) or adding other loose parts (popsicle sticks, beads, sequins, googly eyes, etc).
Animal Play – We have a variety of plastic animals.  Depending on the animals the boys want to play with, they may take them into the water, want to bring out the play dough, or make up a play scene using blocks.  Sometimes we even use our animals as models to draw pictures of or simply classify them by environment, size, or type.  Usually just giving the kids the box of animals inspires their own creative ideas for play.
Audio Stories – Audio stories are great for days the boys are just really, really tired (or it's really, really hot!) and they just want to chill out.  Sometimes we set up a "nest" or a fort using pillows, couch cushions, and blankets.  They can cozy up and enjoy the stories with a snack.
I find if I get the boys started with any of these activities, after ten minutes or so I can leave them to play on their own if I need to prepare dinner etc.  Sometimes I like to stay the whole time and enjoy the time to play together and connect.
What simple activities do your children enjoy?  Do you have any tips for keeping family time screen free?
Thanks to Sweet Elephants for sending me some toys to try out at home with my kids.  Visit their website to browse their lovely range.  All opinions in this post are my own.  To read more about advertisement on my website, visit this page.