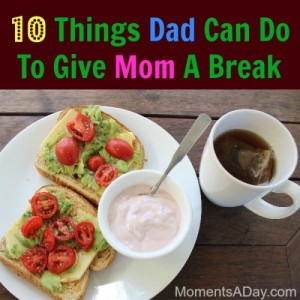 Just a little disclaimer before you read: I know there are lots of stereotypes here… you may or may not relate 😉
Dear Dads,
I know you may know this already, but a mother's work is never done.  Much of her work you will never see, unless you stay home all week to watch.
See those toilets, sinks, floors, and clothes?  They have been washed and cleaned more times than you can imagine.  Is your child's face dirty?  It has likely been washed five times already today.  Toys out?  For the tenth time.  Mom has been busy all day, even if it is hard to see the evidence when you get home.  That is because her work is never-ending.
And you know what, most days she can hardly even remember everything she did.  Every day there are endless tasks – cooking, scrubbing, laundry, playing, putting kids to sleep, running errands, chasing kids around, feeding, washing, cleaning up accidents, organizing, shopping.  You may get the picture but unless you have been there you really do not know how it feels.  There are a million tasks but no clear "product" besides, of course, those beautiful kids you see running to you when you get home.  Even they have no idea what mom has been up to all day, the jobs in between the dinosaur drawing and the pretend milkshake making.  They just think it is mom's job to be mom.
"I just need a break" is a phrase you have likely heard before.  And honestly to do her best at the crazy, wonderful, sometimes emotionally confusing juggling act of motherhood, she really does need support.  And sometimes, she just needs a break.
She has no coffee break during the day – yes the baby may have been sleeping but there were dishes to put away and diapers to wash.  She has no co-workers to talk with, to tell her a joke, or to ask for advice on a project.  No boss to say she's done a good job.  No pay rise, no holiday party. It can get pretty stressful, really redundant, and very lonely at times.
So please be her biggest ally.  She will be a better mother from it.
What exactly does a "break" look like?  Mom is not necessarily asking for a week long vacation.  It does not mean she wants a day at the spa or a shopping spree either.  (Although sometimes one of the prior options might be nice…)
Breaks do not have to be complicated or expensive.  They just take a bit of your time and an effort from you to shower on her some TLC.  She has been doing it all day to the kids… and might need her own "love tank" to be refilled.
To help you out with figuring out what a "break" might look like, I brainstormed and asked some other moms on my Facebook page for ideas.
Here is our list of 10 things Dad can to do give Mom a break:
(Moms, please add your own suggestions in the comments.  I do not presume that all moms are the same… this is only one set of ideas!)
1. Make her a snack, or prepare a meal for the whole family.
Some mamas are often so busy preparing food for other people they forget to eat themselves.  Having a snack or a meal made for you is such a nice treat!  Something healthy but still tasty is the best.
Otherwise if you are around in time, take over responsibility for a whole meal!  Take it from me, it is a bit draining to be making meals for the whole family day after day after day after day… sometimes you just get so sick of preparing food you rather go hungry than make something for yourself.  Having someone make a meal for you is like a huge breath of fresh air.
Note: The meal in the picture above was made for me by my husband last weekend.  Huge bonus points for a super thoughtful daddy!
2. Prepare an outing for the kids – and give her some time alone at home.
Give mama an hour or two at home to read and relax, catch up on housework, or even watch a movie.  (And if it was "one of those days" take a shower, too…)
3. Offer to watch the kids at home so she can go out for a couple hours on her own.
Whether it's to coffee or to get groceries (or to get that long overdue haircut), mamas need some time to be on their own sometimes.  It really helps clear the mind and "reset" the emotional reserves.
4. Do some housework, without being asked or expecting recognition.
Notice some dishes in the sink?  Don't ask mama if she wants some help, just get down to business.  Same goes for that basket of laundry on the bed, or the pots and pans on the drying rack.  I know you may not know where everything goes… leave the things you aren't sure of aside for her to help with later.  Today is actually a great opportunity to learn where they go so you can take care of everything next time.
And please do not be offended if she does not notice the jobs you do.  Did you thank her for the 700 cleaning tasks she did during the past week, or even know about 95% of them?  She will likely say "thank you" but if not please don't take it personally – she might just be too tired to notice (that does not mean she doesn't appreciate it, though).
5. Play with the kids so she can prepare dinner, or do some other household necessity.
Dinner time is often crazy time.  Entertain the kids in another area of the house so she can have free reign over the kitchen without little ones hanging off her legs asking when it is going to be ready.
Or just let her vacuum in peace.  Without toys being piled in the middle of the lounge just before she could finish the carpet…
6. Plan a fun family outing, and execute it.
Some weekends mama would love to go out on a family excursion to the zoo or museum (or just a park…) but is wondering if it is worth all the effort of preparing… the snacks, the water bottles, the extra change of clothes, the diaper bag, the stroller, the carrier, the wipes, the extra snacks in case the first set of snacks runs out…
Do the work of getting everything prepared (including the kids pottied and fed) and then invite her to get into the car once everyone is ready.  And please make sure it is planned appropriately around the baby's nap times, if at all possible.
7. Take an opportunity to teach the kids something.
Teaching kids is hard work.  How to peel a banana, how to drink from an open cup, how to wash hands after playing in the mud… they are simple things but they take repetition and lots (and LOTS) of patience.  Get involved and make an effort to be in on some of these lessons.  It is a win-win for both you and for mom, as mom gets some support and *you* get the priceless experience teaching your kids.
You may also like to come up with a completely new educational activity to engage the kids in… mom does it all the time and the kids would love to have dad's spin on it.  Extreme fort makeover, perhaps?
8. Organize a date for the two of you.
Sometimes mom just wants some time to be with you and… you know it – talk (and talk, and talk).  Please, please give her this opportunity.  Even if it is just making an effort to be around after the kids go to bed (before you both open your laptops), and asking her how her life is going.  You do not have to go out of the house.  But finding a tablecloth, lighting a candle, and surprising her with brownies will likely be an extra boost to help her feel extra special.
A bit of time set aside on a regular basis for verbal connection and appreciation – initiated by YOU – makes mom feel valued after doing so many jobs that go by unnoticed.  Being truly seen and heard by your life partner can feel like the greatest "break" of all.
9. Give her time to have a nap, or sleep in.
Ahhh how much you appreciate sleep after becoming a parent.  Offering to watch the kids as soon as they wake up, or for two hours during the afternoon, can be priceless.
10. Tell her how much you love and appreciate her.
You might be headed out the door to work, out of town, or simply busy taking care of other life issues when you wife needs a break.  This is a good time just tell her you love her, appreciate her, and are so happy she is the mother of your children… it will be a "break" from her own thoughts, as many moms are their own worst critics.
Find a way to show her you support her, even if you cannot physically be there for her.  She may, or may not, want "suggestions" to fix her "problem."  Just be a listening ear and ask her what specifically you can do to give her the break she needs, when you get the chance.  It may be something totally unexpected.
So you see, sometimes by saying they need a "break" moms might really want some help, or some affection, or some emotional support… though it can also mean having some time alone.  I loved this piece in the Huffington Post What We Mean When We Need A Break.  My husband appreciated reading it too.
Mamas, do you have any more ideas or suggestions for the dads in your lives?  Which # is your favorite?  Please share in the comments.
Join me on my Facebook page for more conversations about how families can support each other to connect, build character and make a difference in the world.