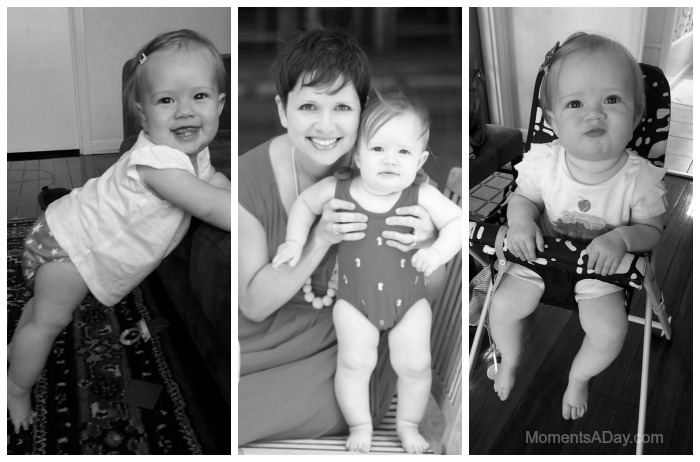 Dear Daughter,
At almost nine months old, you are now crawling, pulling up to stand, waving, clapping and eating with your two front teeth.  Your eyes are a mixture of dark blue and brown, and everyone says you look just like me.
I'm not sure if it's true or not, but when I compare baby pictures I do see quite a resemblance…
When I spot the similarities, however, I always remind myself that you are your own person regardless of who you look like.  It may seem obvious and a bit silly but, after years of yearning for a daughter who I could share my interests and hobbies with, I don't like to set up an unrealistic expectation that we will share everything in common… just because we are both female.
Writing that actually does seem a bit ridiculous, but I still feel it must be said.  Sometimes parents can forget that our children are not miniature copies of us… even if they do look like us or act like us in some cases.  They have their own preferences, talents, dreams, and goals in life.  Sure, they may be influenced by their parents.  But in the end, they are unique individuals who have the ultimate control over their own decisions – big and small.
I see glimpses of myself in your brothers.  The phrases they use, the expressions they make.  But still, they are their own people and so are you.  I never want you to feel that you have to like something just because I like it, or think that I want you to be just like me.  Definitely not!  I hope you learn from my shortcomings and follow your own inner compass.
You are wonderful – just as you are.  And I will always, always love you.
Be true to yourself and create your own fate.  Make your own choices and grow from your own mistakes.  I am simply a guide and a mentor throughout your journey in life.
And when you have your own children, if that it something you decide to do, look back on this beautiful poem.  I hope it gives you perspective as it has done for me over the years.
"On Children" by Kahlil Gibran
Your children are not your children.
They are the sons and daughters of Life's longing for itself.
They come through you but not from you,
And though they are with you yet they belong not to you.
You may give them your love but not your thoughts,
For they have their own thoughts.
You may house their bodies but not their souls,
For their souls dwell in the house of tomorrow,
which you cannot visit, not even in your dreams.
You may strive to be like them,
but seek not to make them like you.
For life goes not backward nor tarries with yesterday.
You are the bows from which your children
as living arrows are sent forth.
The archer sees the mark upon the path of the infinite,
and He bends you with His might
that His arrows may go swift and far.
Let your bending in the archer's hand be for gladness;
For even as He loves the arrow that flies,
so He loves also the bow that is stable.
With love,
Mama
To read more in this series of letters, visit the Dear Daughter Archives.