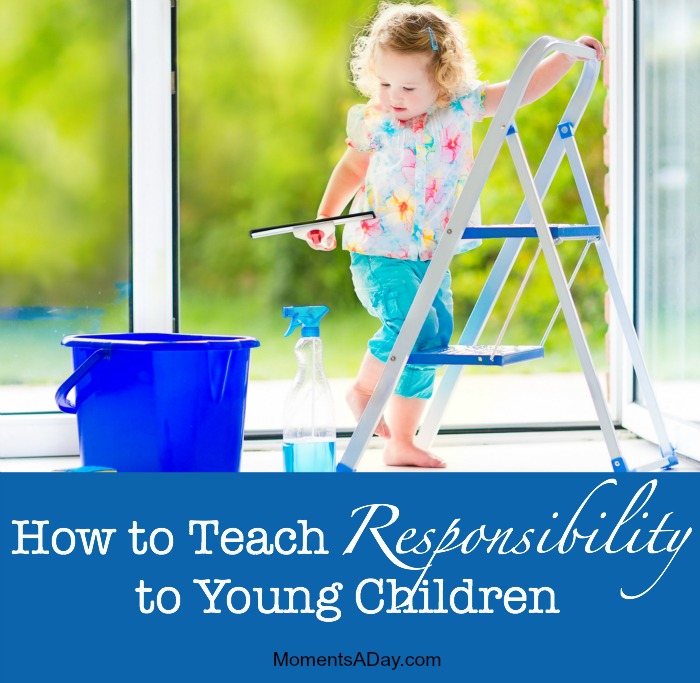 Responsibility is doing what needs to be done and taking ownership for your actions.  Though it is often equated with cleaning up after yourself, getting homework done, and learning how to spend money – there are many more ways for kids to practice this virtue.
Lately I have been recognising many opportunities in my life for modelling responsible behaviour to my kids.  For example:
When I misplace my keys and beat myself up about it.

When I apologise for being late (though we had no good reason).

When I start making dinner half an hour behind schedule because I was exhausted from a busy day, and everyone gets cranky because they are (understandably) hungry.
I would like my children to learn how to compromise and be flexible, but also take responsibility for their own actions.  If they made a mistake, or fall short, I want them to own up to what they did.  So this is exactly how I should behave!
Sometimes we simply have to change plans, or we just don't get everything done that we meant to.  That's life.  But I hope that I set a good example for my kids to follow in taking responsibility for my actions and not making excuses.  After all, I am their role model… so if I want them to ultimately learn to be responsible people, I need to think about the example I am setting for them.
If I want them to clean up after themselves, I need to do the same.
If I want them to not shout or get upset when things don't go their way, I need to do the same.
If I want them to save up their money for something that they "want" and don't "need", I need to do the same.
I have been paying close attention to my phrasing lately, to check myself.  Regarding the examples above, I might aim to say things like:
"Goodness me, that was frustrating!  Next time I am going to do my best to remember to put the keys back on the hook when we come home so I don't lose them again."

"I am sorry that we're late today.  We weren't paying attention to the clock this morning.  Next time we will do our best to be more conscious of time."

"I am sorry that everyone had to wait for dinner tonight, I was feeling very tired.  I appreciate you all understanding that I needed a bit more time to rest.  Tomorrow I'm going to plan a quick meal so I can be sure dinner will be ready on time."
Being a responsible person doesn't meant you get it right all the time.  We all make mistakes.  Being responsible means you do your best to take care of what you are meant to and, when there is room to improve, you recognise that and work on it.
Here are some thoughts from other mothers about how to teach responsibility to young children:
"Even if you have small children, it's never really too early to teach responsibility. One of the easiest ways we started with this was very small and easy chores around the home. My toddler helps move the clothes from the dryer to the basket, helps put away toys, and helps put away the forks and spoons from the dishwasher. Small, yet simple toddler chores are a great way to help them feel like a contributor to the family, while also teaching responsibility. They might not understand what responsibility is, but it will come with time." Lauren from The Military Wife and Mom
"We involve our daughter in many daily tasks, and have done from an early age. She helps cut and prepare food for our meals, sets the table, helps us wash her baby brother. We've also set up systems that make putting away her toys and craft materials quite easy. We hope that in this way our daughter learns that family members have responsibilities that help the family to function." Jackie from My Little Bookcase
"We talk about being responsible for actions, helping around, doing things that are asked to be done, taking responsibility for dressing up and changing, helping with little sister. We give simple tasks that a 5 year old can do and 1 year old can do. Encouraging and praising for being responsible is another good way to teach responsibility." Varya from Little Artists
"We teach responsibility in the smallest ways, just by pointing out when our children are being responsible – using the word, defining it and encouraging it. We encourage it in task-oriented ways through chores and jobs. I have been blessed with children who want to help me clean for example, so I allow it and encourage it in developmentally appropriate ways. They are not as willing to clean up their toys, but we still discuss how it is responsible to care for our things just like we care for our home in cleaning it or care for our bodies by eating healthily and getting exercise." Jaimi from The Stay-at-Home-Mom Survival Guide
Besides modelling, I believe that conversing about character traits while engaging in hands-on activities and exploring themes via storytelling are also powerful ways for children to understand and eventually exhibit the traits.  Here are some resources that can help with this:
Morning Routine Responsibilities for Young Kids
10 Books to Help Kids Become More Responsible from Pragmatic Mom
Teaching Kids to Be Responsible Through Literacy Activities from Growing Book by Book
Keeping Kids Safe & Responsible Online from Childhood101
How to Teach Kids to Accept Responsibility for Their Actions from Parents.com
What other thoughts or resources do you have about how to teach responsibility to young children?
To browse more character building activities on my website, click here.
You may also enjoy my ebook with 100+ activities in an easy-to-use checklist format, Playing with Purpose: Character Building Made Fun, or my book for families How to Build Character at Home.