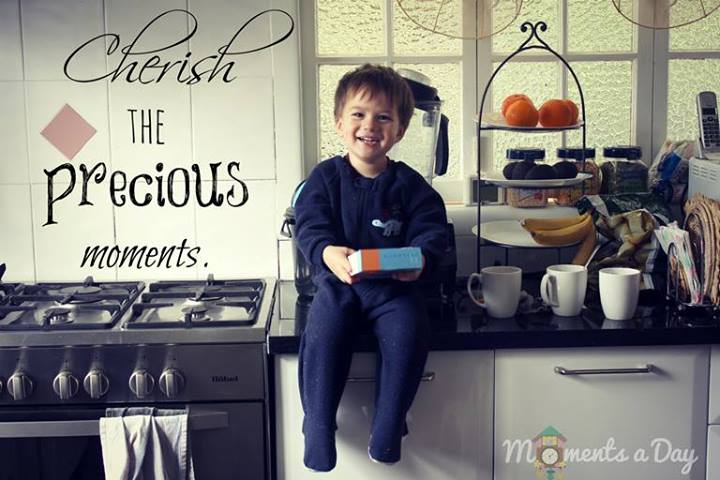 Cherish the precious moments.  I know it is cliche, and so hard to do when times are tough, but I feel it is also very helpful to remember every now and again.  I think of this phrase often these days while looking at my 2 and a half year old who is now becoming a true little boy – talking non-stop and make-believing all day.  The photo above was snapped a few months ago when I used to still think of him as "my baby."
I am so thankful for all the cuddles and kisses he still loves to give me, but over the next year I know he is only going to become more and more independent.  He is truly soaking in all the behavior around him and trying to make sense of where he fits in with it all.
These days I just can't help but hug him so tight, kiss his sweet cheeks a dozen times and tell him how much I love him.  I adore this age and stage… when children are developing their own personality so strongly and can express their own opinions, but still look up to you so purely and love to play with you more than anyone.  It reminds me just how amazing it is to be a mother and how special it is to be guiding a person through life so intimately every day.
Sometimes it's better to just leave the dishes in the sink, close the computer, and spend some time snuggling over books on the couch.
Welcome to Magic Moments Monday.
This post is part of series of posts publish on the first Monday of each month, where we invite everyone to link up and share a few of the magic moments you have experienced with your children.  Go here to see what other blogs co-host the link-up and find out more about how you can participate.
There were a lot of beautiful, creative, and inspiring posts shared in the October Magic Moments post… browse them here.
Here are the three I would like to feature this month:
Kindness Wreath from Green Owl Art – Learn about a sweet way to encourage and celebrate kindness in your home.
5 Minutes of Joy from Mamas Like Me – Find out how one mama gets through those hard days.
Magic Moments Monday celebrates the magic in family – moments you have shared with your children, living and learning, ones that you want to cherish forever.
I would love you to link up your posts and comments below!