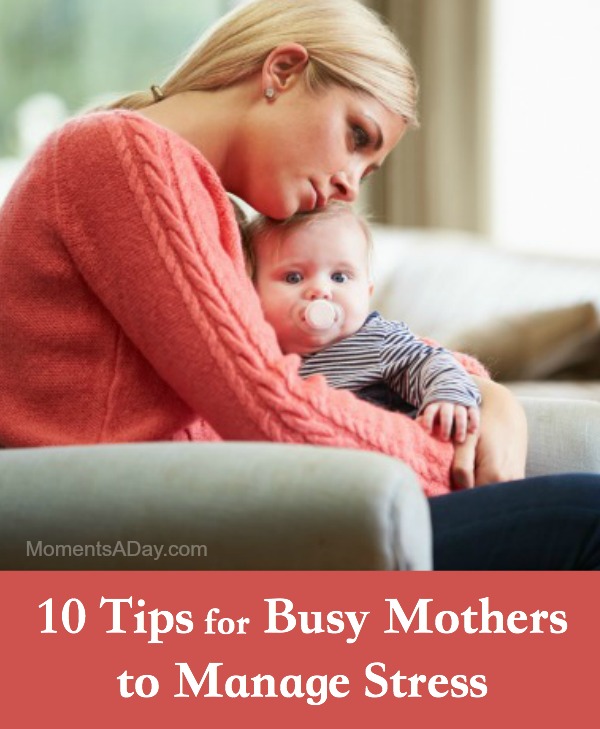 It is easy to get overwhelmed as a mom.  Life is busy, unpredictable, and a lot of times messy.  Not only do you have to take care of your kid(s), the house, food and activities for numerous people, but you also have all the emotional weight of carrying out these tasks day after day with no real "break"… all while trying to maintain your own health as well.
I find the demands of motherhood can lead to rising stress levels, especially when I lose focus of how I am really feeling.  If I am drained emotionally, physically, or both, I have learned that it is important for me to step back and figure out a way to address my stress versus simply going on autopilot.  Lack of attention inevitably leads to burnout.
Here are 10 ideas that help me intentionally manage stress in my own life.  Feel free to add your own tips in the comments.
1) Ignore the mess for a while.
Life is messy, especially with kids.  I like to give myself a break and not worry about the cleaning, if only for an hour or two.  It will always be there to come back to later, and stressing about it all day does me no good.
2) Eat a nutritious snack, or drink a cup of water.
I am pretty sure I am not the only mom who overlooks her own daily intake of food and water.  Some days are just so full on that I literally go half a day without eating.  I can reduce or prevent a lot of stressful feelings simply by making sure I am well fed and hydrated.
3) Take my "emotional temperature."
I have found that taking my "emotional temperature" is very helpful for managing stress.  Never heard of this?  Basically it is a simple exercise for reflecting on how you are feeling at any given moment.  Are you happy, sad, anxious, or exhausted?  Next consider if any of these feelings are contributing to your actions.  When you recognize how you are feeling, you can gain more control over your emotions and become more mindful of how you are acting on them.
4) Focus solely on your child for 10 full minutes.
Sometimes I just have to stop and ask myself, "How am I making my child feel right now?"  Most likely, if I am frazzled they are picking up on it too.  I like to take 10 minutes (setting the timer if I need to) to focus on the present without worrying about everything else going on.  I try to let my child know they are important to me and that things are going to be okay.  Usually after they have some one-on-one time, they will play independently for a while and therefore I am able to do some jobs.  Win win.
5) Spend time outdoors.
Just going outside for a few minutes can help calm me down, and as an added benefit the kids often play a lot more happily when outdoors as well.  Remembering that there is a great big and beautiful world beyond my messy house is a great relief.
6) Delegate tasks or get outside help.
I am finding as my kids get older, they are becoming increasingly able to contribute to the household tasks.  Whether it is tidying, setting the table, or getting their own snack, I find giving them the chance not only teaches them responsibility but takes some of the workload off me as well.
I personally do not have any of my kids' grandparents living nearby (or in the same country, for that matter!) but I hear they are very handy to call up for a quick break.
In any case, finding a way for the family to work together or deciding to ask for some outside help (or hire it, if necessary) can work wonders for my stress levels.
7) Choose one quick job to do right now.
It may be putting the clothes in the dryer, clearing up the sink, or doing a quick clean of the toilet.  If I just choose one job that takes less than 5 minutes and get it off my "to do" list, I can stop stressing about all the jobs I have to do and propel myself into action.  Sometimes figuring out where to start can be the hardest part.
8) Smile, laugh and whistle.
Even if I have to "fake" it, smiling and laughing will immediately make me feel a bit better.  Somehow these simple actions can literally take some of the anxiety off my shoulders.  My husband finds that when he is stressed, one trick that works is to simply "whistle a happy tune."  The mere act of having to focus on trying to whistle plus the uplifting melody can help break the stress cycle.
9) Find something to be grateful for.
Sometimes I get bogged down by thoughts of what I wish would happen or what I wished I had.  I think that is pretty normal.  Remembering what I am grateful for helps me stay in the moment and find the positive view on my situation.  I wrote more about that here.
10) Take some breaths and start over.
I like to remember that I am not bound by this moment to keep doing what I am doing nor do I have to live in the past.  Taking some deep breaths in and out can help "reset" my perspective and remind me to dust myself off and try again.  Counting can also help take my mind away from itself for a few moments.
What helps you on a busy, stressful day? Please add your tips below.