Acts of Kindness by Real Families is a series of short interviews featuring stories about service to others.  Whether big or small, planned out or spontaneous, hearing about any act of kindness can inspire us to give more to those around us.  It's fun to find new ways to show kindness in our communities, and I hope you will be inspired to get your kids involved in serving others through these creative ideas.
This week I am honoured to have Lisa from Ripple Kindness Project sharing her family's participation in clothing collection and distribution for those in need.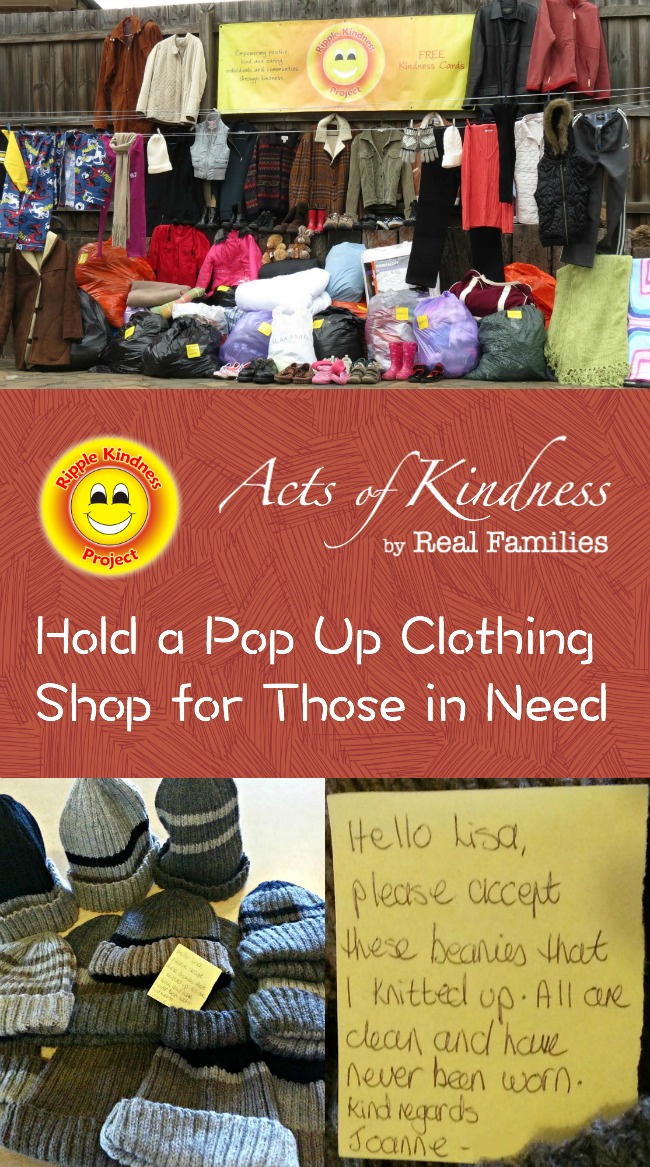 What happened: Over the course of 6 weeks, we collected a whopping 900 kg in donations for our Winter Warmers Community Clothing Collection. In an incredible stroke of luck, it turned out that my eldest son had community service with school the week we were starting our distribution. You can imagine my joy when they called to ask if I could use his services!
The first day was spent sorting the remaining clothing that we'd picked up a few days prior. We jammed around 30 garbage bags of clothing, shoes, blankets, hats, scarves and sleeping bags into the car. The following day were were off to set up our first "pop-up shop" at a local community centre distributing food that day.
As we served our patrons, it became clear that many of them weren't just doing it tough, but were in fact homeless. As we helped a shy woman with a small child, she told us she was in dire need of bedding as she was caring for her terminally ill father and was having to wash the sheets each day. When my son helped another gentleman to his car with his items, he found out that the man had been a teacher at the very school he attended now.
How the experience affected your family: This was a really valuable learning experience for my 15-year-old son. He was able to be involved in sorting donations, liaising with charities, organizing pop up clothing shops and servicing customers. He got to see first-hand the needs of people far less fortunate than himself. He learned just how easily someone can go from a successful, well paying job to struggling to put food on the table. He saw how grateful a woman was for a pair of size 6 slippers that she squeezed her size 8 feet into. He received a hug from a homeless man who insisted on paying for his items in some way. It opened his eyes to a world that most of us don't care to see.
You can read more in this post.
Message to others: Collecting this clothing wasn't difficult. We approached a few local organizations to act as drop off points and put the word out on social media and the local newspaper. Honestly, we received a lot more than we expected, so were able to supply additional organizations to those we had originally earmarked. It was a heart warming experience that we were able to enjoy as a family as my husband and younger son were also able to help collect and sort the clothing.  I'd highly recommend it as a community service project your whole family can be involved in and learn from.
Thank you Lisa for sharing your story!
To find more ideas about serving with kids, click here.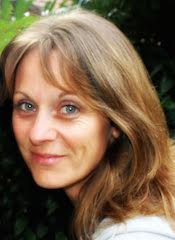 Lisa Currie is the founder of Ripple Kindness Project, a community program and school curriculum that aims to improve social, emotional and mental health, and reduce bullying by teaching and inspiring kindness. The ongoing, whole school primary curriculum, teaches children about their emotions and the impact their words and actions have on others. The community component educates, inspires and touch hearts with stories, resources and free Ripple Kindness Cards which are distributed around the world.  She also has a kindness inspired Etsy shop.
Here are some other articles by Lisa you may enjoy:
How Teaching Kindness in Schools Reduces Bullying
Social and Emotional Learning is a Must to Reduce Bullying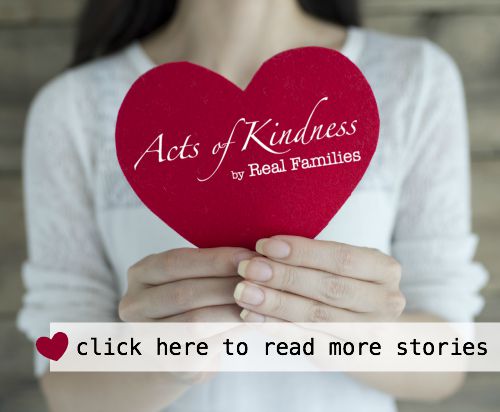 If you are interested in contributing to the Acts of Service by Real Families series here at Moments A Day, please send an email describing your story to chelsea@momentsaday.com and I will be in touch soon. ~Chelsea