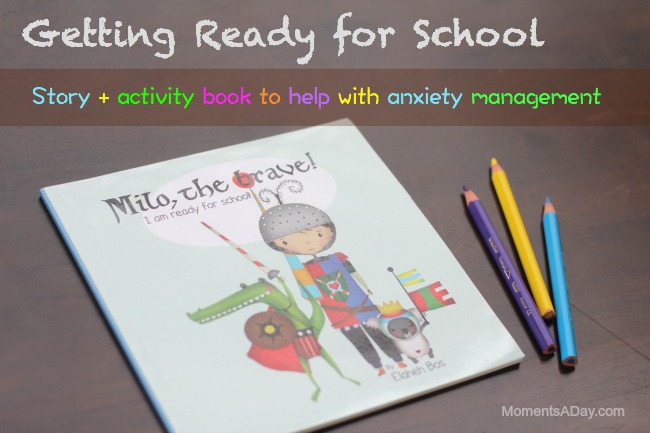 Many children get anxious about starting school.  Perhaps they are nervous about being with a lot of new children, spending the day without their parents, or just wonder what activities they will be asked to participate in.  Whatever the reason, worry can be very stressful!
Milo, the brave: I'm ready for school!
 is a lovely book that gently introduces anxiety management techniques while also helping kids prepare practically for school.  (If you have a daughter, don't worry!  There's also a version for girls called Maya, the brave: I'm ready for school!
 featuring a female main character – same storyline.)
The story starts with Milo having trouble getting to sleep because of his worries about starting school.  Typical questions such as "Will I have fun?" or "What if there is no snack time?" help the reader identify.
Milo then reads the story about a brave knight who goes on a quest, and wants to be just like the knight.  He talks to his mother and they create a plan to be brave and prepare for school.  The reader is invited to join the quest, too.  (All quests don't have to be completed at once!  In fact, this is a great book to slowly complete during the weeks and months before school begins… though it could also be done over the course of a few days.  Just take your child's lead.)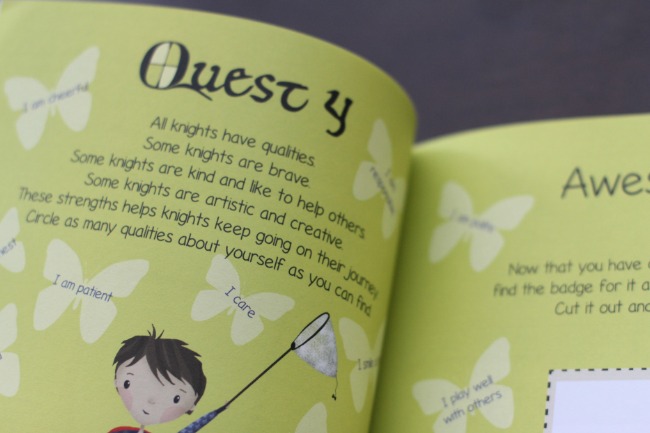 Each quest offers a simple activity to help Milo (and the reader) gain confidence and get ready for school.  Examples include doing affirmations, imagining what the classroom looks like, and more practical things such as using scissors and practice identifying colours.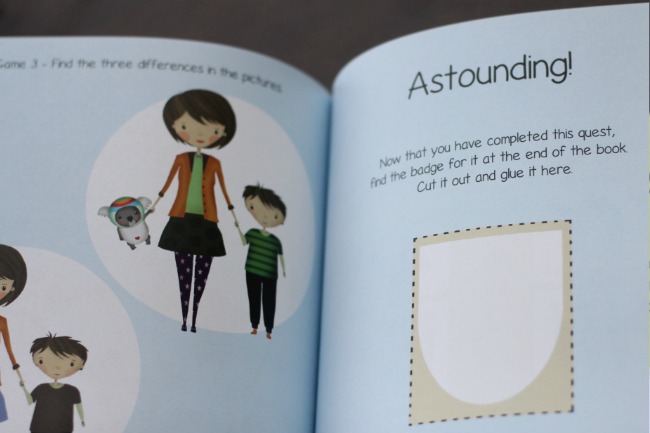 After each quest, the reader can cut out a badge from the back of the book to paste on to the corresponding page.
By the end of the book, the child has completed 15 simple quests and feels ready to start the new adventure of going to school.  There's a lovely page for the child's name, so that he or she can be called "the brave" as well.
This resource is a fun way to help children who are feeling anxious about starting school work through the emotions that this new experience can bring… while still being playful and positive.  I wish I knew about it when my first son started school, I'm sure he would have loved it!
Read more about the books here: (Amazon affiliate links)
Milo, the brave: I'm ready for school!
Maya, the brave: I'm ready for school!
You and your children may also enjoy more resources from Plant Love Grow that help kids deal with other challenges in life such as anger, sadness, nightmares, and more.  Go here to browse the range of books and here to see the free printables.
To read more tips about preparing for school, you may also enjoy these posts:
Back to school treasure hunt (encouraging positive behaviour)
Back to school checklist (10 easy steps)
What ways have you prepared your child to get ready for starting school?
This post contains affiliate links. All opinions are my own.  To read more about reviews on my website, visit this page.