Blue is nervous about starting swimming lessons.  Rosie shares what helped her when she was scared about going down the slide!  Watch the latest episode of Rosie & Blue called "Blue starts swimming lessons" here:
Virtue featured:
Courage is being brave and doing something even though you may be a bit afraid.  Rosie shows Blue some techniques that help her gather courage when she's nervous.
Discussion questions:
What was Blue afraid of?
What was Rosie afraid of?
What did Rosie do to help herself feel courageous?
Older children may benefit from being asked about situations they have overcome fear, to help them identify what it feels like to be courageous.
Activity:
Close your eyes and imagine yourself doing the thing you are afraid of.  You can also take deep breaths and tell yourself "I am courageous," "I can do it" or "I am brave."
Additional resources:
4 Playful Activities to Help Children Develop Assertiveness
Help Your Kids Practice "Self-Confidence" Through Puppet Shows
40 Children's Books that Teach Courage by Carrots are Orange
10 Ways to Teach Your Children To Be Brave by iMOM
To learn more about using storytelling to teach kids life lessons, check out my downloadable workshop.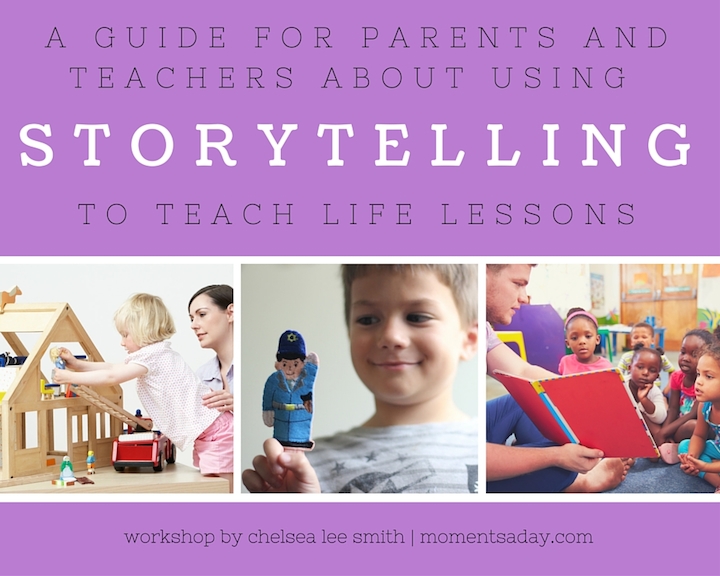 Want to see more Rosie & Blue episodes?
Rosie & Blue is a series of short puppet shows that feature common challenges faced by 3 to 6 year olds. Each episode offers a simple strategy for overcoming a challenge, calling upon a specific virtue, to help children learn how to bring out their best selves if they face a similar situation.  Discussion questions and additional resources are offered in the accompanying post to continue the learning.  To check out more Rosie & Blue episodes, visit this page.