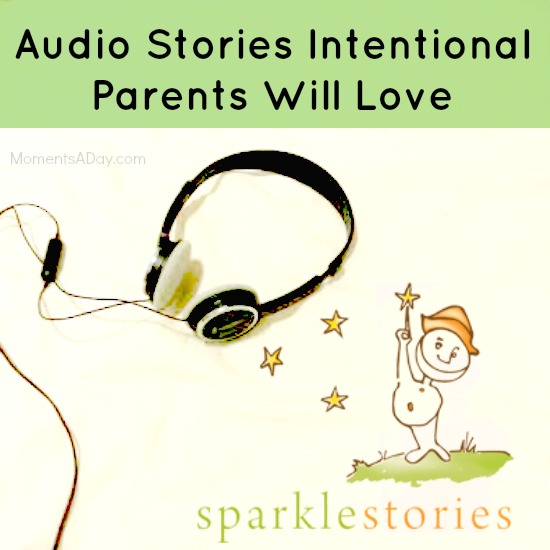 What I love about Sparkle Stories can be summed up into two main points.  First is that the stories teach something about life, whether it's about facing a bully, losing some baby teeth, learning to follow the rules, dealing with loss, welcoming a new baby, or telling the truth (plus hundreds of other topics), in an engaging, value-oriented way.  Second is that my kids and I can enjoy 20+ minutes of quiet story time together while my own voice takes a rest (an obvious plus for busy mamas).
I cannot even count the times my son has brought up conversations surrounding the issues faced in Sparkle Stories (or when I can use them as examples to illustrate difficulties we are working through), and even referred to the stories like memories ("Do you remember when Benjamin Thompson…").  Two days ago he asked if we could add blueberries to our pancakes "just like Martin and Sylvia."  And that isn't the first (or even second) time we have made a meal inspired by these stories.
I first ran across Sparkle Stories when looking for high quality audio materials for my son who was almost three years old at the time because I wanted something relaxing for "quiet time" that was not TV.  I trialed my first subscription in late 2011 and since then our family has been huge Sparkle Stories fans, enjoying new stories every week and subscribing to more series as time goes on.  Both my husband and myself enjoy listening along!
And please don't let the word "subscription" scare you away.  The kind creators of Sparkle Stories offer tons of free stories as well!  Each story series has a sample (go here to listen), also if you sign up for the Sparkle Stories mailing list you will get another free story (and their newsletters often contain links to even more free stories, offered Mother's Day, holidays, and even after several national tragedies).  Listening to the free stories is a great way to find out what Sparkle Stories are like – and to let your child choose which series they would like to subscribe to, if you decide to take the next step.
Wondering how it all works?  Basically after you sign up you simply log in to your Story Box each week to download or stream the new story (or stories, if you signed up for the sets in a bundle).  New stories will also be described in a weekly email so you can read a bit about the story before listening.   All your previously received stories can be found in your Story Box as well, so you will never lose access and can listen time and time again.  There are currently 9 different story subscriptions (52 stories per collection), and there are also a range of individual stories for sale, one set in particular called Sparkle Car which includes a few stories plus games and poems to fill up an hour.  (The regular series stories are about 20 minutes each.)
Here is my short review of some of our favorite series:
*Junkyard Tales features a community of animals living in a junkyard who "always take care of each other."  You will be surprised how many characters and themes are woven throughout this delightful series; each character lending it's own unique perspective on life and each story offering a situation in which the animals face a challenge that they find solutions for together.
*There are three sets of the Martin and Sylvia stories which feature a brother and sister who go about every day life with creative play, learning alongside friends and parents, and taking part in various outings and projects.  This series has actually given me so many ideas about how to parent with love and patience, and helps me discuss issues with my son surrounding siblings, self-confidence, social situations, and more.  (As a side note, Martin and Sylvia's family homeschools, which is referred to in several of the stories; offering a wonderful connection for other children being educated at home.)
*The Willowbee Tree is a more magical series in which three siblings get to go to new places and meet talking animals through the powers of an extraordinary Willow tree in their backyard.  Each adventure the children go on corresponds to a challenge one of the children is facing in their own life, such as stage fright, being sick, or even using quiet voices.  Creative solutions and positive outlooks abound in these stories.
There are several more series we love too!  Just go here to check them out.
It seems quite funny that characters from a series of audio stories would become regular topics of conversation in our household, but we feel very close to these characters and talk about them often as if they were old friends.  The stories truly offer positive role models and examples of lovable characters going through life with presence, kindness, and thoughtfulness.
If you are looking for an audio series for your family to enjoy together, Sparkle Stories are definitely worth checking out.
Feel free to ask me any questions below!  Or visit the Sparkle Stories "About" page for more information.
You can also find Sparkle Stories on Facebook, Twitter, and Pinterest.  Click here to go to their main website.
To find more character building resources that our family has enjoyed, go here.
Thank you to Sparkle Stories for gifting me with a selection of audio stories to review for this post.  To find out more about advertisement and reviews on my website please click here.