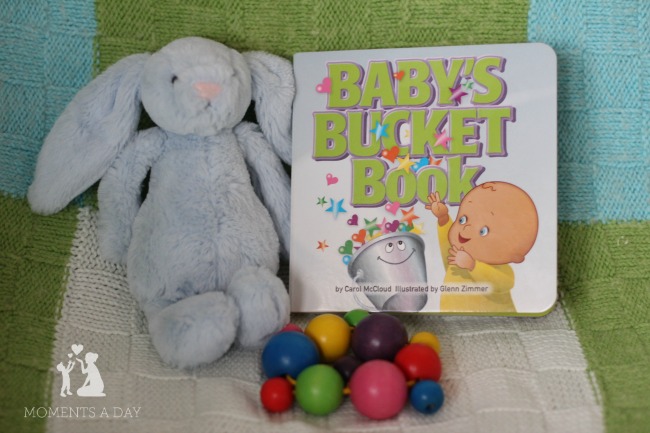 If you have been following my blog for a while, you'll know I'm a huge fan of the Bucket Filler resources.  Have You Filled A Bucket Today? A Guide to Happiness for Kids is such a gift to kids (and families, and schools!) because it offers a concrete way to visualise what kindness is.  You can read my review of the book and accompanying CD Circle of Light in this post.
There are lots of related books, free downloads, and lesson ideas on the website BucketFillers101.com to take the concept of bucket filling further, as well.
I'm very excited that one of the recently released resources is a board book especially for babies! Baby's Bucket Book
 (Amazon affiliate) is a simple introduction to bucket filling – wonderful to read to a baby, toddler, or an older sibling!
The book starts out: "See the happy baby with eyes shining bright.  See Baby's Bucket.  It's filled with love and light."  In catchy rhyming prose, the book then goes on to give simple examples of how a mother and father can fill baby's bucket such as giving a smile or playing with baby.  It also shows how baby's bucket can get emptied, such as when she falls down, and how you can fill it up again by giving kisses.
Not only is this book a sweet introduction to character building for babies, but I love that the book gives my sons a way to interact with their baby sister, as well.  Filling buckets is a regular phrase in our family, and it's great to now to have ideas to fill baby's bucket as well.
After reading the book, I just ask the boys if they have any more ideas about filling or dipping baby's bucket.
Ideas we have come up with for the boys to fill baby's bucket are:
* Singing songs to baby
* Playing peek-a-boo
* Hugging her gently
* Playing with her while she's in the carseat so she enjoys riding in the car
* Cheering when she does something new
* Being happy that she's growing up
* Handing her something that she dropped
* Saying "I love you"
Here were some bucket dipping ideas to avoid:
* Pulling her arm or leg
* Poking her in the face
* Throwing a ball at her
* Doing scary faces or scary noises
The book makes a lovely conversation starter and I'm very thankful to have it to encourage more kindness in our home during these precious years!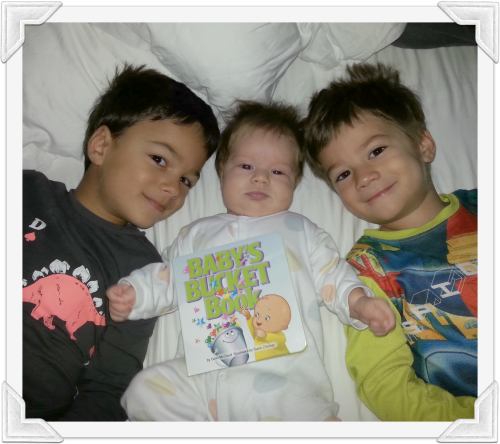 If you liked this post, you might also enjoy these articles:
30+ Recommended Character Education Books for Kids
Creating a Wall of Kindness (Bucket Filler Activities!)
Helping Children Recognize and Practice Kindness in Speech
I received materials from Bucket Fillers, Inc to review for this article.  All opinions expressed are my own.  To find out more about advertisement and reviews on my website please click here.