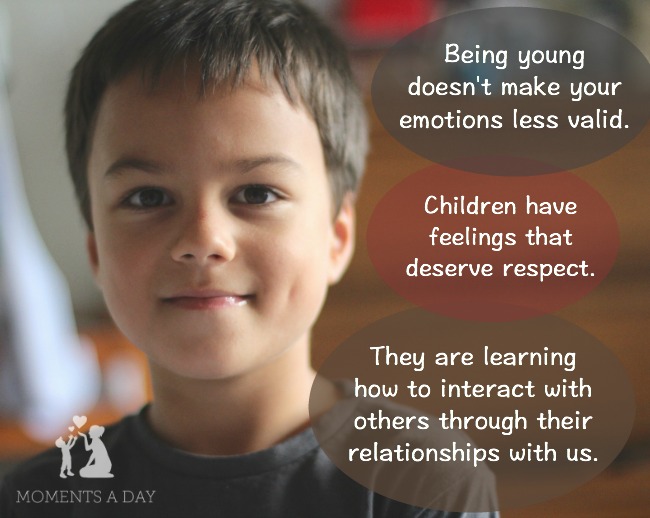 Children may be small, but they are still people.  And their feelings deserve respect.
When my three month old baby cries in the carseat because she is tired and wants to be held, that is real frustration.
When my four year old shouts because he wants another cookie, that is real anger.
When my six year old goes into his room because he was hurt by somethings someone said, that is real sadness.
True, it may not be the end of the world.
Sometimes the reason for a child's feelings may even seem "trivial" to someone looking on from the outside.
Sometimes, I admit, I want them to get over it already.
But their feelings are real, and valid.  And to a little person with so little control over their life in the first place, they can be BIG.
My three month old cannot understand that we'll be home in two minutes and I will cuddle her as soon as we park in the driveway.
My four year old is not able to drive to the store and buy another cookie.
My six year old may not have the words to immediately respond to what someone said to let them know it hurt his feelings, and work through it with clear verbal communication.
The experience, the ability, and the social skills needed to address these situations calmly (without crying, shouting, or pouting) all take GROWING UP.
And that's exactly what all kids are doing.
It's my job as a parent to respect my children during this process.  To gently guide them, to be a supporter and a confidant.  To set healthy limits but to offer plenty of freedom, too.
I don't need to protect them from having any uncomfortable feelings.  Rather I need to help them learn how to work through the situations that arise in their lives with more maturity.
That starts with respect.  Acknowledging that their feelings are real, and never telling them NOT to feel or that their feelings are NOT important.
I would never want to be treated otherwise.  So why should they?
~~~~~~
My Reflection Series features resources to inspire intentional and compassionate parenting.  Each instalment of the series shares a photo with a simple insight, plus five links I have found motivational during my current journey as a mother.
Featured Links:
Offering Support During Angry or Sad Emotions – three important points to remember when our children are dealing with big emotions
There are More Ways to Communicate Than Just Talking – ideas beyond talking to communicate with kids
Take 5 Breathing Exercise – a helpful breathing exercise to share with kids (including a video), plus this post is one in a series of articles about helping kids managing big emotions
Helping My Highly Sensitive Children Carry Their Emotions – a useful metaphor for kids who are highly sensitive
9 Things Every Parent with an Anxious Child Should Try – some practical ideas for helping kids deal with anxiety
I hope you enjoy these articles as much as I have.
Looking for More?
To find more inspiring links featured in my Reflection Series click here or go here to see more of my parenting articles.  You can also sign up for posts by email if you would like the series delivered to your inbox.
If this is your first visit to Moments A Day, I also invite you to join me on Facebook, Pinterest, Twitter, Instagram and/or Google + where I share more ideas to help families connect, build character, and make a difference in the world.
Take care and I hope to "see" you again soon,
Chelsea