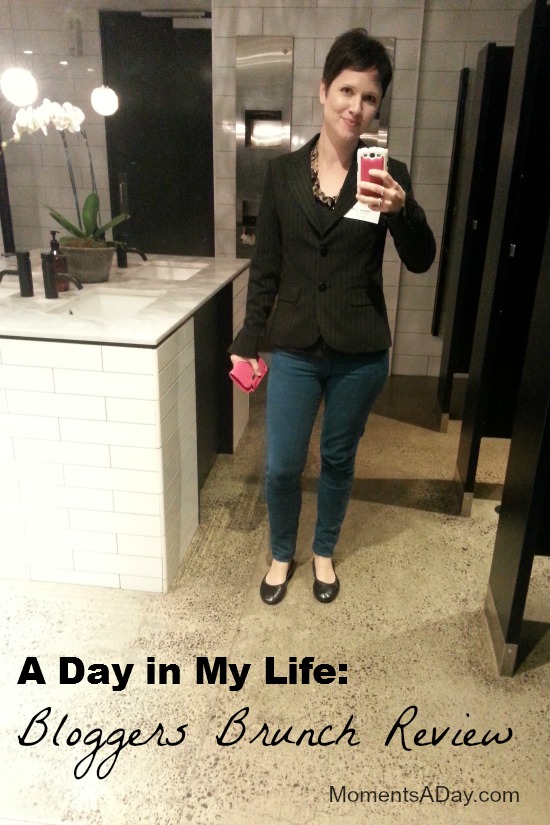 On Friday my alarm went off at at 4:15am.  I got ready in the dark, blow dried my hair on the lowest setting to make sure I didn't wake the kids, and drove to the airport to catch a 6am flight to Melbourne.
After a two hour flight, I went to an assigned meeting spot and waited for five other women to arrive from different locations around Australia.  By 9:45am, six of us were hopping into a van and heading off to our destination, chatting and laughing as if we had known each other for years.
Several of these women I had met before (some are pictured in this post) but others were new friends.  What did we have in common?  We were bloggers.
I had been looking forward to the Kids Business Bloggers Brunch for weeks.  Kids Business Communications hosts the Bloggers BrunchTM series of events where bloggers and brands meet and mingle.  As a blogger, there are many "behind the scenes" jobs that keep this blog going, one of which is finding sponsorship.  Events like the Bloggers Brunch allow me to connect with brands who value the blogging industry and network with potential sponsors of my work online.  This is the only way I can continue spending so much time upkeeping my blog and sharing about my passion of character education at home, so I greatly value the opportunities offered by these events.

Kids Business events also raise awareness and funds for different charities.  This particular event was raising awareness for Look Good…Feel Better.    Look Good…Feel Better is a free community service program dedicated to teaching cancer patients how to manage the appearance-related side-effects that can be caused by cancer treatment. The Look Good…Feel Better program is managed by the Cancer Patients Foundation's small team of employees, with the fantastic support of 1,700 trained and certified cosmetic, beauty and hairdressing professionals who volunteer their time and expertise to help deliver workshops across Australia. A key feature of the program is its brand/product neutrality: for example, volunteers and program participants are not permitted to promote any cosmetic product line or manufacturer at any time during a workshop.  Find out more on the website.
The Bloggers Brunch started out with three inspiring speakers: a volunteer from Look Good…Feel Better, Taryn from Body Image Movement, and Nicole from The Happy Parent Project.  Then after enjoying some food, we chatted with brands to find out more about their missions and their products.  I often document my attendance at events like these via Instagram, so if you want to see more you can check out my photos there.
One of the amazing things about being a blogger is the incredible network of people who are passionate about sharing their experiences with the world via the blogosphere, and it is so fun to translate our online relationships into real life.  Pictured below are some of my best friends online, and it was just lovely to spend the day with them in Melbourne.
From left to right: (standing) me, Jackie from My Little Bookcase, Ness from One Perfect Day, Deborah from Learn with Play at Home, Jenni from Paging Fun Mums, Kate from Laughing Kids Learn, Louise also from Paging Fun Mums, (sitting) Kate from Picklebums.  I consider these ladies dearly loved colleagues and they make my work online so much more meaningful through their practical support as well as their friendship.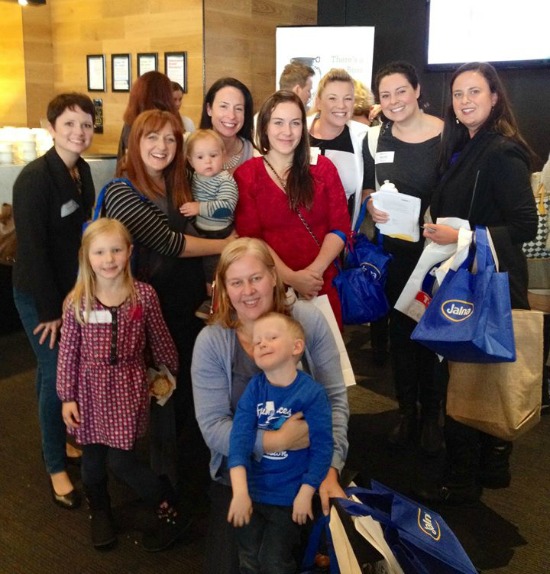 After the event (and taking the selfie at the beginning of this post), I enjoyed afternoon tea with Ness from One Perfect Day, dinner from Grace from With Some Grace, caught a 7pm flight to Brisbane and the rest is back to life at home.
It was a fantastic day and I look forward to sharing more about the brands I connected with in the months ahead.
(For those wondering where my kids were this whole day… luckily my husband was rostered off so they enjoyed a nice "man's day" as they like to call it which I heard went great from all accounts.)
For more information (including upcoming events!) you can visit the Kids Business website: www.kidsbusiness.com.au
Thanks to Kids Business for sponsoring my travel to Melbourne.  To read more about advertising on my website, visit this page.