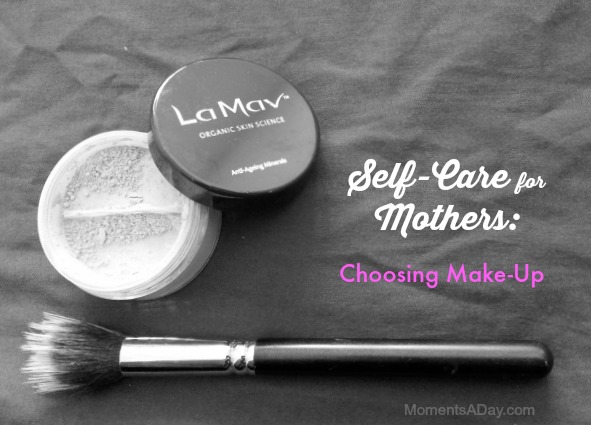 I used to have a bit of a love-hate relationship with make-up.  In some ways I wanted to do away with it altogether – why should I want to cover up my skin or make myself look different than I do naturally?  I worried that by wearing make-up, I might influence my kids to think make-up is necessary for one to feel good about their appearance.  Would they start to believe that a woman is only beautiful if she wears make-up?
On the other hand, make-up can help you look more professional/formal and provide skin protection (which is very important in my super sunny location).  Those are important reasons to wear it…
Then there was the practical side.  Did I really have time for make-up?  Was it worth a few extra minutes during my already-busy morning routine?
And last, but not least, the emotional side.  I personally really do appreciate how make-up enhances my natural features.
As you can see, I can go back and forth on the subject.
After years of experimenting with different make-up regimens, I am happy to have settled on a basic routine that works for me and that I feel sets a balanced mindset  to model to my children.  I'd say I wear make-up 5 out of the 7 days of the week, and that my kids know I am confident whether I wear it or not.
I generally use:
Lotion
Foundation (my favourite right now is La Mav Mineral Foundation that is SPF 15)
Something on my cheeks (usually bronzer for daily wear, blush for dressing up)
Dark brown eye liner
Lip gloss
It's very simple, takes about 2 minutes to apply, and gives me the benefits of wearing make-up without the stress of using a huge range of products.
The most important factors influencing my routine were:
The make-up is natural and will not harm my body (or the children/babies that come into contact with it).
The make-up was produced ethically, and did not harm animals in the process.
It looks and feels natural… and is simply enhancing my features instead of making me look like somebody different.
It offers my skin some sun protection.
It only takes minimal time to put on in the morning!
I continue to feel that I like to wear the make-up, not that I *have* to put it on.
The decision to wear make-up may seem simple at first glance, but being intentional about why I wear it and what I'm trying to achieve has helped me with the everyday decisions of how much time to spend on it and what products to actually buy.
Do you wear make-up?  What is your regular regimen, and why?
This post is endorsed by Nourished Life, an Australian company that stocks only natural, certified organic and toxin-free skincare, make up, superfoods and healthy living products.  I was gifted the La Mav Mineral Foundation and Brightening Cleanser, and I have been very impressed by the quality as well as the feel of both products.  The cleanser has a beautiful smell and does not dry out the skin, and the foundation has effective coverage but feels light as well.  The online shop has fantastic support if you have any questions about the products. Browse the range by clicking here.
To read more about advertising on my website, visit this page.
---
This post is part of the series Self-Care for Mothers in which I discuss caring for myself amidst the busy reality that is motherhood.  I believe in order to "be our best" as parents we have to take care of ourselves as individuals.  This series is dedicated to sharing insights that I am learning during my own journey and inviting readers to share their tips as well.  Check out the rest of the series by clicking here.
---