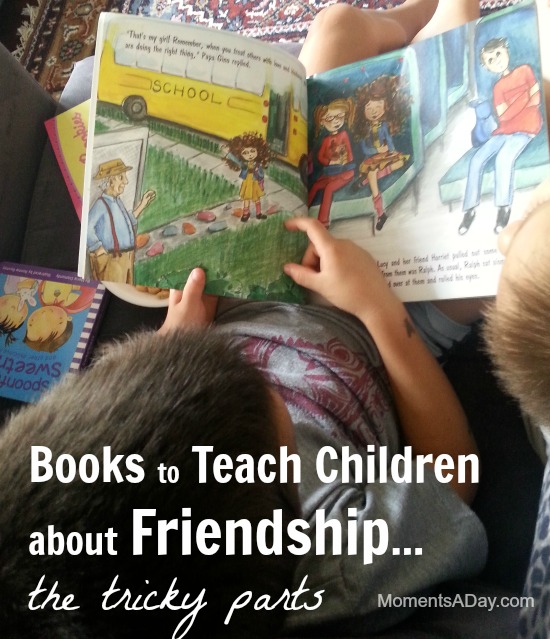 As a new parent, I always wanted to help my son learn to be a good friend.  When he was a toddler, this meant saying hello to everyone, becoming comfortable introducing himself, and gaining confidence to play with new children.  We practiced saying "thank you" when someone gives you something, and talked about forgiving when someone hurts your feelings.  It was relatively straight-forward and simple.
However now as he is leaving the pre-school stage and entering the school years, I am finding increasingly tricky situations arise in his interactions with other children.  As kids grow, they become more aware of differences around them and sometimes they will see or experience an element of bullying, possessiveness ("She's MY best friend!"), or even jealousy… among other situations and feelings.  Relationships, after all, can be complicated as well as emotion-filled.
Stories are a wonderful way to begin a discussion about these topics with kids, and that is why I am so thankful to have found Maria Dismondy.  Maria is a mother, award winning author and speaker who has created a range of beautiful books that aim to empower kids with positive values.  I would like to recommend some of her books today: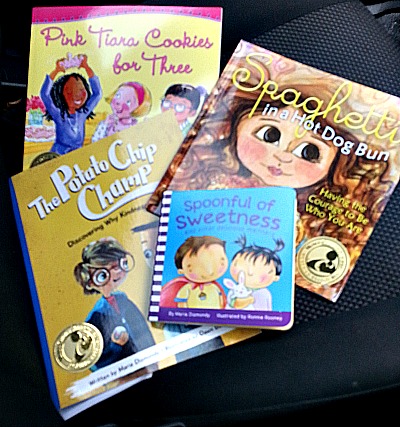 This book is about Champ – a boy who had everything, but always wanted more – and Walter – a boy who had very little but was always kind to those around him.  It shares their journey with baseball, potato chips, and learning about what being a friend is all about.
Sami and Stella are best friends, but Sami is jealous when Stella becomes friends with the new girl in school.  In this story Sami learns what it means to to think about what others are feeling and to open your heart to new friends.
Lucy is not afraid to be herself, but is sad about the way Ralph makes fun of her.  When she is faced with the opportunity to help Ralph in his moment of need, she discovers the true value in doing what is right.
(The fourth book in the picture above is Spoonful of Sweetness which is an awesome board book for toddlers – you will read more about it below.)
We have had some great discussions in our family surrounding these books, and I am thankful Maria has taken some time to share more about her message and work with us at Moments A Day.
Chelsea: What is the main message you want to come across in your books to children?
Maria: I am inspired to share messages in my books that empower children to be themselves, to love themselves and to spread kindness so that it becomes ridiculously contagious!
Chelsea: What are some of the responses you get from kids who read your books?
Maria: I will never forget a student approaching me at one of the assemblies I gave. It was a boy telling me he could really relate to the message in The Potato Chip Champ. He didn't have a lot of friends but he wasn't always nice to others unless they had the latest and greatest clothes, toys, and stuff. He told me he started doing things for others and spreading kindness and he saw things change—he had more friends who liked him just the way he was instead of for what he had. The boy had tears in his eyes telling me the story. He was a fifth grader and I felt so special to have helped motivate this positive change in his life!
Chelsea: How have parents or teachers used these books to promote kindness and anti-bullying messages?
Maria: Schools have adopted school-wide anti-bullying programs inspired by my books. Districts have written curriculum lessons using my titles which is so exciting to me! My bestseller, Spaghetti In A Hot Dog Bun is being adapted into a children's musical in New York. I've read the script and listened to the songs and it is beyond wonderful to see my message come to life in a theatrical adaptation! As for parents, I have families who have written me sharing how happy they are to have my messages come into their homes. They've even tried spaghetti in a hot dog bun for dinner!
Chelsea: Do you have any upcoming projects you can share with us?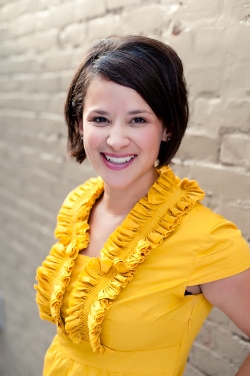 Maria: My newest book was just released before Christmas, Spoonful of Sweetness (find out more here). It is a baby board book and I am working with children's boutique retailers to stock this title in their stores. It's a new market for me, stepping outside of the bookstores and into these specialty stores for children. I have a new manuscript completed that will come out in 2015 that will be for elementary age children. It has jelly donuts in the book (Paczki is a jelly donut in Polish and that was my inspiration to include donuts in the book, I ate these growing up as a kid!).  But that's all I am sharing for now!
You can visit Maria's website for more information about her books and other offerings.  You can also stay updated via Facebook, Twitter, and Pinterest.
Has your family found any favorite books to teach about friendship… especially those "tricky" parts?

Feel free to leave your suggestions in the comments, and I hope you will take a moment to check out Maria's books and/or recommend them to your library and school.
Disclosure: I received copies of Maria's books to review.  As always, the opinions in this post are all my own.  For details about reviews and advertising on my website, visit this page.