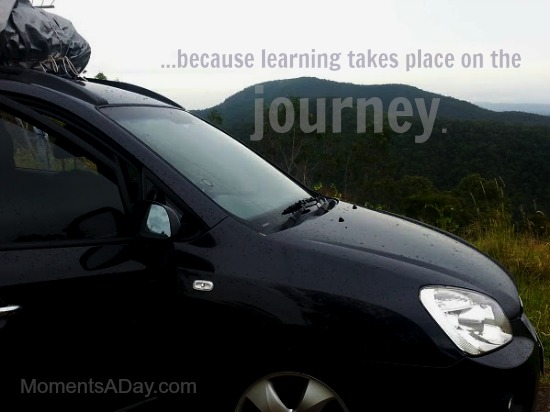 This post is sponsored by Nuffnang.  
Recently I realized that our family is almost officially leaving the "baby stage" with my youngest son turning three in a few days.  I figured because the boys are now able to sit happily for longer periods and can enjoy a wider range of outings, we could start taking some road trips – going on adventures and exploring new places as a family.  But I never knew quite how to start…
I was intrigued when the opportunity to document a scenic drive came up through LoVe Drives.  LoVe Drives is an online community powered by Shell V-Power.  It's a place to find beautiful drives, filled with photos and highlights from everyday people so that you can easily locate destinations around the country.  You can also give back by sharing your own adventures, to let people know what fabulous attractions you've found on the map.  Once I saw how much there was to do even within a couple hours of our house, I realized how easy planning a road trip could be.  So we set off!
Tamborine Mountain Drive
We decided to take the Tamborine Mountain Drive (click the link to see photos and read more about our journey).  Starting in Brisbane, we made our way down to Thunderbird Park which was a beautiful camping ground with numerous excursions that makes a terrific weekend vacation.  After camping for one night, we took a drive through the lovely stretch at Mount Tamborine which has numerous shops and cafes to try out.  Then we enjoyed the scenery down to Nerang.  Last we took a detour and spent the afternoon in Gold Coast before making our way back to Brisbane.
Besides enjoying quality time, I found that the trip was a unique opportunity for the family to build character because we were faced with a different set of experiences than we normally get by spending our weekend at home.  What did we learn along the way?  Here are some "life lessons" the kids were soaking up during our road trip:
It is important to prepare ahead of time. 
Before we even started our trip, we had a lot to prepare.  Tent, snacks, utensils, matches, you name it.  The boys helped out while we packed the car and checked off the packing list.  During this time we had the opportunity to talk about preparation… what if we forgot the tent, the sleeping bags or the umbrella?  I realized that if I want my kids to feel confident when they are older to go out on a journey of their own, then I should create these experiences together so they can learn how to prepare.  Road trips are a great way to get that process started!
It is okay if things don't turn out the way you expected.
The day before we left on our trip, we checked the weather report to find out it was meant to be raining on and off throughout our entire weekend away.  I was ready to re-schedule but thankfully my husband insisted we carry on with our plans.  Sure we got a bit wet a few times but it was worth it because it would have been a long time until we had another weekend to get away.  I don't want the kids to shy away from life experiences just because it may feel a little uncomfortable.  The rain did not have to be a big deal, as long as we had the perspective of embracing the situation with grace.  It was a wonderful opportunity for all family members to model resilience.
Patience pays off.
It took an hour to get to the camp site.  Cooking the food on our portable stove took longer than expected.  We had to walk a long way (according to kid time) to get to the showers.  But these were all opportunities to practice patience.  Our regular routine makes it so easy to give the kids what they want whenever they want it.  On the trip the boys just had to wait sometimes, and they got to experience what it was like to live life without getting everything now.  How can I expect them to develop patience unless they have opportunities to practice it?  Road trips can definitely build up their tolerance for this very important character trait.
We got more out of the trip than memories…
The trip wasn't what I would call "easy."  We all had our moments trying to find peace with the mud, waking up to animal noises outside the tent, and dealing with the sugar rush after a few roasted marshmallows.  However we also got to explore new forests, sample new foods, and enjoy some new lookouts.  The struggles did not have to ruin our time together; we actually created some beautiful memories.  By committing in our minds to have a good time no matter what, I think the kids definitely gained a bit of perspective on life.  Challenges are just part of the journey, after all.
There are so many things kids learn on road trips – not just at the destination but on the journey itself.
I am looking forward to many more adventures with my boys and I can't wait to find out where they want to go as they grow older.
Would you care to explore LoVe Drives?  You can see my logged drive and check out some other routes by clicking here.