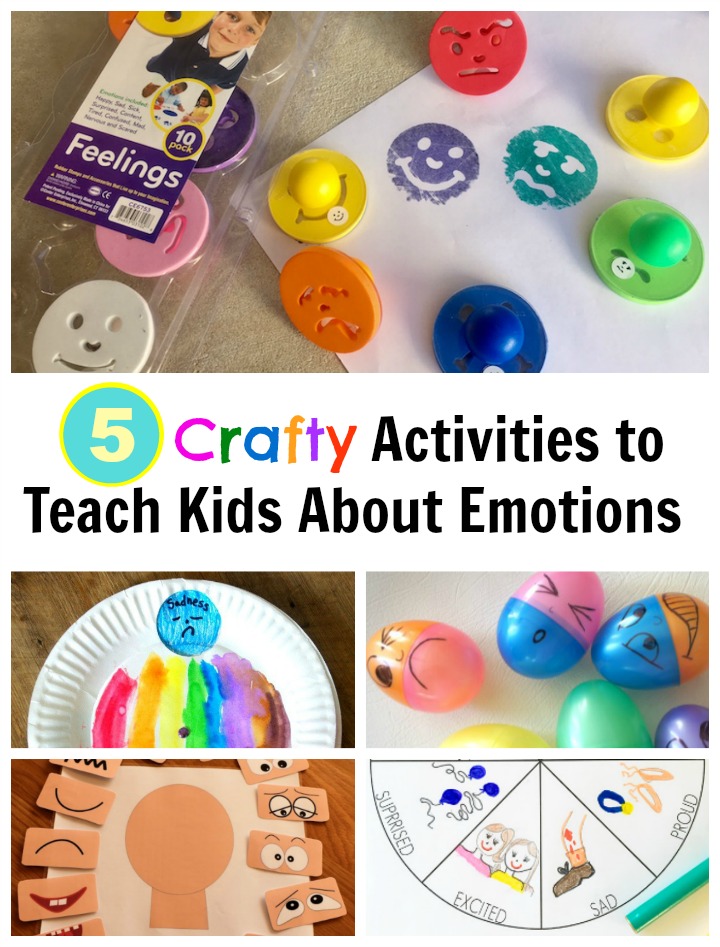 Children learn in different ways.  Some kids love active games while others enjoy storybooks better.  Some children enjoy listening to someone speaking while others prefer to experiment with a new concept through a hands-on project.
Of course it is ideal to offer children educational opportunities using all the various learning strategies, but if you know your child well you can seek out some specific activities you know they will enjoy.
I personally have a son who adores arts and crafts.  He really relishes putting something together that looks nice, and so I have been finding more crafty activities for him to engage in relating to the subjects we are currently exploring at home.
If you are a long time reader of my blog, you will know that we love to talk about emotions in our home.  When children can learn to identify emotions and understand how they feel, they not only develop more self-awareness and empathy for others but they can begin to process highly emotional situations with increasing resilience and self-regulation.
Here are five fun crafty activities to teach kids about emotions that our family loves, and yours might enjoy as well:
1) Feelings Stampers
For the littlest explorers who cannot draw pictures or use scissors yet but want to join in the crafty fun (like my two-year-old who wants to do everything big brother does!), the fun jumbo feelings stampers from Child.com.au that are pictured above are awesome.  They are easy to use with poster paint or ink stamp pads, and have ten emotional faces to discuss with the kids while you are all stamping away.
2) Feeling Spinner
Make a colourful Feeling Spinner with paper plates to explore the different coloured emotional faces (a perfect follow up activity to watching the movie Inside Out).  Find all the directions over at Meaningful Mama.
3) Emotional Eggs
Have fun mixing and matching Emotional Eggs, a super fun activity that you can read the instructions for over at Laughing Kids Learn.  Older kids would enjoy making these on their own, while you could make them for younger kids beforehand!
4)  Make a Face
Make a face (or many!) with different eye and mouth cut-outs to mix and match.  See all the different ways you can use this activity to talk about emotions over at Elsa Support.
5) Emotions Wheel
Download an Emotions Wheel (there are simple 4-part ones and more complex versions for older kids) from Childhood 101 that you can draw your own emotions in and use as a discussion prompt.
Would your child enjoy one of these activities?  Let us know which you want to try first, or what other suggestions you have!
You may also enjoy reading…

Thanks to Child.com.au for supporting the 10 readings of my storybook Mason's Greatest Gems which I did on our trip around Australia by giving vouchers to the schools and libraries I visited.  If you are looking for educational resources, games and toys – check out their huge range on the website.
I received product to review for this post.  All opinions are my own.  To read more about reviews on my website, visit this page.