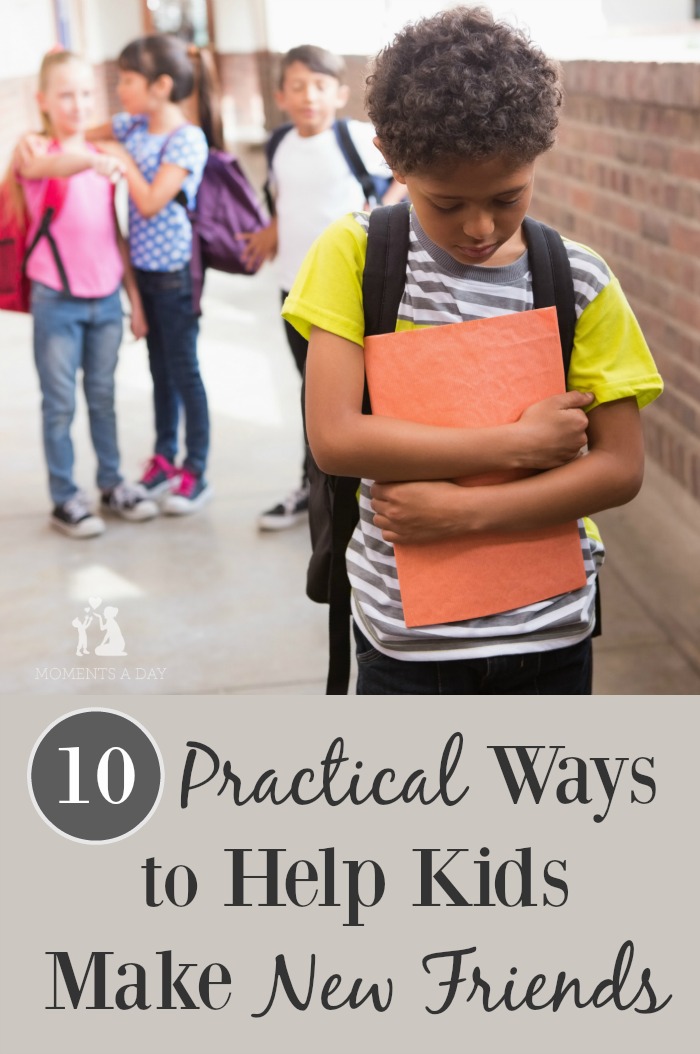 Friendliness, and the confidence to make friends, is important for all children to develop so they can get along with others.  Sometimes as adults who have had so many experiences meeting new people, we may forget how hard it can be for our kids to put themselves out there and talk to people they do not know.  We may not give a second thought to a situation where we need to make a new friend if a best friend is absent, but this may feel like a huge deal to our young child.
Making new friends can be easier if children are prepared ahead of time with ideas for interacting with others.  Here are 10 activities to help kids make friends:
1) Learn a joke.
Jokes are a fun way to ease up tension.  Even small children might enjoy saying, "Do you know any jokes?" and then sharing one or two with a new friend. Check out this set of 30 jokes if  you would like to learn some new ones to teach your kids.
2) Practice introductions and asking questions.
Help your child make-believe that they are meeting a new friend by using a puppet.  Encourage your child to find out more about the puppet by asking them their name, their favorite games, favorite foods, etc.  This will help your child realize that questions are a way to find things in common with someone new, and can instil confidence to begin a conversation in the future.
3) Write a list of simple games.
Sometimes children can be anxious about what they will play with other kids ("What will we do?!").  Take out a piece of paper and make a list of five or more games that you child would like to play with someone else.  This way they are ready to go up and ask someone to play a game with them, or they are prepared with some ideas if someone new comes up to them.
4) Look for what other children are interested in.
Show your child that sometimes you can find clues about what someone likes by what they are wearing or doing.  For example, if a person has a dinosaur back pack or always goes straight to the puzzles, you may like to begin a conversation about one of these topics.  Help your child look through storybooks or magazines and find clues about peoples' interests.  This can give you a topic to talk about.
5) Smile!
Look in the mirror to see what you look like when you are smiling. Doesn't that look inviting?  Help your child practice smiling and let them know how this is a great way to invite someone into conversation.
6) Practice making a new friend at the park.
If your child is hesitant to make new friends at school, use the park as a place to practice creating friendships.  It may be less intimidating outside the classroom environment to talk to someone new.  You may like to help your child by walking with them and asking a new friend's name, before letting your child take control of the conversation.
7) Ask extended family for stories.
Get grandparents, aunties and uncles to share experiences of making friendships when they were little.  Did they have lots of friends?  What did they like to play with their friends?  What did they think made a good friend?  Looking at pictures of relatives when they were children can form a very special memory as well.
8) Play "What If?"
This is a fun and silly game to help ease anxiety – think about the best and worst thing that could happen if you do what you fear.  In the case of making friends, it may be "What would happen if you go up and ask others to play?" to which your child will share their expectations.  If the child thinks of a negative experience, ask them what they would do afterwards.  Sometimes envisioning what would happen, and sharing ways to deal with it, can give someone the confidence to try… because they realize that it is not a very big deal if things don't go perfectly.
9) Read books.
Use stories to help your child realize that making friends is something everyone has to do, and is a natural part of life. Here is a list of books about making friends from My Little Bookcase.  You can also create your own storybook using pictures of your child and showing ways they can interact with others to form friendships.
10) Make a plan.
Help your child visualize creating friendships by talking through situations.  Talk about what they do when they go into class or to a playground, and brainstorm ways they can go up to others and talk to them.  You may like to draw out a storyboard of action steps they can take to meet new people, including what they will do if someone answers "no" when they ask to play.
In Make Friends: Life Skills for Kids from Lessons Learnt Journal, there is a lovely video of four mothers (and teachers) discussing other ways they have helped their children develop friendships.
Do you or your children have any favorite strategies for making new friends?  Please share your success stories and ideas in the comments.