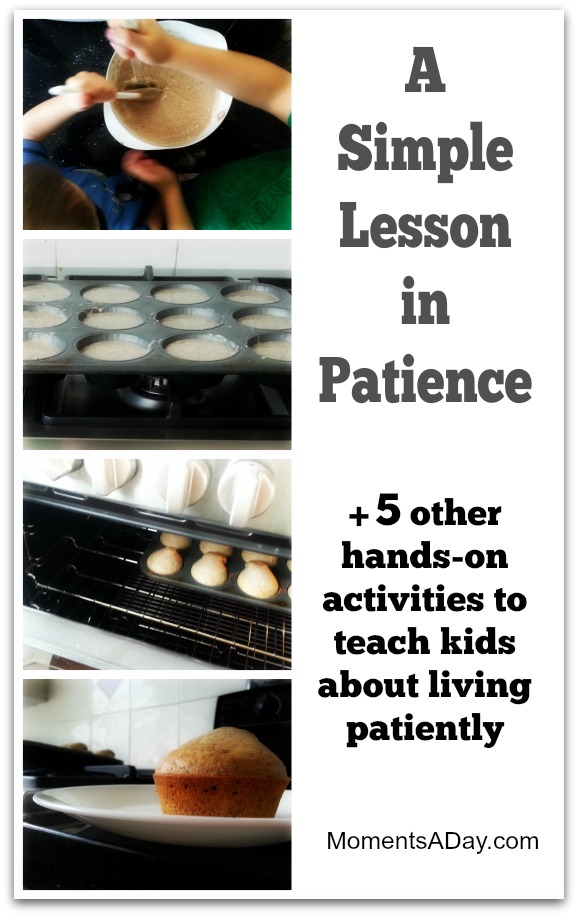 When I explain character traits to my kids along with an activity they can experience through their senses, it is always more memorable (as well as fun).  For example, showing that love is like the sun that warms us and brings light to the world… by going outside and feeling the sunshine.  Or explaining how loyalty is sticking to something we have committed ourselves to… by sticking two pieces of paper together with glue.
The same goes for patience.  One practical example we have used a lot to help understand this virtue is baking.  Baking is probably my favorite activity to learn about patience.  Whether it's waiting patiently while little brother has his turn stirring, or waiting that five extra minutes – that feels like forever – for the oven to get to the correct temperature, there are small opportunities one after another that require my kids to practice patience throughout the experience.
I ask questions like: What if we do not wait for everything to be stirred properly, and rushed through this step so that lumps of flour were not mixed up?  What if we took the muffins out before they were cooked, and half of each muffin was still wet batter?  They see through real life examples that the results of the activity would not be the same if they did not patiently do each job as it was supposed to be done.
When we reflect on how patience affects our attitude as well as the outcome of our life's work, we can be assured that it is a very important quality to develop.  I hope by bringing it up in positive situations where my kids are enjoying themselves – instead of just as a "reminder" when they are lacking the quality – that they will begin to have a fond association with this ever important character trait.
Here are five other hands-on activities to teach kids about patience:
Setting a bowl out when it's raining and waiting for it to fill up with water
Growing a sunflower (or another fairly quick growing plant)
Going on a car ride (practice looking out the windows or listening to music, quietly!)
Painting and waiting for the paper to dry – or you can try this fun color mixing activity

by JoJoebi Designs

Watching a snail try to get to its destination, or watching some ants build a new home
Over time as we talk about patience, the kids can practice finding peace being in the moment and waiting without complaining.  It's not an easy trait to develop, but every effort makes a difference.
What everyday opportunities have you found to teach your kids about patience?