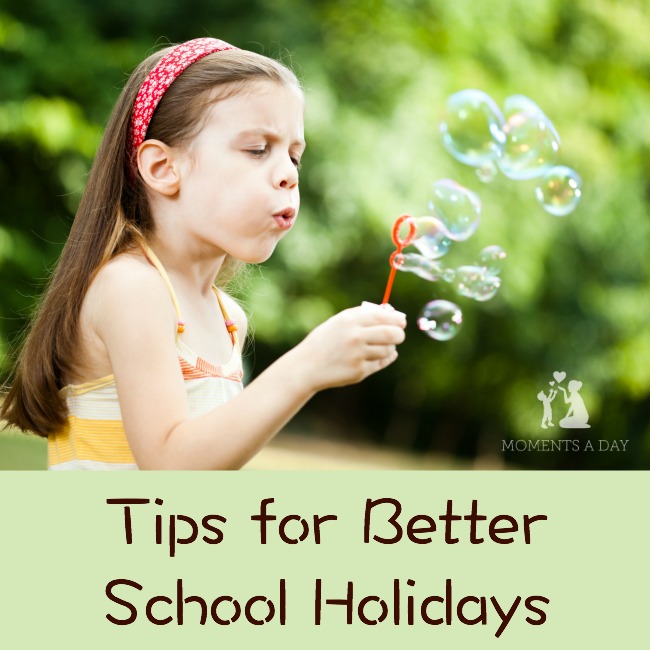 Do you love school holidays?  It's awesome to spend more time with kids who are usually at school… but the change in the day-to-day schedule can sometimes feel a bit difficult as well (for adults and kids!).  Routines are thrown out the window, the kids don't see their friends every day, and mama has to go everywhere with several little helpers!  Learning from the mistakes of the past, here are the ways I try to to avoid exhaustion and stress when holiday time comes around:
Stick to a routine.
Let everyone know what is planned for the day and what chores (which we personally call family service) have to happen before you get going.  Just because there is no school doesn't mean your regular morning routine doesn't have to happen, either.  If you don't have one – or want to change it especially for the holiday period – make a schedule everyone can see so people know what to expect.  On weekends and holidays we still do our regular morning routine by 9am – unless it's a declared pyjama day!  It just makes our day go smoother.
Get out of the house.
I usually like to go out about once a day – even if it's just to the grocery store (which we usually turn into an "outing" by getting a snack or ingredients for a recipe to make at home).  One of my sons really thrives on being with other kids (a true extravert!), so I do my best to have at least one playdate every few days.
Most libraries and shopping centres in our area offer special activities during holidays.  Sometimes zoos, play centres, and other places offer free or discounted activities as well.  Check online or look out for flyers around town.  One or two of these activities a week suits us fine!
Allow plenty of time for physical activity.
I have to make sure I give my kids (now ages 4 and 6) lots of active play time, or they tend to take the extra energy out on each other.  I actually invested in a trampoline just for this purpose.  Because our house is very small, having that extra space and a place to be active and get rough – without the restrictions of being inside – has been great.  Running around in a yard, kicking a ball at a park, or taking a walk around the neighbourhood are great options, too.
Prepare some simple activities.
The kids really enjoy unstructured time to play and create, but once in a while it's helpful to have an activity prepared.  I find having something prepared for the morning captures their interest a lot better, and this leads them to more creative play afterward.  To check out several lists I have made of play ideas – for young kids and older ones – click here. I usually ask my boys to think of several things they want to do, as well, and we make a list to check off during the holidays.  Some things they have requested: painting a canvas, visiting certain playgrounds, and doing science experiments.
Have time apart.
Sometimes everyone just needs a break!  We have "room time" which is essentially quiet time that the boys spend on their own in their rooms, usually around 1 or 2pm when everyone is the most tired.  Just thirty minutes allows each person to unwind and do something on their own.  My boys often get busy with lego, puzzles, drawing, or reading.  Audio stories are great, too!
Prepare food ahead of time.
My sister-in-law had four kids under five years old at one point, and she told me an awesome tip: prepare lunch and snacks the day before in containers the kids can get out of the fridge themselves.  I tried this during the last school holiday and it was great!  When I was busy with the baby at lunch time, the older kids could just go to the fridge, grab their lunch, and have a picnic on the back deck!  Putting something in the slow cooker is also handy if we are going to be out all day… it's awesome to have dinner already prepared when we get back home.
Plan out what you are going to do about bedtime.
Sticking to bedtimes, for us, is really important. I always make sure playdates/outings are finished by 5pm so we can eat and do the regular bedtime routine… even though it's hard to say no to some of the fun night time activities. My kiddos don't sleep in, even if they get to bed late, and it can throw everything off.  It's just not worth it to me.  You can read more about our bedtimes here.
Make memories.
Remember what you loved about childhood and try to recreate some of those moments with your kids!  Movie nights, picnics, camping in the backyard… the possibilities are endless, and they don't have to be fancy to be special.
Have an emergency plan to shake negativity.
We don't have any extended family around so I don't have the option of going to Grandma's when I'm having a hard day.  So when all else fails – friends are busy, weather is awful, or we are all just in a funk and can't seem to shake it (here are some ideas to try first) – I have been known to go out to our local fast food place… we get a snack or a drink in order to use the playground equipment.  Why?  It's cheap, it's indoors, it has a place for me to sit, and there are usually other kids there too.  It's a little pick-me-up which, honestly, I just need every now and then.  (Surely I'm not the only mother who does this?!)
What other tips do you have for planning better school holidays?